About Us
Vinyl Light Windows & Doors Company is a team of professionals who know everything about windows and doors - from choosing the right ones for your home and budget to delivering, replacing and installing.
Over the years, we've gotten even better at what we already do best - providing you with high-quality windows and doors to help you make your home more comfortable and energy-efficient.
Reasons Why You Should Choose Our Company
Here's why you should definitely prefer Vinyl Light to any other windows installer in the GTA:
13+ Years of Professional Experience

This is something you can't fake. With that knowledge, we can simply offer you more while you can always rest assured your new windows or doors will be installed with great care and attention to every little detail.

Great Products at Affordable Prices

Due to factory-direct supplies and large-volume discounts from top manufacturers, we ensure the lowest possible prices for the windows and doors we offer to our clients while keeping the quality high at all times.

No Shortcuts - Only Top-Quality Work

Proper window installation requires precision and meticulous approach to every step of the process - and that's how we go about our work. Our ultimate goal is delivering you a product that would serve a lifetime.
Vinil Light Windows and Doors Company in Numbers
14

years

25

specialists

29

serving locations
Check what our clients are saying
Ewa from Mississauga

Rodger from Oshawa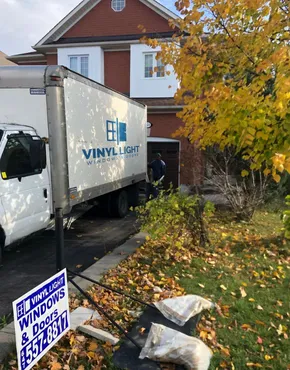 Benefits For Customers
Our customers are quite happy people when it comes to vinyl windows and high-quality entry doors.
Why? Because they don't have to worry about anything other than telling us which items they'd like to be installed in their home. Actually, we even might save you the hassle of choosing the right product - our team members will always be there with expert advice if (and when) you need it.
So what else makes Vinyl Light customers happy?
Any problem you might have regarding installation is solved right there on the spot - even after the contract is signed and the job's been done. We always stand behind our products and our work.
WSIB and Liability Insurance
No matter what might happen during the installation process, you know all of our staff are properly insured and taken care of.
Windows & Doors Company You Can Trust
We have been vinyl professionals for windows and doors for more than 13 years providing quality installation services to the residents of the GTA.
Quality is our main priority. Over the years, we have picked out the best manufacturers so that you won't have to look for a professional door company or a professional window manufacturer near you.
All of this has allowed us to come up with a solution for any house or apartment - affordable, reliable, and good-quality windows and doors installed with style and ease by Vinyl Light.
#vinyllightwindows
Energy efficient vinyl windows, exterior doors, best prices, windows and doors installation in Ontario.
Best manufacturers, materials, warranty.