Bay Windows
Bay windows are popular in Canada as they fit in any home. These windows can change the look of your house dramatically by adding a lot more light, providing a great view, and generally looking gorgeous.
If this is what you are after, then you have come to the right place. Here at Vinyl Light, we offer cheap bay windows for sale all year round!
We take bay window replacement projects in the following area: Toronto, Etobicoke, Mississauga, Brampton, Oakville, Burlington, East York, North York, Markham, Vaughan, Richmond Hill, Aurora, Scarborough, Pickering, Oshawa, Ajax, Newmarket, King City, Caledon, Georgetown, Milton. Haven't found your location on the list? Reach out to us to get a quote on bay window installation at your place.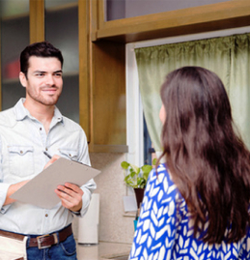 Interested in Bay Replacement Windows?
Request a price estimation today
What Is a Bay Window?
Bay windows are designed to project outside your home. A typical bay window typically consists of three sections - a fixed window in the center and two outside flankers that can be double-hung or casement windows, depending on how you want them to operate.
Both small and large bay windows can add a lot of curbside appeal on the outside of your home whereas on the inside, it provides great, usable and functional space.
You can use this space as a display area for your favorite things (whether it's flowers, books, or vinyl records). If you have pets, the bay window area will become one of their favorite spots in the house. It's also great for sitting and drinking a coffee while enjoying a nice view.
If you have a large flat window in your home, changing it to a bay window exterior will turn your room into a gorgeous living space and provide extra comfort.
In fact, many people treat these windows as an extension of their home by adding pillows and creating a cove-like living space, which is great for relaxing or enjoying a good read.
Bay Windows in Toronto and GTA
You can see plenty of bay window designs in Toronto and around the city. They were popular in Victorian-era houses and even 100 years later the bay windows are still in trend today. They are not just used as living room bay windows at the front but are very common at the back as garden or kitchen bay windows. If space allows any bedroom or basement will also benefit greatly from the bay window.
With over 10 years of experience under our belt installing bay windows in Toronto and GTA, we've become bay windows specialists known for our outstanding quality and customer service. Don't take our word for it though - better look at what our customers have to say about us.
Despite all of this, Vinyl Light is more than just a bay window supplier. Our ultimate goal is to help our clients realize their creative ideas and make their homes better, safer, and more comfortable.
Types of Bay Windows
There are various bay window configurations, which can be built from different window combinations like casement, awning, single hung, picture, etc. And those can be further upgraded to have grills and colors. Black bay windows are a popular contemporary option now for modern houses.
The most common bay window type is the single bay window on the main or 2nd floor. The next one is a double bay window which is pretty much two bay windows above each other on both floors. Corner or 45 degree bay windows are pretty rare due to their complexity and odd space location which they add.
The bay window has 2 roof types: the one which is joined with a house roof or a dedicated one build from metal or shingles.
The support at the bottom which is called a bay window skirt can be:
flat — about 1 foot of studs support and insulation covered with aluminum capping
angled — 45 degree skirt from the middle of a bay window to a house wall.
straight — going down to the ground level to wrap around the whole bay window.
Bay window skirts are usually built from studs and plywood, which is covered with vinyl or aluminum siding to protect the bay window skirt. Vinyl siding is also used for double bay windows in between.
Bay Window Replacement Cost
✅ Window Type
Bay Windows Cost
✅ Average installation cost

$800-$1000 for retrofit
$1500-$2500 for new build

✅ The cheapest bay window
$1500
✅ The most expensive bay window
$4500+
The bay windows are more expensive because first of all they are a combination of multiple windows and they require more time and material for installation. In comparison, a bay window can take a full day to build, when the same installer team is capable of replacing 10+ windows per day.
The average 6 foot bay window cost is around $3,500 installed. The replacement bay window prices are also influenced by the type of glass, color, grills, etc.
The labour part of bay window replacement cost primarily depends on the size of a window and the type of roof and skirt chosen.
At Vinyl Light, we can offer you unbeatable bay window prices in Canada and provide quality bay window installation services. If you'd like to inquire about the cost of installing a new bay window in Toronto and the Greater Toronto Area, please contact our sales team via phone or our free quote form on this page.
Canadian Government Grants to Help You Save
Energy-saving home improvements are more accessible than ever! Check out how you can save up to $10,000 with Ontario windows rebate program or receive up to $40,000 with a new interest-free Canada Greener Home Loan
Learn more
Any size to expand your living space
Any panels of your bay window can be operational and tailored to suit your needs
Customizable with different colors and grills options

Durable and maintenance free
Available with double and triple glass
Designed to fully meet ENERGY STAR® qualifications
Bay Window Glass Options
We have all types of LoE Coatings: LoE-180; Loe-272; LoE-366 and newest LoE-i89 to maximize your glass performance.

Self-Cleaning coating keeps the windows cleaner longer and when you must clean your glass, it will be easier and fast.

Get the best insulation with Triple glass; best strength with Tempered glass or best noise reduction with Laminated one.
Bay Window Upgrades Options
Great selection to perfectly match your brick, siding, soffits and more.

Add a distinctive touch with many grilles types. Choose or create your own design.

Add the privacy to your washroom windows or an extra sun protection.
Popular Windows Styles Used for Bay
Our Easy 3-Step Process
Step 1. Quotation & Measurements

We will measure, consult and quote.

Step 2. Manufacturing

We will manufacturer as per specs.

Step 3. Installation

We will install and clean up.
The addition of a bay window will make any room in your house appear larger and more connected to the outdoors. Easily customizable, bay windows work well when flanked by casements or single-hungs.
Bay Window Replacement in Toronto
So if you're still wondering "What's the best company offering bay window replacement near me?", doubt no more and go with Vinyl Light.
Our main advantages are:
35+ years of combined professional experience;
10,000+ windows installed;
Low UPVC bay window cost;
Prompt customer service (with locations all across the GTA);
Worry-free installation (we have WSIB and liability insurance).
Our Latest Reviews on Google
Helpful Articles
We'd like to share our knowledge and experience.
Ontario window rebate program is provided by the government to help people get almost immediate payback along with lower hydro bills. Applying for the rebate gives you the unique chance to save money on windows replacement.

What you need to know before installing or replacing a bay window? Bay window installation tips and instructions. And how much does it cost to install a bay window?

In this article, you will find a comparison of vinyl vs fiberglass windows. We do hope the following information and tips would help you with your choice.
Request a Price Estimation Today
We are usually available to reply within 24 hrs