The best front door material plays a significant role in your entryway look and protection. High-quality front exterior doors in Canada have an aesthetic and a crucial security benefit of keeping intruders from entering. Also keeping hot or cooled air inside and acting as a barrier against the weather, it helps improve energy efficiency.
When choosing windows and doors with Vinyl Light you have many options. The material you choose for entry doors in Canada can make a big difference.
Please, check the following important articles here:
What Is the Best Material for a Front Door?
The best material for a front door in Canada guarantees the following:
Longevity
Durability
Security
Insulation
Curb Appeal
Low Maintenance
The factors determining the price for the best material for exterior front door are:
Material
Dimensions
Configuration
Style
Color
Glass and its design
Hardware
So, what is the best material for front entry doors in Canada?
Nowadays there are two best type of front door material:
Steel. If security is your first concern, the ideal material for a front door is steel. This sturdy metal outperforms almost all other door options in strength. It offers great resistance to forced entry and is less prone to cracking or warping. Steel front doors, which come in solid panels, provide your house a unique style element while retaining the highest level of privacy and insulation. Innovative, low-maintenance, rot-resistant frame systems are included with steel front doors and last a lifetime. For greater energy efficiency our steel doors have a foam insulation core between two exterior metal panels.
Fiberglass. For homeowners who want additional durability but enjoy the appearance of wood, fiberglass is a suitable option. Fiberglass entry doors are produced with grain patterns that nearly match the wood. They can be stained or painted in any color you choose. Overall fiberglass may be the finest material for entry doors, but it is a more expensive option than steel.
If you want to raise the curb appeal of your house, call or email Vinyl Light Windows and Doors. Our technicians will identify what material is best for your future front door. We are here to help starting from a free estimate and finishing up with a project completion on the installation day!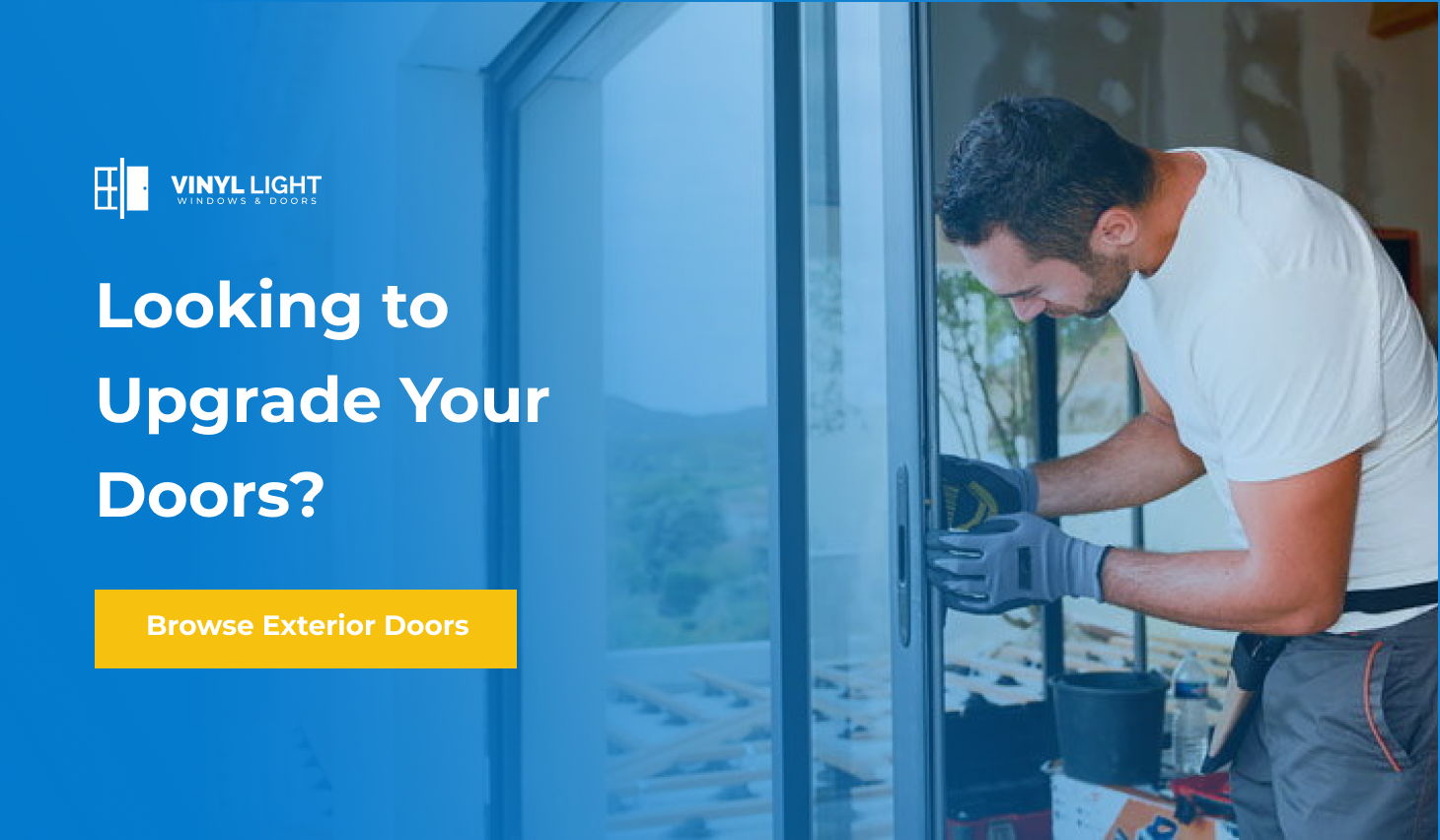 Best Exterior Door for Cold Weather in Canada
One of the most crucial factors in maintaining the warmth of your home in a region with chilly, harsh winters like Toronto, Canada is the quality of your front door.
The best exterior door for cold weather must create a draft-free seal and be insulated within. It must create a shield from the elements throughout all seasons, especially during the winter. In addition, it should also look good doing this job being the front face of your house.
What is the best exterior door for cold weather? Steel or fiberglass are the best front door material for insulation which you can see why below.
The benefits of steel and fiberglass for cold weather are:
High-density foam core for best insulation;
Steel or Fiberglass shell resistance to rotting;
Vinyl or Fiberglass frame resistance to rotting;
Design glass with Triple pane for maximum protection;
Ridgid materials for best durability in cold temperatures;
Strong frames for best seal in high winds;
Can be equipped with multipoint lock handles for top-level sealing;
No maintenance in any weather conditions;
No storm door needed for snow protection.
The customers that reside in a colder Ontario region and must endure severe winters will find our Vinyl Light steel and fiberglass single or double front doors collection to be a terrific solution! Visit our website, look through catalogs with entry door options, create the style you like and let us know!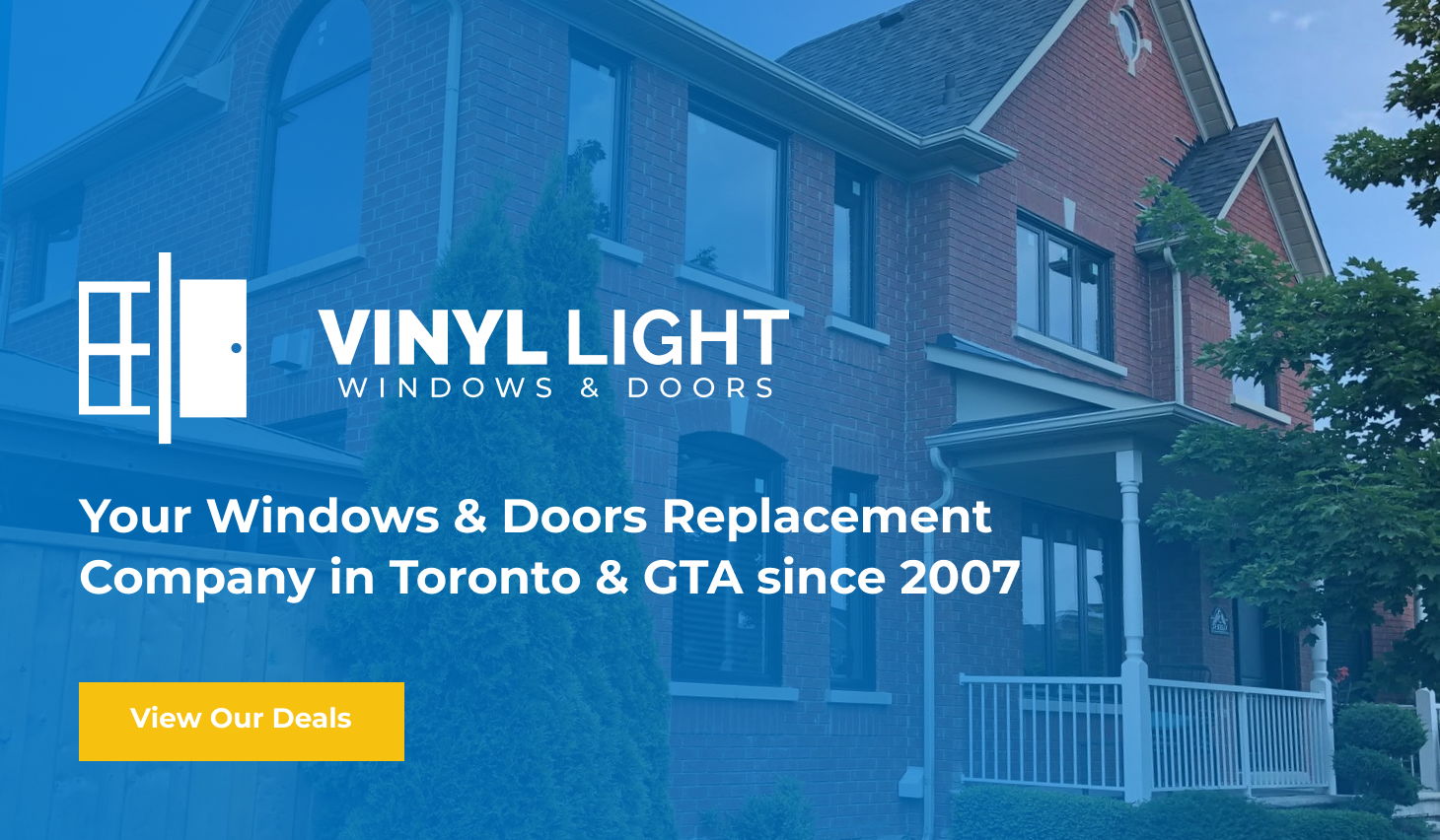 Best Exterior Door for Direct Sunlight
If the front of your house faces south it constantly receives hours of direct sunlight on every bright day! What is the best exterior door material for direct sunlight then?
As it's already become obvious from the given above characteristics of door materials, steel and fiberglass are this category winners again.
Steel doors and sun exposure. Because of their great insulation and security level, steel doors are highly valued to stand against the sun. Keep in mind that steel doors and any hardware may get hot to the touch during pick hours of direct sun exposure. To avoid this, it is highly recommended to have a roofed porch at your front.
Fiberglass doors and sun exposure. Fiberglass is an incredibly strong and best front door material for direct sun. It will continue to hold up even after years of exposure to the sun. Additionally, fiberglass doors are stained to mimic real wood, allowing you to enjoy the warm wood feel. The stain might fade though with years of harsh UV rays bombardment. The paint will do a better job holding up.
No matter which option you choose, we guarantee our doors to perform their best all year long for many years to come!