Black single and double front doors increase your curb appeal greatly. Entry doors painted black color are a gorgeous statement piece and a wonderful way to welcome guests.
Definitely, your house front can be much enhanced by changing the color of the front entry door. Black exterior doors go well with all types of architectural styles. It can highlight the basic, elegant feel associated with a modern home or accentuate the elegance connected with a classical-style home.
Please, read more of our articles here:
How much does windows and doors replacement increase the value of your house in Greater Toronto?
Standard door sizes in Ontario, Canada
Popular front door colors for brick houses 2023
Black Exterior Doors Configurations, Types and Styles
Replacing your doors is one of the easiest ways to change the appearance of your house. You can customize the gateway of your home to suit your needs, choosing from a lovely and sturdy entry door to a multifunctional patio door or a multipurpose storm door.
At Vinyl Light windows & doors you may get your dream custom black entry door. We provide all the possible configurations of black exterior doors in Ontario Canada. No matter which door you select, you will benefit from the highest level of energy efficiency and a quality exterior door at a remarkable price.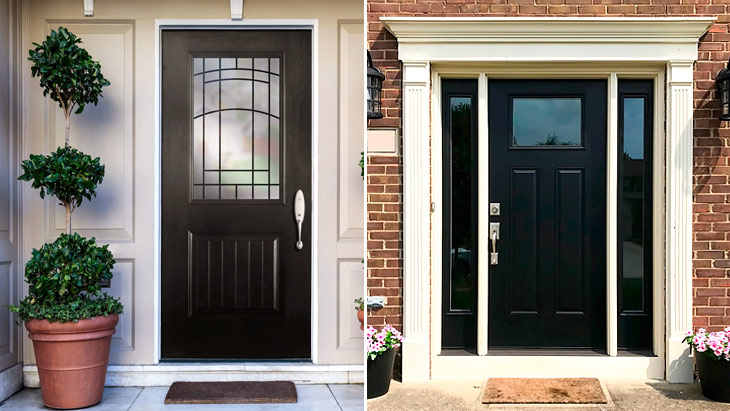 Configurations of painting exterior doors in black:
Single black exterior doors
Single doors with one sidelite
Single doors with two sidelites
Single doors with transom
Double black exterior doors
Double doors with two sidelites
Double doors with transom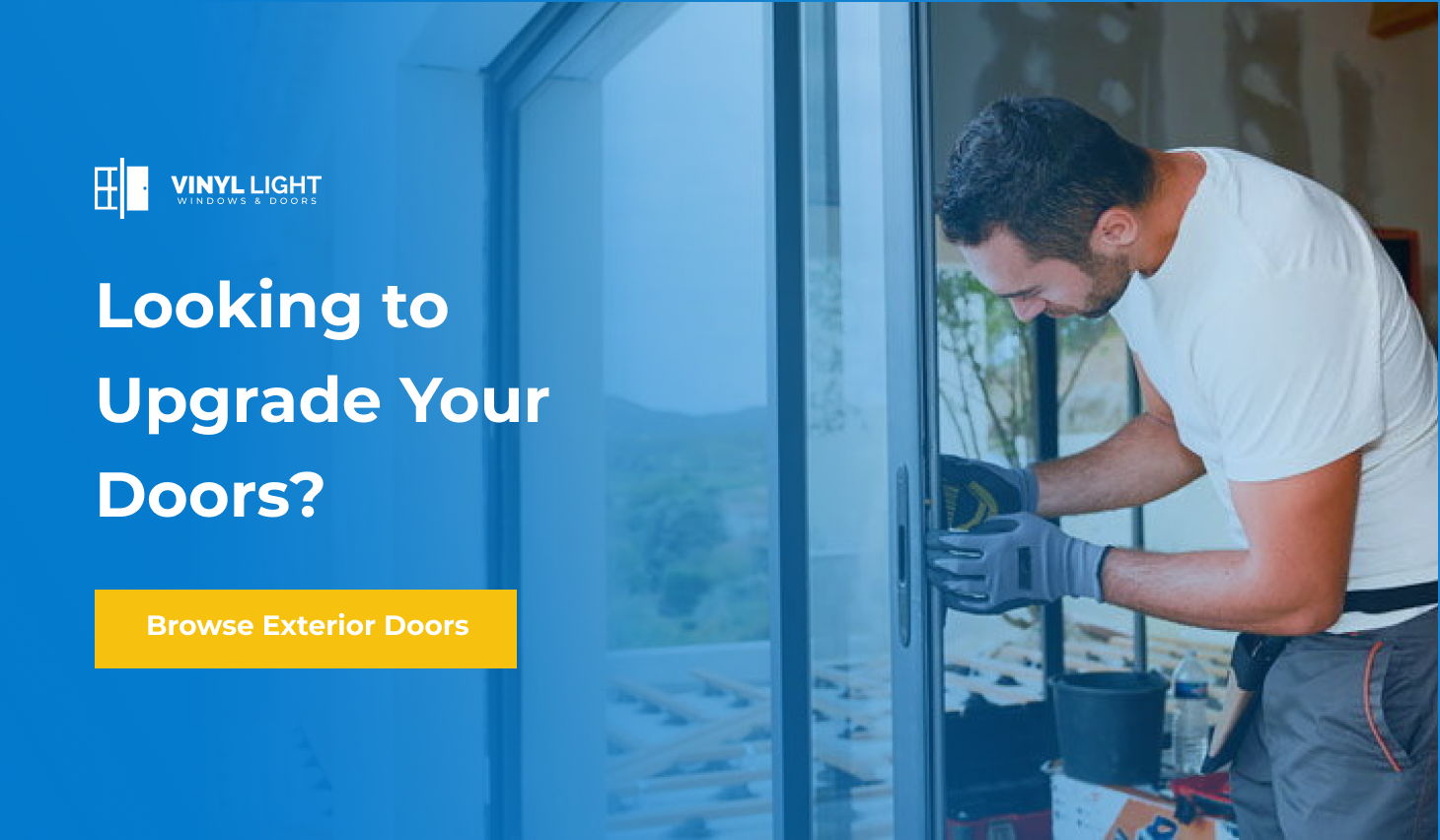 Types of black doors:
Entry doors
French doors
Patio doors
Side doors
Garage doors
Fiberglass black doors
Inswing doors
Outswing doors
Fire rated doors
Styles of black doors:
Black exterior doors with designed glass
Slab designs options (including modern, contemporary, classical, cottage), find more from our website catalogs
Slab exterior and interior color options
Slab stain options
Hinges color options
Sill color options
Handles and pull bar options
Multipoint lock options.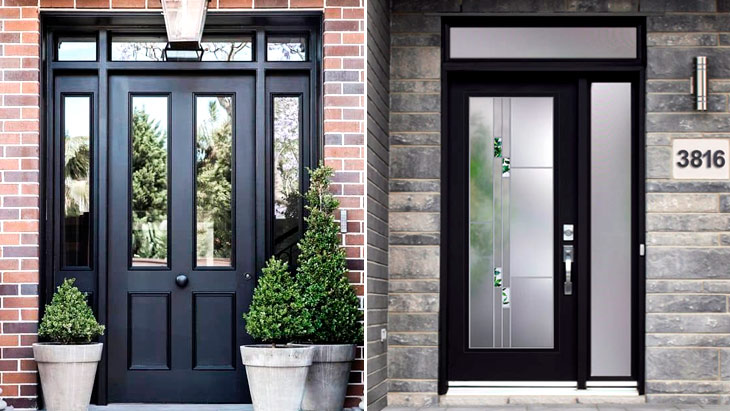 Modern Black Front Doors Ideas
According to a study, homes with charcoal or a black door are likely to improve your home's worth by roughly $6,000 if you try to sell it.
Black is a very striking color, that under the right circumstances can blend well and effortlessly. If all you want is to make your front door appear imposing and dramatic, black will be the ideal hue.
The modern front doors color combination of red and black is ideal for an entryway since it gives it a fashionable appearance as well as a dash of assertiveness and refinement.
A black front door can easily blend in with a bustling and diversified environment. In actuality, if other design features draw the viewer's attention instead, the door would not stand out as much. For instance, a cantilever over the entryway, multiple large planters, or an overall distinctive architecture can do it.
The best accent color combinations for black modern front doors are numerous. With the natural wood, gray and white, it looks stunning.
Numerous shades of stone and brick complement black beautifully as well.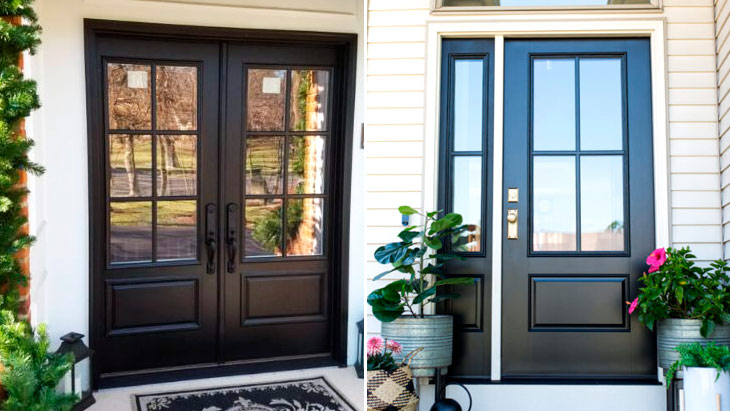 In general, you don't pair very many things with black, which is ineffective.
Go matte if you want a door that is less reflective. Go glossy, though, if you want extra sheen.
Sidelights look stunning with black doors. Sidelights can also be painted in accent colors, gray or black.
It's hard to beat double black front doors with a large foyer.
Gray windows with a black front door can help your property look modern and fashionable.
If you have white windows, a black external door will stick out.
With huge full glass windows that let natural light in and chrome or gold furnishings, black doors also look amazing!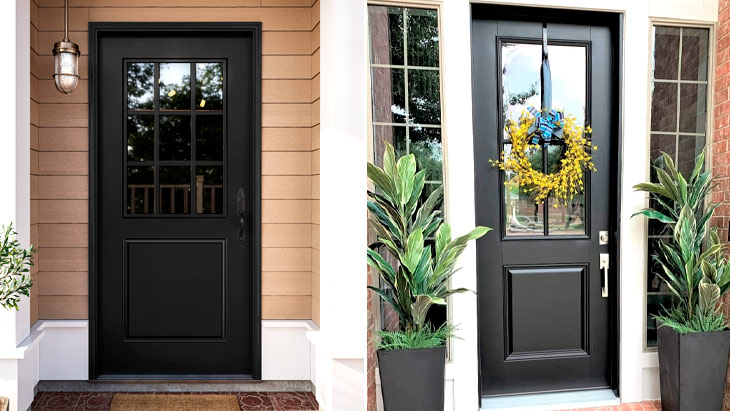 Best Place to Buy Black Entry Doors in Ontario, Canada
Installing a new exterior door is a simple home upgrade that may significantly improve the property. Most visitors will immediately admire our Vinyl Light black entry doors as soon as they approach your house. A little life hack: consider putting black front doors with glass for a lighter mood if you feel black might be too outstanding.
Your door should be sturdy and make a statement that complements the style of your home overall. Whether you need black single front entry doors or black double-entry doors, call us or submit your request online on our Vinyl Light website.
We are producing and supplying best-priced doors and windows in Toronto. Our door technician will measure your door opening and give you the best advice on the future exterior door installation and the door installation price.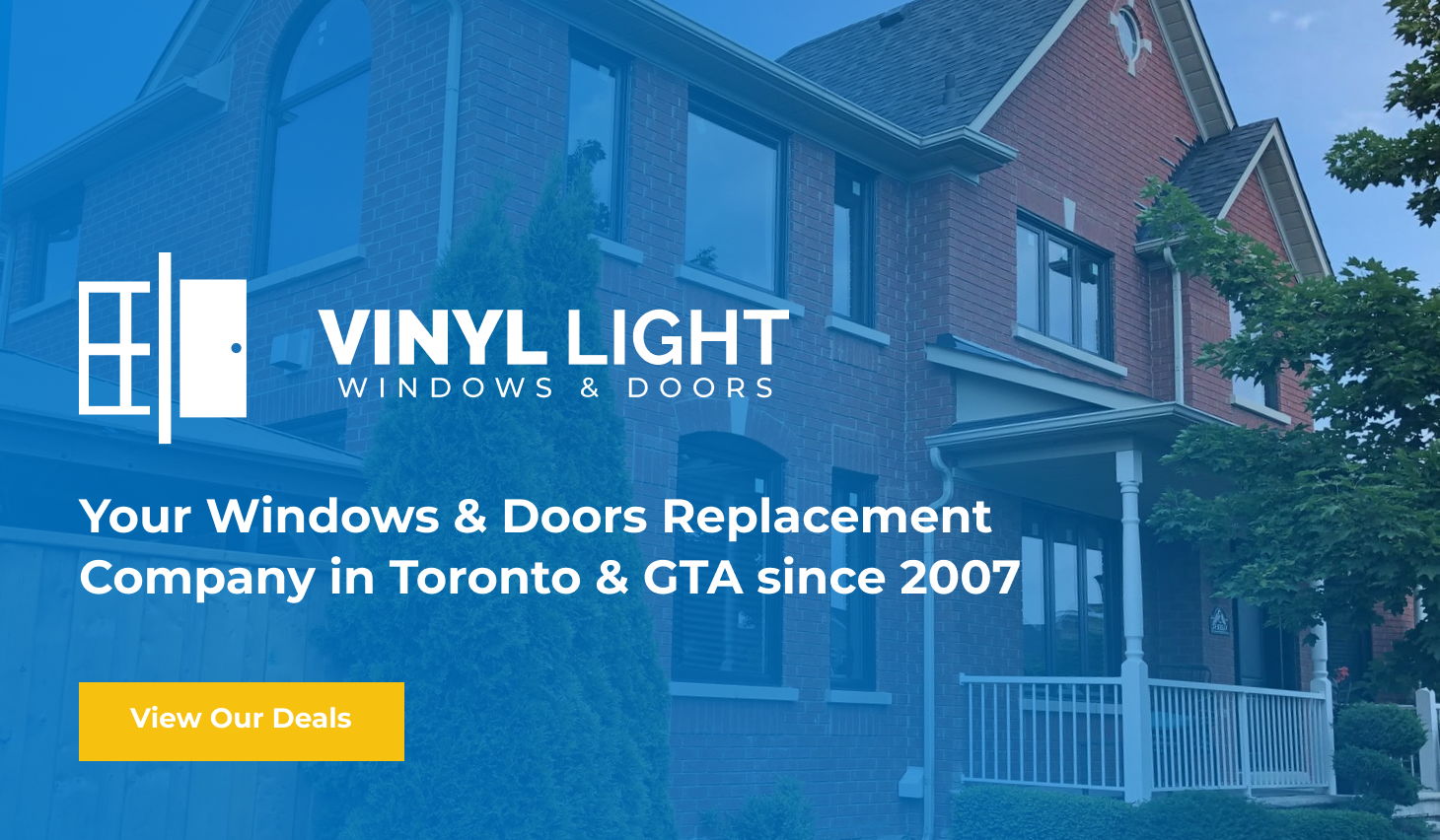 We will help you with suggesting the options for your front entry door color, glass design, configuration and hardware. Let's customize your future door together!