Bow Windows
With their unique style, bow windows always add interesting appeal and aesthetic beauty to any home. If you want to have a great big window to look out into the neighbourhood and take in the beautiful view while enjoying a cup of coffee, then a bow window is your best choice. Here at Vinyl Light, we offer the best bow windows in the whole GTA and provide highly competitive installation rates.
We take bow window replacement projects in the following area: Toronto, Etobicoke, Mississauga, Brampton, Oakville, Burlington, East York, North York, Markham, Vaughan, Richmond Hill, Aurora, Scarborough, Pickering, Oshawa, Ajax, Newmarket, King City, Caledon, Georgetown, Milton. Haven't found your location on the list? Reach out to us to get a quote on bow window installation at your place.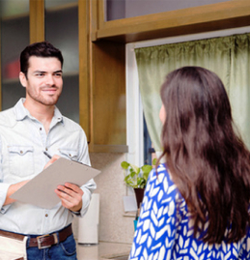 Interested in Bow Replacement Windows?
Request a price estimation today
What Is a Bow Window?
The bow window is one of the most popular types of windows for living rooms. Why the "bow" in the name? Obviously, because of the window shape and its slight curvature (if you were to look at it from above from the floor plan).
Bow windows are often confused with another, similar type - bay windows. The main practical difference between the two is that bay windows feature 3 panels (sometimes called "lites") at a rather sharp angle while bow windows consist of 4, 5, or even 6 panels allowing for a less angular, more round shape (although a 3 pane bow window is also possible).
Bow Windows in Toronto and GTA
Bow windows are highly popular among Canadian homeowners because these windows are quite large and allow more light into the room creating a more enjoyable environment for everyone inside.
On the interior, most of the time there is enough space where you can add a window seat for additional seating or storage. From the exterior, bow windows slightly protrude out from the side of the house.
Location-wise, bow windows are typically installed in the living room - however, bow windows for the kitchen are also possible.
In fact, many people treat these windows as an extension of their home by adding pillows and creating a cove-like living space, which is great for relaxing or enjoying a good read.
Bow windows from Vinyl Light come in different styles. You can configure the one for you with the following options:
Style of window (Casement, Fixed, Awning)
Number of panels (3, 4 or 5 panels available)
Color options (50+ varieties)
Roof options (metal or shingle)
Skirt options (different designs and finishes)
Bow Window Replacement Cost
✅ Window Type
Bow Window
✅ Average installation cost

$1000-$1200 for retrofit

$1500-$2500 for new build

✅ The cheapest bow window
$1500
✅ The most expensive bow window
$4500+
The bow windows are more expensive because first of all they are a combination of multiple windows and they require more time and material for installation. In comparison, a bow window can take a full day to build, when the same installer team is capable of replacing 10+ windows per day.
The average 4 or 5 panel bow window price range is $3,500-$4,500 installed. The bow window replacement price is also influenced by its designs, the type of glass, color, grills, etc.
The bow window sizes primarily dictate the labour prices and are also affected by the type of roof and skirt chosen.
At Vinyl Light, we can offer the best bow window prices in Canada and provide quality bow window installation services. If you'd like to inquire about the cost of installing a new bow window in Toronto and the Greater Toronto Area, please contact our sales team via phone or our free quote form on this page.
Canadian Government Grants to Help You Save
Energy-saving home improvements are more accessible than ever! Check out how you can save up to $10,000 with Ontario windows rebate program or receive up to $40,000 with a new interest-free Canada Greener Home Loan
Learn more
Any size to expand your living space
Any panels of your bow window can be operational and tailored to suit your needs
Customizable with different colors and grills options

Durable and maintenance free
Available with double and triple glass
Designed to fully meet ENERGY STAR® qualifications
Bow Window Glass Options
We have all types of LoE Coatings: LoE-180; Loe-272; LoE-366 and newest LoE-i89 to maximize your glass performance.

Self-Cleaning coating keeps the windows cleaner longer and when you must clean your glass, it will be easier and fast.

Get the best insulation with Triple glass; best strength with Tempered glass or best noise reduction with Laminated one.
Bow Window Upgrades Options
Great selection to perfectly match your brick, siding, soffits and more.

Add a distinctive touch with many grilles types. Choose or create your own design.

Add the privacy to your washroom windows or an extra sun protection.
Popular Windows Styles Used for Bow
Our Easy 3-Step Process
Step 1. Quotation & Measurements

We will measure, consult and quote.

Step 2. Manufacturing

We will manufacturer as per specs.

Step 3. Installation

We will install and clean up.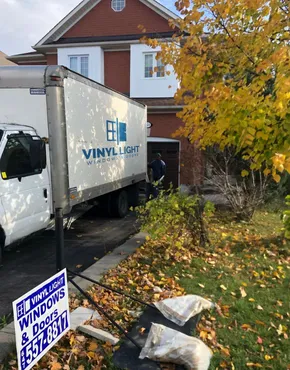 The addition of a bow window will make your living room (or any other room in your house, for that matter) appear larger and more connected to the outdoors. Easily customizable, floor-to-ceiling bow windows work well when flanked by casements or single-hungs.
At Vinyl Light, we can offer you an unbeatable 5-panel bow window price and provide quality bow window replacement and installation services.
Bow Window Replacement in Toronto
With over 10 years of experience under our belt, we are known for our outstanding quality and customer service. Don't take our word for it though - take a look at what our customers have to say about us.
Even though it's what we do best, Vinyl Light is more than just selling and installing vinyl windows and doors. Our ultimate goal is to help our clients realize their creative ideas and make their homes better, safer, and more comfortable.
Our main advantages are:
10+ years of combined professional experience
10,000+ windows installed
Competitive UPVC bow window prices and affordable installation rates
Prompt customer service (with locations all across the GTA)
Worry-free installation (we have WSIB and liability insurance)
Still wondering "What's the best company offering bow window replacement near me"? Doubt no more and go with Vinyl Light.
Our Latest Reviews on Google
Helpful Articles
We'd like to share our knowledge and experience.
Ontario window rebate program is provided by the government to help people get almost immediate payback along with lower hydro bills. Applying for the rebate gives you the unique chance to save money on windows replacement.

In this article, you will find a comparison of vinyl vs fiberglass windows. We do hope the following information and tips would help you with your choice.

As soon as you choose to buy windows in Toronto consider installing them by professional Toronto replacement window company.
Request a Price Estimation Today
We are usually available to reply within 24 hrs