Custom Front Doors
Sometimes stock products are not enough - whether it's because of dimensions, materials, style, configuration, color or any other factor. That's when custom front doors from Vinyl Light come in.
For more than 13 years we have been installing custom exterior doors in Toronto, Mississauga, Etobicoke, Brampton, Oakville, East York, North York, Markham, Vaughan, Richmond Hill, Aurora, Scarborough, Pickering, Oshawa, Ajax, Newmarket, King City, Caledon, Georgetown, Milton. Reach out to us to find out the cost of custom front door to match your needs.
Tailor-made to your specifications, our custom-made doors feature all the same characteristics as our other standard models of doors for sale in Toronto - they're quality-crafted, durable, and built to last.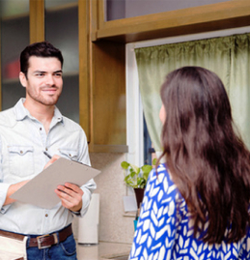 Interested in Custom Doors for Your Home?
Request a price estimation today
Modern Custom Front Doors Toronto
It's safe to say that our home is the center of our life. It's the place where we rest, play, and gather with family and friends - it's our refuge from the outside world.
One could also say that our home is a reflection of our style and taste. That's why it's no surprise we like to spend so much time and effort to make our home look and feel exactly the way that makes us happy.
To achieve that, one has to put many elements together to create an attractive and secure home. We believe that one of the most important elements is your doors and windows since they are responsible for style, comfort, and security.
At Vinyl Light, we take great pride in providing our clients with custom modern doors designed to fit their particular architectural and aesthetic needs. We have all the possible designs and styles from custom size exterior front doors and sliding rear doors in Toronto and around.
Our product range includes all kinds of custom entry doors, including:
Custom steel doors
Custom fiberglass door
Custom patio doors
Custom sliding glass doors
Custom French doors
… and more!
If you're wondering "Where to order exterior custom doors near me in Toronto or the GTA?", the answer is simple - Vinyl Light.
Benefits of Customized Doors from Vinyl Light
Let's just say that we know how to build the customized door and how to install it. We are proud of every single custom door we make in Toronto and this is why we use the best materials on the market:
SILLS. Our sills have a wood sub-sill and a thick aluminum extrusion over them. This strong system has the base strength it needs to sustain the in-swing or out-swing doors and withstand high traffic and the elements. The low-profile wheelchair-accessible sills and black anodized sills are also options.
BALL BEARING HINGES. The only piece of hardware holding the door to its frame is the hinge. At Vinyl Light, we employ high-quality ball-bearing hinges to make the doors swing with ease and feel solid. Lock nuts are used to secure the hinge to the frame. This stops the doors from sagging, which is the reason why cheap doors are drafty and hard to operate.
DOOR SWEEP. Our durable door sweep is manufactured with five co-extruded fins together with a bulb weatherstrip to create a tight seal keeping out the wind, rain and cold. To conceal the mounting screws needed to secure the sweep, it has a vinyl cap on the inside. We also have a low profile sweep which is barely visible on a door. All the sweeps are adjustable.
DOOR FRAME. Our frame is made from solid composite PVC, Fiberglass (which has 40% density over the competition) or Vinyl wrap wood to prevent any warping, chipping, cracking, rotting or painting. They can be steel reinforced in critical places to carry more load and have U-shape carbon fibre reinforcement embedded in the composite door jamb to strengthen the structure and decrease any flex in the material that may be caused by fluctuating temperatures.
OUTER SHELL. We use 24 gauge steel slabs which are factory pre-finished with white polytechnic 141 and hot dip galvanized G-40 for increased rust resistance. The 3mm fiberglass shell not only perfectly replicates the real woodgrains but is also the most durable material you can get for your door.
INNER CORE. All our doors are filled with high-density polyurethane foam for the best insulation performance and have R-value of 13-15. We use LVL wood for stiles and rails around the perimeter to prevent doors' warping and moisture penetration into the core.
WEATHERSTRIPPING. We use a premium Z-mag weatherstripping system which incorporated both magnetic and compression technologies for the ultimate seal.
BRICKMOLD. Our brickmould has a flat or curved profile and is available in two sizes to suit your measurements needs.
Custom Door Installation Cost
If you've been looking to get affordable, but good-quality custom exterior doors installation in Toronto, you've come to the right place.
We've been handling door installation and replacement for more than a decade and guarantee to offer the best custom doors and windows installation services near you.
The cost range for the custom doors is large because every extra piece that you add to it affects the price. It is complicated to put a dollar sign for every component as those range in price as well, so we'll give you the indications to understand why one door is more than another.
| | |
| --- | --- |
| ✅ Door Type | Custom Entry Door |
| ✅ Installation cost | $600+ |
| ✅ The cheapest custom door | $800 |
| ✅ The most expensive custom door | $10,000+ |
Door Material: usually steel is the cheapest, then goes fiberglass and then wood on top of the pricelist.
Door Configuration: a single door is the cheapest and it goes up in price when you add another door, sidelite or transom
Door Size: standard door size is 28"; 30"; 32"; 34" or 36" in width and 79.5" in height. Everything else is a custom size, which adds to the price
Door Design: there are some common classic solid door designs and there are some more modern options, but the price difference is small.
Door Glass Design: clear glass is usually the cheapest; one texture privacy glass is more (ex. sandblast, rain, chinchilla, etc. and they range in price); design glass is next in line (the different designs range in price), and on the top of the list is wrought iron (they also range in price) There are some exceptions though.
Door Glass Size: the bigger the glass the more it is, considering you are choosing from the standard sizes because a smaller custom glass size will cost you more than a standard bigger one. Most common standard sizes: 22x36" (half the door); 22x48" (3/4 of the door); 22x64" (full size)
Sidelite: there is a sidelite with a panel, which basically has an edge around the glass and there is a direct glass sidelite, where the glass is encased into a frame. The 2nd one is cheaper, But it all changes once you add the glass to it, then it all depends on the glass design and the size because for the direct glaze sidelite the glass must be custom made.
Transom: the size of the transom dictates its price and also the shaped one is extra.
Color: white color is free, color for the outside is extra plus more if you add the color inside. Stain for the fiberglass is more than paint and the fibreglass door must be painted or stained on both sides
Lock and handle: the design and even the color finish makes a difference. The price range is big here from a simple deadbolt with a lever to a multipoint lock or one with a pull bar handle
Miscellaneous customizations: there is a wide range of other design features that can customize your door and change its price: executive panels, stainless steel lines and inserts, grooves or nails/clavos, decorative shelves; mouldings, sill color, frame depth, etc
Looking for an actual price for your door project? Get a no-cost, no-obligation free estimate from Vinyl Light Windows & Doors. One of our knowledgeable technicians will be able to guide you through the options available to choose the right door for you at the right price to fit your budget.
Canadian Government Grants to Help You Save
Energy-saving home improvements are more accessible than ever! Check out how you can save up to $5,000 with Ontario windows rebate program or receive up to $40,000 with a new interest-free Canada Greener Home Loan
Learn more
ANY CONFIGURATION

Steel or fiberglass
With standard or oversize sidelites
With single or multiple transoms

ANY SIZE

Standard width with a frame: 58"; 62"; 66"; 70"; 74"
Standard height with a frame: 82.5"(7') or 98.5"(8')
Any custom size is possible

ANY UPGRADE

Unlimited color options
Built-in miniblinds
Glass grills in many designs
Venting glass

ANY HANDLE

Pull bar handles in various designs and sizes 24"-72"
Multipoint locks in many styles and finishes
Smart locks for regular and multipoint handles
More Doors Options
All the styles you like at great prices you want.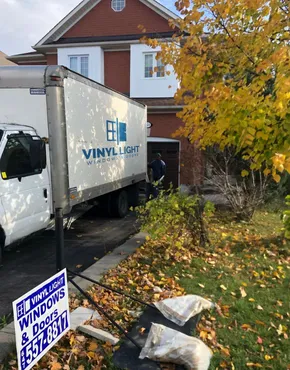 Exterior Custom Doors Toronto & GTA
At Vinyl Light we have been installing custom windows and doors for over a decade and have a large list of satisfied customers with new custom doors in Toronto and around.
Our custom entry doors are individually customized with a wide range of sizes, materials, features, colors, and hardware - that's not to mention the fact these doors (whether it's custom steel entry doors or custom patio doors) are built with exceptional craftsmanship.
After you've settled on a particular door style, you can choose from different colors and finishes, select from various glass options for the door lites, sidelites, and transoms. Finally, you can complete the door with selections from our broad lineup of hardware and accessories.
Think of it as designing your future door rather than just shopping for one - and we're there just to navigate you through the ocean of choices and options.
So, if you're still not sure where to get custom-made doors near me in Toronto and the Greater Toronto Area, think no further than Vinyl Light Windows and Doors
Our Latest Reviews on Google
Helpful Articles
We'd like to share our knowledge and experience.
What is the best material for a front door? Best exterior door for cold weather in Canada. Best exterior door for direct sunlight.

Standard door sizes in Ontario, Canada: patio door, exterior door, French door and double door size. How to measure door size?

Front door color trends 2023 How to choose a front door color for a brick house? What color front door with red brick house?
Request a Price Estimation Today
We are usually available to reply within 24 hrs