Upon choosing double vs triple pane windows let's take a detailed look at these two types and see if they are the right choice for your home. There is a helpful article already available on Vinyl Light website describing double pane windows, check it here.
There is a wide window selection available at Vinyl Light windows & doors. Our windows are built to last for many years. The information below will help to ensure you make the right decision from the start.
Double Pane vs. Triple Pane Windows: Pros and Cons of Each Type
To compare double pane vs triple pane windows you need to start with the comparison of each type's advantages and disadvantages.
PROS

CONS

Double Pane

The overall insulation provided by two panes of glass helps to save money on cooling and heating bills, as your home becomes more energy-efficient.
Noise reduction.
Letting natural light in.
Quite secure, as breaking through the double-pane window is harder.
Cost less than triple.

Are not as energy efficient as triple glass, with 90% of energy reflection, letting 10% through.
Less in insulation than triple.
Less secure compared to triple glass.

Triple Pane

The highest-rated in terms of energy savings, keeping 97% of energy, allowing just 3% to come through.
Improved insulation.
Highly improved noise reduction.
Additional security, making it much harder to break.
Adds value to your home.

Heavier in weight.
Triple pane windows cost more.
More effort in terms of installation.
The triple-pane windows vs double-pane windows topic involves future customers into beneficial research. And we are proud to provide the updated information to help. No matter what, the only right decision belongs only to a homeowner.
Our company can offer exceptional service and high quality doors and windows in Mississauga, Toronto, Markham and other cities in the GTA.
Energy Efficiency and Durability of Triple Pane vs Double Pane Windows
Double pane vs triple pane windows have less energy efficiency.
A double-pane window reflects 90% of energy while allowing only 10% to pass through. This means on a hot sunny day 90% of heat stays outside, with only 10% making its way inside. On the other hand, on a cold day, 90% of heat within your house stays inside, with 10% leaking outside.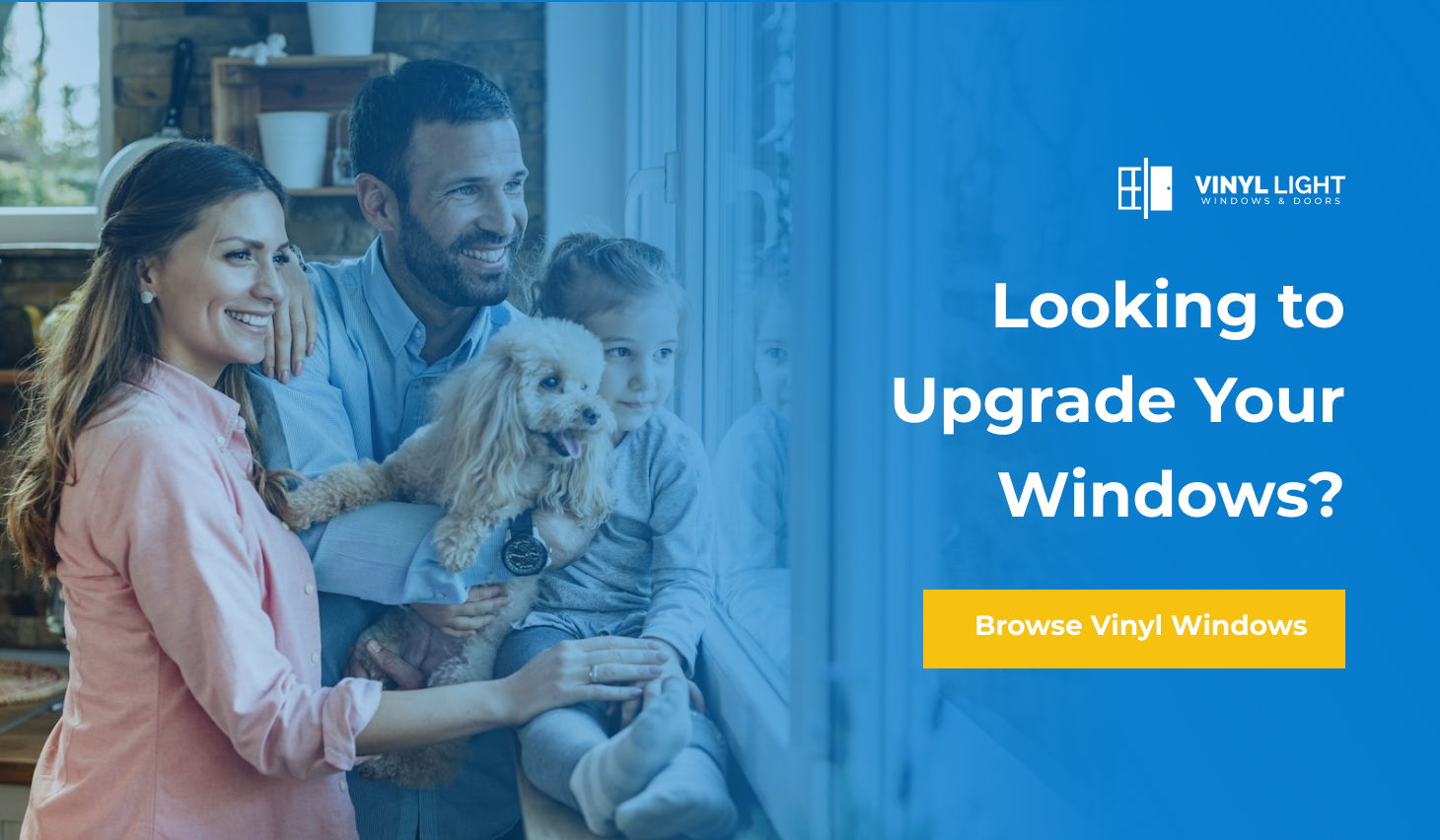 Triple pane vs double pane windows are the best in terms of energy efficiency. Only 3% of energy passes through a triple pane window, reflecting 97% of it.
During cold weather, 97% of the heat in your house stays inside, while only 3% escapes. Hot days of summer have little effect on the temperature inside, as just 3% of your cooled air seeps through your windows.
Always examine your temperature zone and the condition of other aspects of your property before deciding whether to install double or triple-pane windows.
The best choice for Canadian homes is definitely triple-pane windows. The harsh Canadian climate requires us to improve energy efficiency as best as triple-pane windows are able to.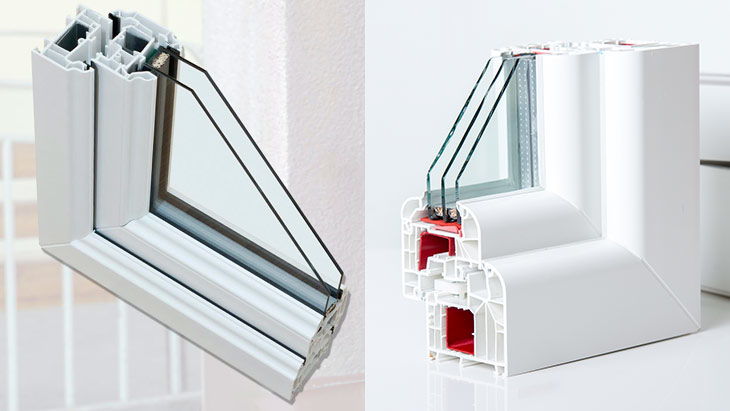 Triple Pane Windows vs Double Pane: Maintenance and Security
Both types of panes require minimum maintenance. Just basic cleaning with a piece of cloth and glass cleaner. You may also use soapy warm water to remove heavy stains finishing by drying up with paper or paper towels.
Double pane windows vs triple pane are quite safe. To smash through your window, the object or person would have to break through two sheets of glass, which is a more difficult task compared to a single pane window, but not as good when compared to a triple pane.
Triple pane windows vs double pane provide the highest security. For any kind of intruder, more glass equals more effort. Triple glass is also significantly heavier making it far more resistant to any sort of damage.
Triple vs Double Pane Windows: Color and Design Options
Vinyl frames of windows double pane vs triple pane (and vice versa) come in any color you choose for your home. Vinyl Light has a wide spectrum of colours for vinyl windows, patio doors and exterior doors. Our company's representative always brings colour chips right to your home on the measurement date. This makes it way more comfortable to pick the right colour having the samples available to match or contrast your house exterior.
Triple vs double pane windows (and vice versa) come in all designs available. It is not difficult to find double and triple pane glass in almost any window style you like. Our company has windows' design options that will suit any type of glass you choose. Both double and triple glass will fit standard and custom sizes of single, double hungs, sliders, casemets, picture, bow and bay windows as well as awnings.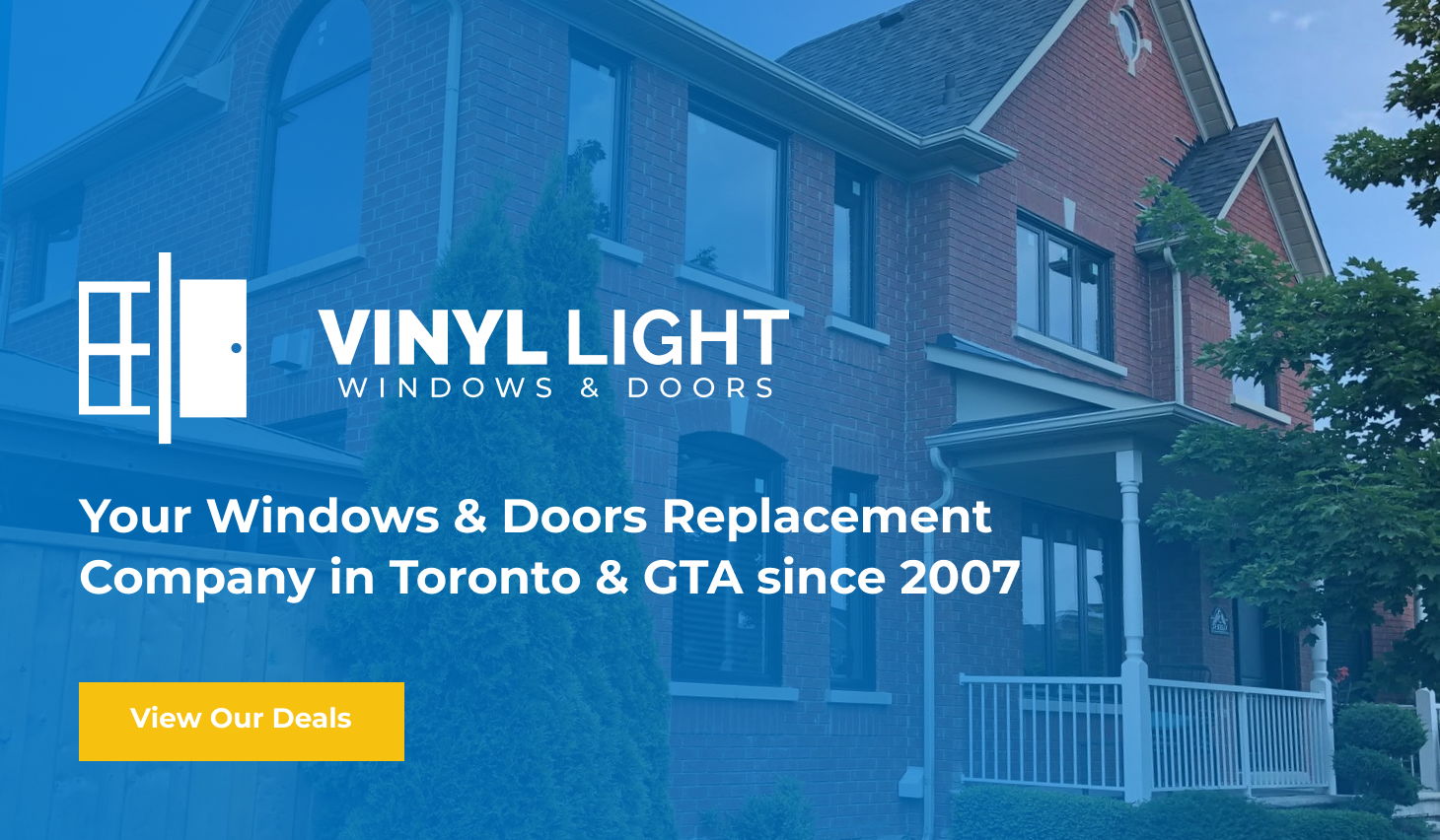 Triple Pane Windows vs. Double Pane Replacement Cost
The installation process for double and triple glass windows is not exactly the same. The size and weight of the windows are important things to consider.
Double pane vs triple pane replacement windows are less expensive. Installation wise they are cheaper too.
Triple pane windows vs double pane cost are 10% more. These windows are a bit more difficult to install. Also, keep in mind that you are paying for what is widely considered to be the best window energy efficiency option available. Taking into account, this is a perfect investment.
Still unsure whether you require double or triple pane windows?
Vinyl Light Windows & Doors takes care of double and triple glass vinyl windows replacement in Toronto and GTA areas. Our team of windows and doors professionals go along with your needs and lead you towards the best options!