Fiberglass Entry Doors
Finding the right fiberglass door is an important task. It doesn't mean the searching process should be concentrated only on some cheap fiberglass doors available. The style and finish of your ideal fiberglass replacement door should also match the style of your house look. The right door adds a luxury accent to your home and at the same time increases its value.
If you are in search of a beautiful fiberglass door that is also durable, secure and low maintenance then you are at the right place, because that is the only kind of fiberglass door we carry and install for our valuable customers at Vinyl Light. Our Fiberglass exterior doors are made of high-quality materials and come in a wide selection of styles, colours and configurations.
We take fiberglass door replacement projects in the following area: Toronto, Etobicoke, Mississauga, Brampton, Oakville, East York, North York, Markham, Vaughan, Richmond Hill, Aurora, Scarborough, Pickering, Oshawa, Ajax, Newmarket, King City, Caledon, Georgetown, Milton. Haven't found your location on the list? Reach out to us to get a quote on fiberglass door installation at your place.
MULTIPOINT LOCK HANDLES OPTIONS
MULTIPONT LOCK HANDLES OPTIONS 2
Fiberglass Door Catalogues
Get an inspiration and choose from the 200+ styles of fiberglass exterior doors we offer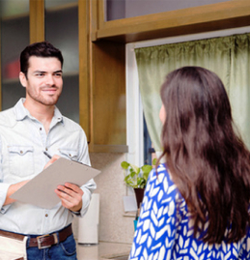 Interested in Fiberglass Exterior Doors?
Request a price estimation today
Fiberglass Doors Replacement in Toronto and GTA
When it comes to the important decision of choosing the right modern front door unit for your home, the two most common choices are steel doors and fiberglass exterior doors. We offer both of these types and have them available in a number of styles and finishes so you could easily find the one that matches your house exterior.
Fiberglass Doors Benefits
A wide range of wood grain, stains and colours
A high level of durability against harsh climate
100% rot and rust-free and will not dent when hit
Require no maintenance with easy cleaning
Highly energy efficient due to high-density foam core
Greatly secured due to solid construction
Add a lot to the house value, looking prestigious and rich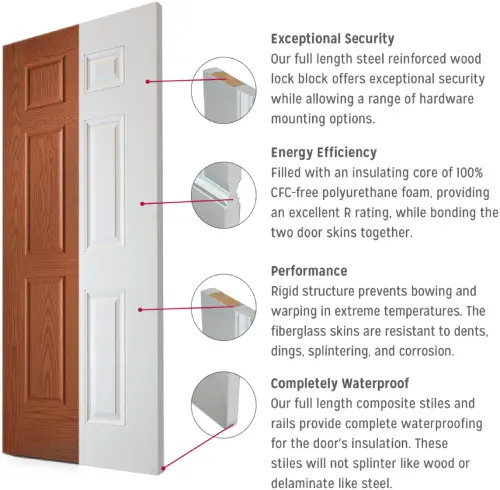 We deal with all major fiberglass door manufacturers and have virtually no limit for the design, size or configuration.
Fiberglass Door Sizes
We carry all standard sizes: 30 x 80; 32 x 80; 34 x 80 and 36 x 80" fiberglass exterior door slabs. The most common size on the market is 34-36" for the fiberglass entry door and 64-68" for the double door. You should never go below 60 inch for the double entry door in fiberglass or steel. It will be inconvenient to use on the daily basis and it will not look right. High 8 ft fiberglass entry doors are now gaining the popularity. The higher door creates a grand effect once you get close to it. Custom size or oversized fiberglass doors are not a problem for us. We can make the doors as big as 48 x 108".
Design
You can see in our catalogues the extensive design options that we carry and those are just some that we can do. We have all the contemporary styles like 3 or 5-panel fiberglass exterior door with grooves or steel lines, as well as a shaker and classic options like 2-panel or 6-panel fiberglass entry doors. We can match any other design which you might have seen online or on the streets.
Configuration
We assemble the doors per order, so any configuration is possible with us. You can add a sidelite or 2 to a single door or double with transom which is squared or shaped. And those fiberglass front doors can be fitted with any glass design or size. It is like a lego that you can create from pieces and we can build it for you.
Grain
The reason why fiberglass is used as the material to make doors is that it is very pliable. This is why you can see all the wood grains like they are real and all the design edges are sharp and vivid because the door is molded, not stamped like with steel doors. The master door is made from wood, from which the mold is made to manufacture the fiberglass shells and duplicate the design and wood appearance up to every little grain or knot. We have the molds of wood species like Mahogany, Fir, Cherry, Oak and Alder. The fiberglass door frame is also made from fiberglass to match the wood grains, but can also be vinyl wrapped wood as a more economical option.
Finish
The best finish for the fiberglass door is the stain, which will highlight the grains and make it look like real wood. We hand-stain our doors twice like you would do with wood doors and cover them with marine-grade lacquer to protect from the elements and keep them looking new and vibrant for a long time. The fiberglass can also be painted, it is a popular option with smooth fiberglass doors.
Hardware
The most common option for the fiberglass door handle would be a multipoint one because most other companies force you to purchase it or else there is no warranty. Our doors are built solid with a 5-inch composite wood rail all along the door perimeter to avoid any warping, so multipoint lock is not required. You can choose any handle to go along with your new door: pull bar, any big box store one, key pad one, smart lock, etc. We do tho recommend a multipoint lock handle for better security and tighter seal.
How Much Do Fibreglass Front Doors Cost?
Fiberglass doors are in high demand at all times. These doors are perfect to survive through the harsh climate. Once the door is installed there is nothing to take care of but just to enjoy it. Fiberglass material looks like wood but doesn't require any maintenance as wooden doors.
| | |
| --- | --- |
| ✅ Door type | Fiberglass Entry Door |
| ✅ Models in our catalog | 200+ |
| ✅ Average installation cost | $800 |
| ✅ The cheapest fiberglass door | $1600 |
| ✅ The most expensive fiberglass door | $8000+ |
Fiberglass door pricing starts at $1,500 and up, averaging at about $2,500-$3,500 plus installation. To get the proper fiberglass doors cost, you would have to consider:
Size — standard or custom
Configuration — single or double, with transom and sidelites
Glass — its design and size
Finish — paint or stain option
Hardware — standard or multipoint
Our company is the right place where to buy fiberglass entry doors. We are ready to upgrade your house's appearance by building up your dream entry door which will serve you a lifetime. As soon as the door is produced our installers will take care of the complete replacement of your old door with the new fiberglass one.
Looking for an actual price for your project? Get a no-cost, no-obligation estimate by talking to one of our company's technicians.
Canadian Government Grants to Help You Save
Energy-saving home improvements are more accessible than ever! Check out how you can save up to $10,000 with Ontario windows rebate program or receive up to $40,000 with a new interest-free Canada Greener Home Loan
Learn more
Fiberglass door styles

Our high-end series wood grain fiberglass doors look and feel like wood. They are resistant to dents, warps, scratches, rotting and rust, which also makes them easy to maintain. We use laminated veneer lumber (LVL) which is the strongest man-made wood material. This provides superior rigidity and high resistance to thermal bow. This is a truly top-of-the-line product.

Fiberglass doors specifications

Skin: 0.1" compression molded premium fiberglass
Fiberglass Finish: 2 stain coats with marine grade lacquer
Laminated veneer lumber(LVL) Stile: 4" on hinges & lock sides
Laminated veneer lumber(LVL) Rails: 3" on top & bottom
Insulation: high density polyurethane foam with R-value: 15, CFC free
Any configuration
Single or Double
With transom or sidelites
Up to 8 feet high
Up to 42 inches wide
Any color
Wide range of glass
¼, ½, ¾, oval or full size glass
Clear, privacy, design, wrought iron options
Matching transom and sidelite
Custom size and design glass available
Transoms and Sidelites
Any size and shape transoms
Double or triple glass
½, ¾, full size, direct glaze or no glass sidelite
Operational or venting sidelites
Fiberglass Door Configurations
Our doors can be combined with transoms and sidelites to create many options to fit your home and showcase your personal style.
Single Door

Clean and solid single door can have an infinite design options when fitted with a glass of your choice

Single Door With 1 Sidelite

The sidelite on either side of a door will pair well with one adding a great design touch, especially with a matching door glass

Single Door With 2 Sidelites

Two sidelites will beautifully centre your door with plenty of light, so you might consider one without a glass

Single Door With Transom

The transom can extend your door beyond the standards, adding the view without privacy issues

Single Door With 1 Sidelite & Transom

This classic combination can play well together with the right choice of glass and color

Single Door With 2 Sidelites & Transom

Those four elements when put together create an outstanding balance of design and uniformity

Double Door

A rich and classic door configuration that will never go out of style, either you add the glass or don't

Single Door With Wide Sidelite

The oversized sidelite is surely an eye catcher with its bold and contemporary look

Double Door With Transom

This classic combination is still a popular style especially for the back of a house for maximum air floor, view and light

8' or 95" Single Door

The high door will sure to impress especially once you get to open it, with bonus of making the ceiling look higher

8' Single Door With 1 Sidelite

Space permitting, use this combo that you will never regret getting every time you look at it

8' Door with 2 Sidelites

2 high sidelites with an 8 feet door deliver a grand impact that only 8' double door can match
Popular Fiberglass Doors
Those are our most popular fiberglass doors designs. Please check our catalogues for more options. Can not find what you are looking for? Don't hesitate to call us or send a request.
8 Box Grooves

4 Steel Lines

6 Lines Plank

Flush, 7x64" Glass

2P, 22x48" Glass

Craftsman, 22x14" Glass

2P Planks

2P Classic

2P Cambertop
More Doors Options
All the styles you like at great prices you want.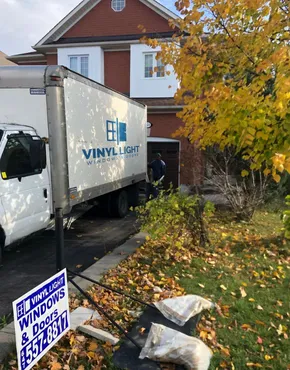 Exterior Fiberglass Door Installation in Toronto
Durability is a high priority for most homeowners but so is the fiberglass front doors replacement cost. Why pay more when there's us, a company that offers top-quality, professionally done entry door replacement in Toronto and the Greater Toronto Area.
We realize that for you, our client, every door unit replacement is an investment. Knowing your options and choosing a solid fiberglass exterior door for your home is going to save you a lot of time, money, and frustration.
If you're still thinking "What's the best exterior fiberglass doors installation company near me?", think no further than Vinyl Light. We will handle your front door replacement from A to Z and leave you wondering "How could it be THAT cheap and THAT good?
Our Latest Reviews on Google
Helpful Articles
We'd like to share our knowledge and experience.
Entry doors dictate the appearance of your home. Fiberglass vs steel door becomes a major comparison in a door shopping process. Every homeowner has to consider some research to understand better which door material to pick.

Vinyl Energy Efficient Windows and Exterior Doors are overall better for your home in Canada.

To find the best quality replacement windows and doors in Ontario you have to look for the best window replacement company. Here are important tips on how to make a right choice.
Request a Price Estimation Today
We are usually available to reply within 24 hrs