When it comes to your house front door design, you have a variety of options to choose from with Vinyl Light windows and doors. Our door installation services and the cost to install an exterior door are highly competitive. Don't hesitate to give us a call or send an online request to find out about the best door manufacturer in Ontario.
One of your home's most recognizable, yet frequently disregarded, features is the front entrance. It serves not only as a highlight for the exterior of your house, but also has a significant impact on the interior's design and purpose.
Let's have a look at some of the most popular front entrance design trends in 2023.
Read our related articles:
House Front Door Design Trends 2023
Fiberglass and steel doors. 2023 will be the year of fusing fashionable modern house front door designs and their practical solutions. Because of this, a large number of households are switching to stronger, weatherproof house front doors design constructed of steel and fiberglass. These doors have a contemporary feel, but they may be customized to match any home's design. The best part is that they require little upkeep, so you won't have to worry about painting or staining them to maintain their appearance. Only at Vinyl Light you find the best choice of steel and fiberglass doors in Toronto, Ontario.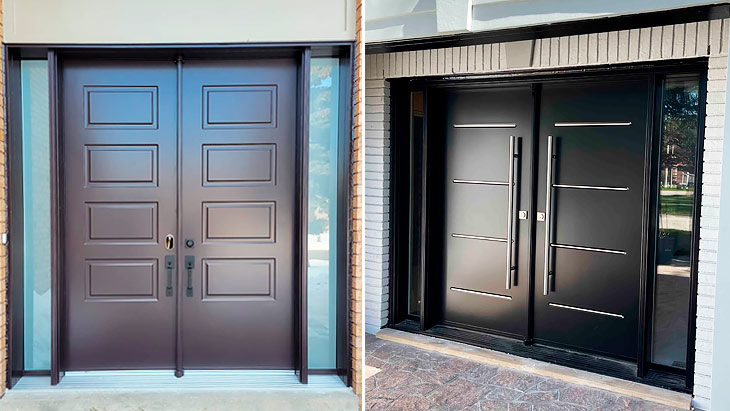 Sharp colors. This is a winning choice for both big and small house front door designs. Going with bolds is in fashion if you're seeking for the most popular front door colors in 2023! Vibrant reds, yellows, teals, blues, black are the best. These color options work brilliantly with contemporary house front doors of modern sleek designs.
Wood staines. A fiberglass door's wood grain adds a rich solid look to the house front double door of any design. Wood stain doors will undoubtedly give your house charm and personality, regardless of the hue you choose.
Glass elements. Adding glass components to the front door is one of the trends in 2023. You can accomplish this by customizing your door with glass inserts. Glass doors and panels increase the invitingness of your foyer by letting a natural light in.
Smart technologies and features. Since your door serves as the entrance to your house, it makes sense to include some smart modern features of 2023 to improve security and functionality, which include:

Automatic locking system when you leave or come back home.
Digital locks.
Doorbell with a built-in security camera.
Multipoint locking systems.
House Front Entry Door Ideas Depending on House Type 2023
Considering house front door ideas, you should take into account the architectural style of your home. It is not that easy "to build" a door style through a wide choice of customization options. Try to concentrate on what you expect from your future door and how it should look towards the style of your structure.
Let's have a look at different house types and their best entry door design ideas in 2023:
Modern and contemporary house exterior doors ideas in Canada: doors with geometric patterns are quite popular. In contrast to the more conventional style, these doors include many squares and other geometric patterns, making them incredibly unique.
Colonial house front door ideas: fiberglass or steel double doors work perfectly in colonial-style homes. Two sidelites, grills can be added and positioned symmetrically on either side of the door. Above-the-door transoms are also ideal stylistic lighting fixtures for the entry hall, which can come in rectangular, semicircular, or semi-elliptical shapes. The best doors' colors would be white, black, brown, wood grain textures of different shades.
Farmhouse front door ideas: front door ideas for ranch-style house include a lot of glass and straight lines, and look great with a wood grain texture. They are an excellent option for anyone looking for something distinctive, as they are growing in popularity in today's market of 2023. The cozy farmhouse design is beginning to overtake industrial and contemporary styles. There are lots of various farmhouse-style doors available right now. Within this style range, you ought to have no trouble finding something you enjoy.
Beach house front door ideas: you should only use a coastal front door if the rest of your property also has a coastal theme. If your front door doesn't match your overall aesthetic, it will just seem odd. For the beach house pick doors of light colors, like blue and white. Don't go with flush styles, more glass inserts work better.
Small house front door ideas: the single door is the best option here not to overload the front. Build your dream door according to the style of your home. Lots of small houses in downtown Toronto are converted into modern-style homes. If your structure obtains dark walls, sharp color and flush style steel single doors in red or orange would stand out with a benefit.
White house front door ideas: bold front door colors have gained popularity for white homes. Try dramatic bright colors like red, yellow, light blue, orange etc. These colors make a strong statement. Anything that isn't a wood tone or neutral hue will stick out and benefit the white walls.
Red Brick House Front Door Ideas 2023
Red brick houses are classic and brimming with traditional charm. Front door ideas for red brick house may give your facade even more personality. In 2023 brick house front door ideas are not limited to a particular color or style. The most important is to figure out a right match to the general look of your home.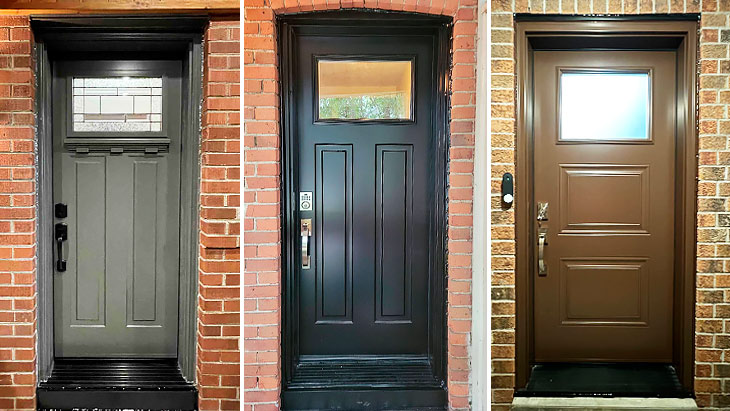 Though some red brick house front door ideas and colors will still dominate in 2023. Let's discover more benefits of such doors taking it from the color options up to suggested styles:
Combining red brick with a black front door is a sophisticated choice that will stand the test of time if you want to improve curb appeal. Exteriors look luxuriant and magnificent when they are painted black.
Blue is a common front door ideas choice for brick house since it is a soothing color that helps to soften the warmth of red brick. Looks both good with lots of styles, with and without glass inserts.
Red brick and a look-at-me shade of vibrant orange door in a great way add individuality and character to your exterior. Make sure there is enough contrast because this effect can be challenging to achieve if both the brick and the paint color have strong orange undertones. Flush style steel doors look great.
Front door of light wood texture with red brick creates an organic appearance. Fiberglass wood grain door gives off a cozy, earthy vibe. This style is especially appropriate for ranch-style and contemporary residences.
Dark green is a calming color with a natural feel that contrasts beautifully with a red brick wall. Particularly in classic brick homes, the color "hunter green" is frequently used.