The backyard door gives you access to your deck, patio or backyard as well as a second entrance inside your house.
They usually come with full-size clear glass to maximize the connection with the backyard, allowing for the best view and natural light, expanding your house to the outdoors and connecting with nature. This gives you several alternatives to choose from, including sliding glass doors and French doors.
Please, find more here:
Types of Backyard Doors for Your House
There are two most common types of backyard patio doors:
Sliding door for backyard. For good reason, this is the most popular style of backyard door. A sliding vinyl glass door offers a clear view of the outside and abundant natural light. A patio sliding doors have a larger glass area than a swinging door, even though neither indoor nor outdoor space is required to accommodate it. It's also more affordable.
French or garden (hinged) double door. The common styles of swinging doors used for patios are French steel or fiberglass doors. If there is not enough room, a single door can be a chic substitute. This design typically has a glass panel that lets natural light in but provides a more constrained view. Additionally, you need space to swing open the door.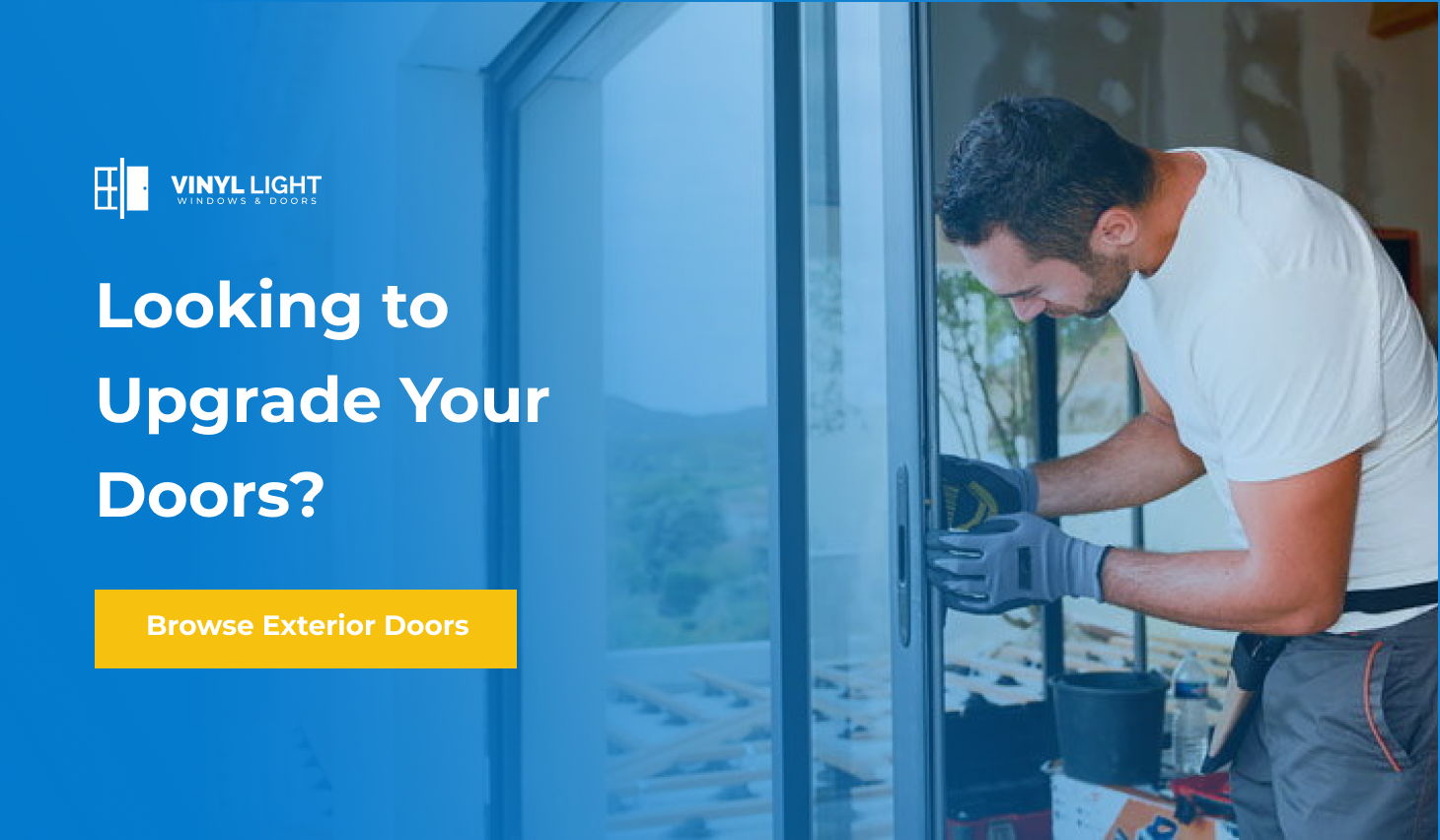 Backyard Sliding Door Ideas and Trends
A backyard sliding door is the most common choice for homeowners. The fact that vinyl material is inexpensive, energy-efficient and low-maintenance, makes it a good choice for patio doors and windows.
A track system that runs along the bottom and top of the doors allows sliding doors to open and close. A vinyl patio door comes complete with a handle and backyard patio screen doors to protect the inside area from insects.
Consider using low-E glass or built-in shades in between panes to minimize sun fading on furniture. To reduce the expense of heating and cooling, whatever door style you choose, make sure it has double-paned glass and weather stripping.
At Vinyl Light windows & doors we provide the following features for our backyard vinyl glass doors:
2, 3 or 4 panels patio door
Standard stock sizes
Custom sizes
Many colors
Grills
Miniblinds
Keyed lock
Twin-point lock
Garden and kick locks
Transoms.
Sliding patio doors benefits:
Energy efficiency.
Affordability.
Security.
Durability.
Low maintenance.
Easy to operate.
Maximum light and ventilation.
Minimum space requirement.
Complete with handle and screen.
Multiple upgrade options.
Backyard French Door Ideas and Trends
Backyard French doors or swinging doors are a great alternative for letting light into your house and offering ventilation options. Additionally, exterior French-style patio doors in Canada provide you unhindered access to the outdoors all year long, especially in summer when you can swing open both doors. They can make your home stand out in any community because they are available in a variety of backyard door designs.
Upon choosing a French exterior garden doors you can bump up into a variety of options. Backyard door ideas are pretty extensive.
Our backyard doors features are:
Steel
Fiberglass
Single or double doors
Side lite options
Transom shapes option
Custom sizes
Any colour
Glass sizes options
Glass design options
Miniblinds option
Grills option
Locks options.
Out-swing or in-swing options
French door benefits:
Energy efficiency (better seal than sliding doors and smaller glass)
Security. (multipoint lock option)
Durability.
Ease of use.
Low maintenance.
Many upgrade options.
Stylish appearance.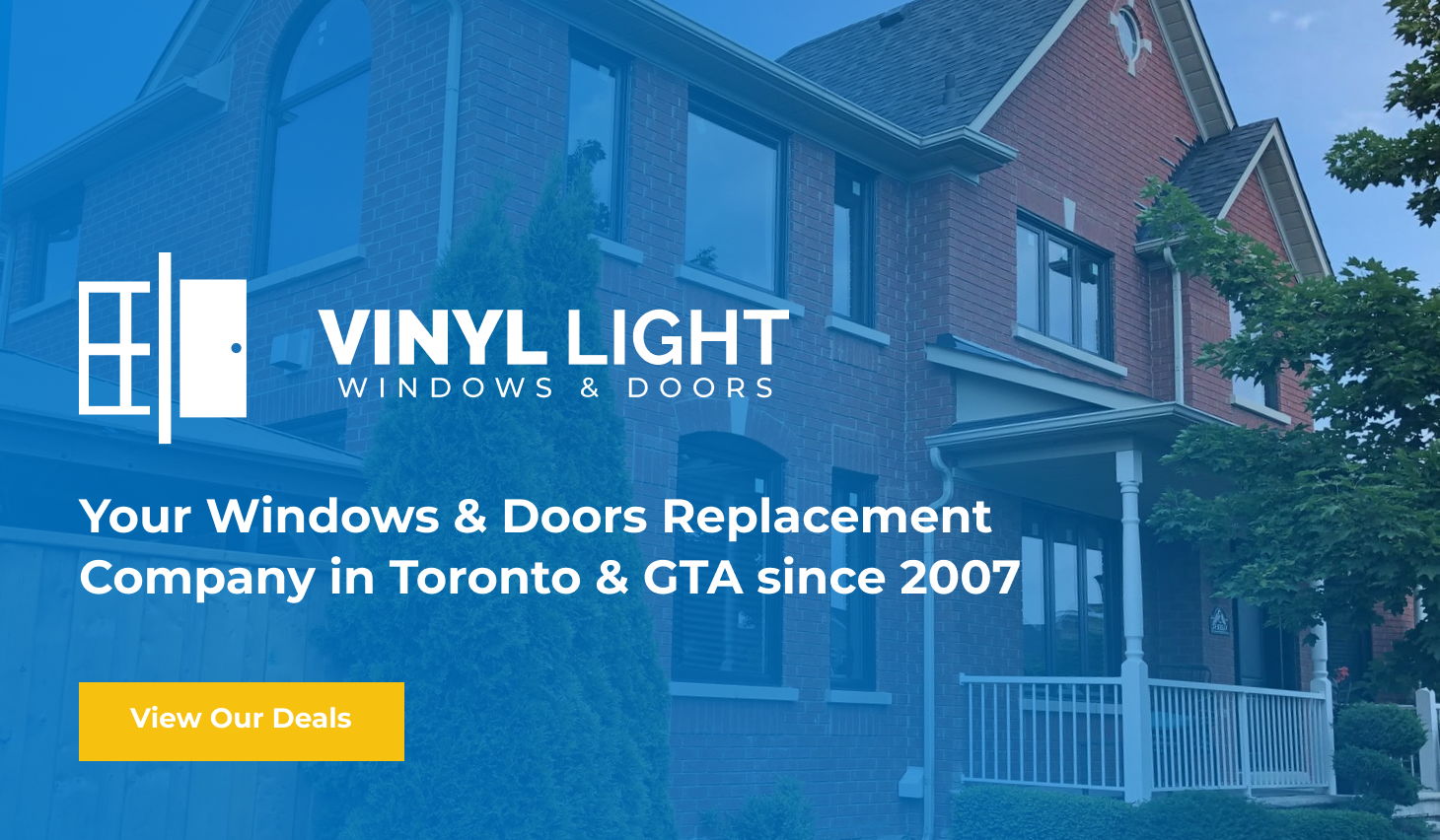 Backyard Door Replacement in Ontario and the GTA
Vinyl Light provides premium modern backyard doors of any kind. We realize door production and installation services in Ontario and the whole GTA.
You have the option to alter the opening size when you replace outdated patio doors. The size of the new patio doors need not match that of the previous ones.
Some homeowners decide to install patio doors along the entire wall, providing a spacious entry with the impression of a larger living area.
As of today, 60% of Canadians' time is spent indoors. Large patio doors are a terrific method to bring in more views of nature if you want to experience indoor-outdoor life.
Whether it is a sliding door to the backyard or an exterior French doors in Canada, our backyard door replacement experts will be happy to help you choose and replace one.
Contact us right away for additional details and to obtain a free quote.