The number of times one opens and closes the sliding or French patio door may reach thousands! The sliding or French patio doors are the absolute winners here.
Throughout all four seasons of the year, people enjoy their patios staying outside having bbq, playing, reading a book with a cup of coffee and their lovely pets safely moving in and out. All these "events" require you to slide your patio door mechanism numerous times! The importance of the quality of sliding or French patio doors is a must! Learn more about the best vinyl sliding and French patio doors you can get!
Patio Door Types and How They Differ
The patio itself and patio doors play a great role in the internal life of our homes. Our patio area is our private sector and choosing the right patio door is very important.
The most popular patio door types are sliding or garden doors.
SLIDING PATIO DOORS are the most popular among homeowners! Due to the design with full glass from top to bottom the room gets the most light and with a screen, you can leave your sliding patio door open to let the fresh air in. Also, the sliding patio doors are very easy to operate and they do not require any space inside the room in order to open it.
FRENCH PATIO DOORS come in a variety of designs and colours though they are hinged the same as regular entry doors. Most homeowners choose full glass options to let the sunlight in. French patio doors look solid and rich, especially the custom-sized ones.
There are many new great features for the patio doors nowadays.
Vinyl patio doors are considered to be the most popular on the market. Vinyl has a lifetime warranty as it is durable, energy-efficient, will not peel or rot. With vinyl patio sliding doors there is a wide range of colours to pick from.
Replace your old patio door with the best-in-class energy-efficient door containing LoE and argon cardinal glass.
Mini-blinds between the glass of a patio door bring total privacy and let you not worry about curtains especially if your home decor does not require such.
Security! Most patio doors' installations take place on the ground level. Deciding on the lock topic is one of the most common concerns! Vinyl patio doors are supplied with reliable locks both for the operational part of the door and for screen doors as well, letting you enjoy the fresh air and feel secured (don't forget about insects in summer and small animals in case your backyard faces a forest or lakeshore).
Sliding Patio Door vs French Patio Door: What is the Difference
Patio Door Style

Pros

Cons

SLIDING

Saving room space while open, good for smaller homes
Better sealed improving energy efficiency
Comes with a screen door
Gives much light in creating a clear view

Only one side can be open
Requires maintenance around sliding mechanism area
With time screen might be bent out of shape

FRENCH

Classic look
Lets the freshest air in with both sides opened

No build-in screen
Maintenance of around glass trim and hinges
Due to its design might be less energy efficient
The main differences in between sliding and French patio doors:
Sliding patio door better matches modern style homes while French door better completes the look of Classic style homes.
Both sliding and French doors are secured by durable tempered glass and locking systems which are hard to break.
Sliding patio door vs French door gives a tighter seal due to overlap in between two panels.
Sliding patio door vs hinged door can be customized to be wide enough taking into account the fixed part.
The cost of patio sliding door vs French door always depends on size, colour, finish, hardware but is always at a better rate. Usually, it's half the price. The more customization you add the higher price would be.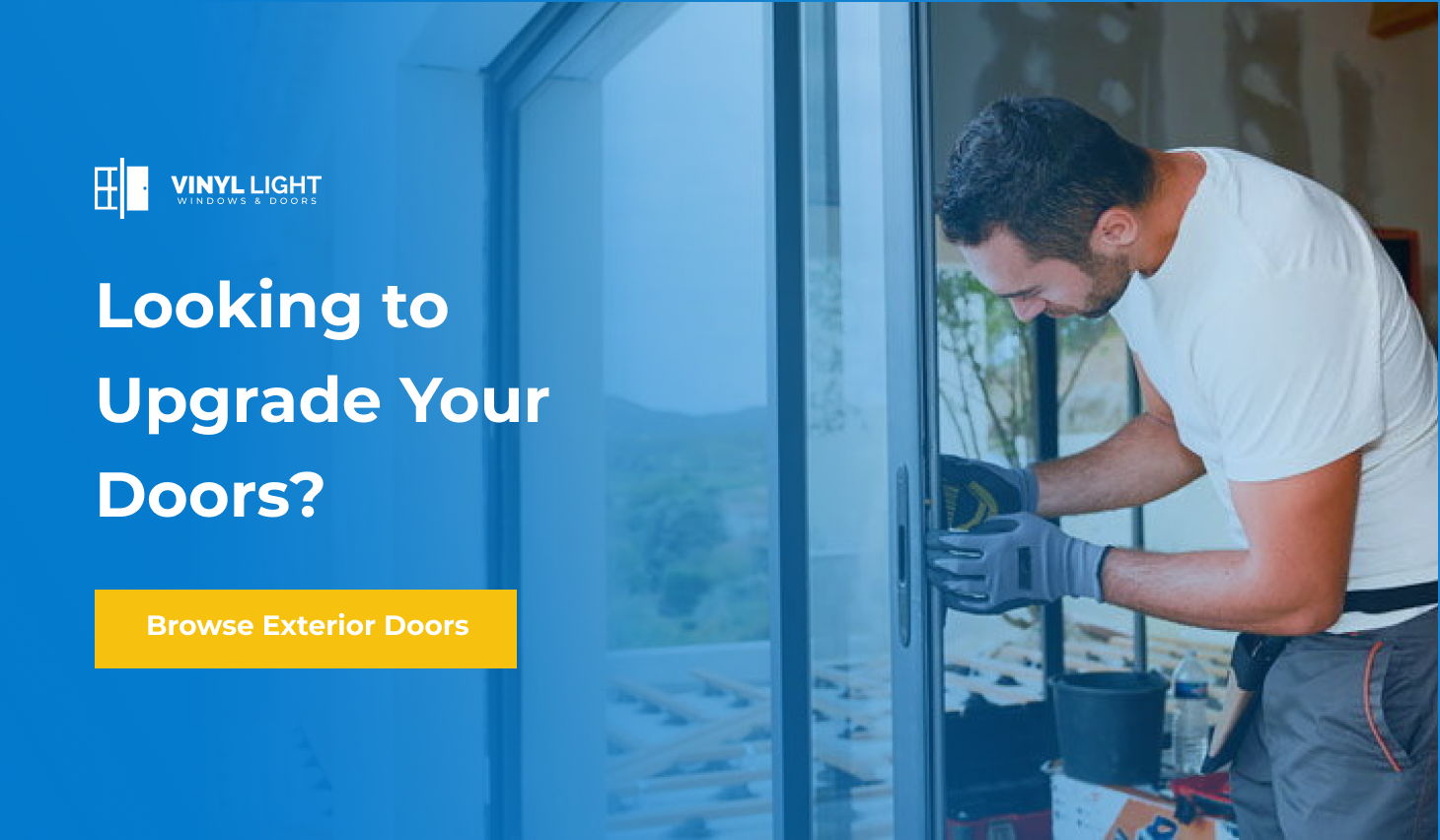 Patio Door Buying Guide from Vinyl Light
We provide our best patio step-by-step door buying guide from choosing the right door to completing the order. The sliding door is a pretty straightforward product, but there are a few main points and upgrades to pay attention to. Hopefully, this sliding patio door buying guide will help you to make the right choice. If you still have doubts, give us a call! We would be happy to help you with upgrading a sliding door for your patio and guide you through our buying guide over the phone or in person. It's free with no obligations.
Step 1. Choose the right supplier. Congratulations, you found one! Our doors have many standard upgrades and are always made with non-recycled lead-free vinyl with no wooden parts for ultimate longevity; include the nylon tandem heavy-duty rollers with an aluminum track for ease of use; and double pane glass with Loe coating + Argon gas for optimum energy efficiency. You can find more details and pictures here: https://vinyllight.ca/patio-sliding-doors
Step 2. Choose the colour of your sliding door. White color is free. If you decide on the color, think if you want it painted on both sides.
Step 3. Think about hardware for your sliding door. The basic handle will do the job, but you might consider a twin-point lock for better security or a different color handle, but white. There is also an option for a few different styles.
Step 4. For better peace of mind, you can also add the Guardian Lock on top of the door, Kick Lock at the bottom and the Security Bar in the middle
Step 5. Our glass is tempered and hard to break, but you can improve it with laminated glass: one glass pane is actually double with a plastic film in between. This film does not allow the glass to shatter when it breaks. We also have an option for tinted glass, if your door faces south and gets too much sunlight.
Step 6. Decide if you'd like clear glass or add a touch with grills between the glass. A few design options are available.
Step 7. Decide if you'd like the mini-blinds in between the glass. They are great for sunny days or when privacy is needed and they are never in the way or get dusty!
Step 8. Set up an appointment with our representative to measure the door opening. This will determine whether you need a standard or custom size patio door.
Step 9. Finalize the quote and get the agreement signed. A deposit is also required to seal the deal and put the order into production.
Step 10. The production takes a few weeks for the standard size door or it might be already in stock. The custom size doors or painted take more time: 3-4 weeks
Step 11. Set up the installation date for the door to be replaced.
Step 12. Welcome our certified and trained installers on the sliding door replacement day. It takes them 3-4 hours to do the complete job from removing the old one and taking it away to properly level, fasten, insulate, caulk and capp the new one.
This buying guide of a sliding patio door should make a patio door replacement task a stress-free and easy experience. Our customers can prove it!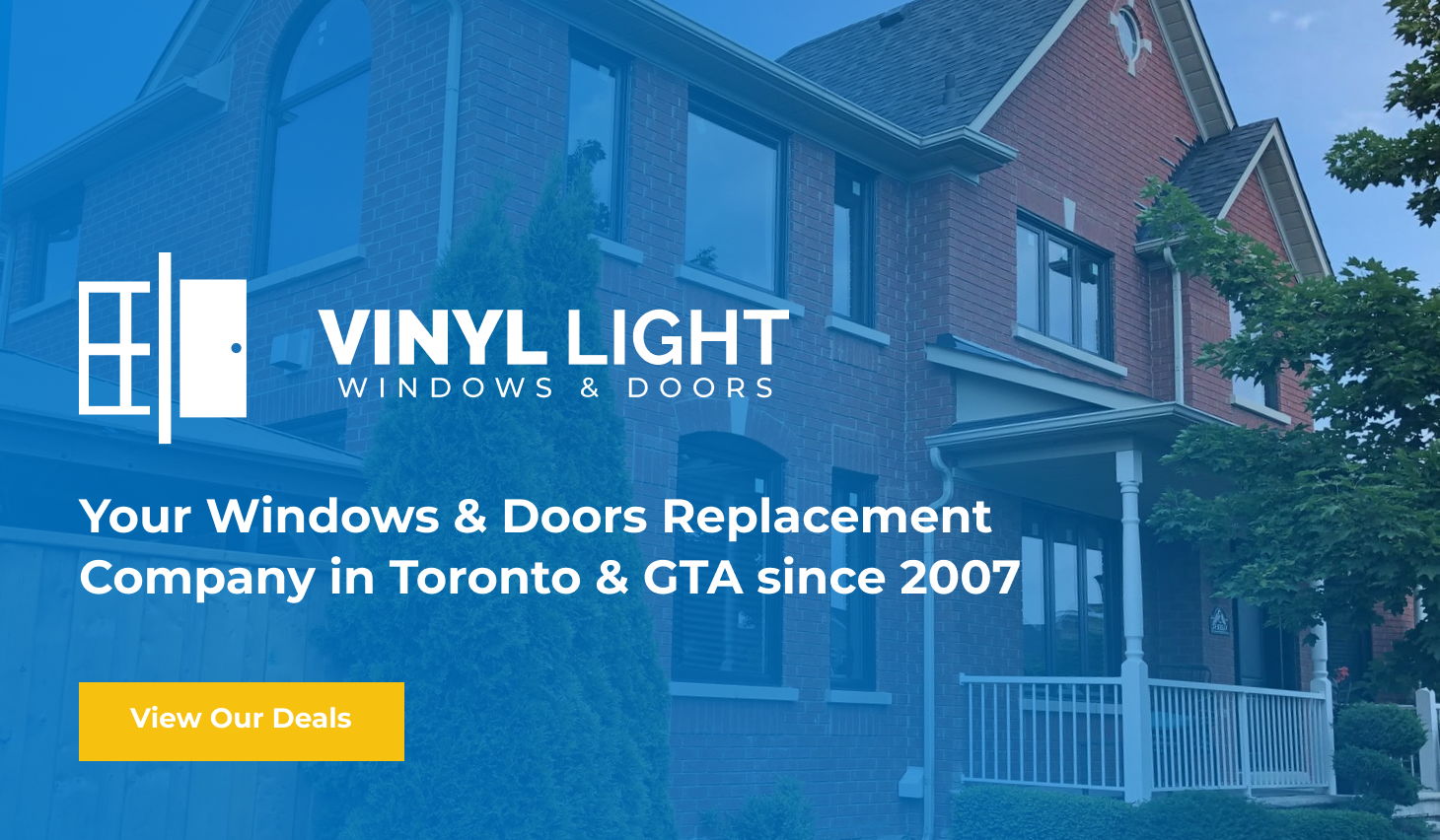 Best Rated Patio Doors in Canada
With our company, you are getting the best-rated patio doors in Canada. We constantly test our doors to meet or exceed the industry standards. Use the latest technology on the market in the manufacturing and assembly process. Implement the latest upgrades for the ultimate performance and appearance.
For years you will be enjoying the durability, beauty and energy efficiency of our patio doors!
Our certified Canadian-made product will meet all your expectations. With Vinyl Light, you are guaranteed to make the right choice. Our professional team performing a high-quality service will supply you with the best quality patio door specifically for you!