Vinyl Window Installation
If you're looking for a company that offers vinyl windows for sale and replacement window installation near me, Vinyl Light is your #1 choice.
For more than 13 years we have been providing new window installation services in Toronto. We also carry vinyl window installation in Mississauga, Etobicoke, Brampton, Oakville, East York, North York, Markham, Vaughan, Richmond Hill, Aurora, Scarborough, Pickering, Oshawa, Ajax, Newmarket, King City, Caledon, Georgetown, Milton. Haven't found your location on the list? Reach out to us to find out the cost of window installation at your place.
With our quality and expertise, we can offer you the best cost to install new windows in Toronto and the GTA.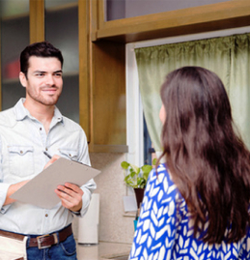 Interested in Windows Installation?
Request a price estimation today
New Windows Installation Toronto and the GTA
The new windows installation process may look pretty easy when you're watching a how-to video or a TV show where professionals who do it every day make it look like it could be handled by anyone. In reality, many special tools and skills are required to do the job right. We've got the windows, the tools, and the skills.
Whether it is Retrofit window installation, Stud-to-stud window installation or Brick-to-brick window installation we can do any type professionally and up to code. At Vinyl Light Windows and Doors, we've been performing vinyl windows installation in Toronto and around for over a decade. We have done all types of windows with any customization available: from white vinyl windows with black trim to black vinyl windows installed with no trim but just drywall around.
If you are looking for a retrofit window installation on a budget or would like to replace them completely to maximize the performance, look no further and call us!
Benefits of Installing Vinyl Windows
New windows as well as exterior doors installation make a significant impact on the house's total look and value. The most durable and reliable windows on the market are vinyl windows with the benefits of low maintenance, energy efficiency and lifetime warranty!
Here is a long list of benefits which you and your house will reap from new windows installation:
Insulation (tight seal and multipoint locks prevent drafts and air leakage).
Customization (vinyl framed windows come in a large variety of colors, grills and shapes)
74% ROI (vinyl windows replacement is a great investment, which adds the value to your house and reduces your energy bills)
Quick to install (replacing vinyl windows is a quick job for the professional which takes 1-2 days for the whole house windows installation)
Maintenance-free (vinyl windows don't need any paint because any colour you pick stays forever, are easy to wash and look fabulous all year).
Energy efficiency (vinyl framed windows with air pockets inside called thermal breakers will keep heat inside during winter and at the same time prevents it from entering your house in summer).
Durability (vinyl is a highly durable and weather-resistant material. No chip, peel or cracks).
Functionality (vinyl windows are easy and smooth to operate, because they are lightweight and keep their squared shape without warping).
Safety (vinyl frame is very rigid and hard to break and is combined with reliable locks and kids' safety upgrades).
Longevity (good quality vinyl windows from the company like Vinyl Light will last you for 30+ years).
Vinyl Windows Installation Cost in Toronto & the GTA
Before installing windows, a reasonable question usually arises how much is new window installation cost? As with most types of services, vinyl windows installation prices differ a lot depending on a number of factors, the most important being:
Type, color, shape and size of the windows (single-hung, double-hung, casement, sliding, bay, bow, etc.);
Type of house/frame (in some situations, more time is required to install a window properly, which amount to larger vinyl windows cost).
To give you rough estimates, some of the best vinyl windows new construction may cost you up to $1,000 while the average cost is around $400.
✅ Window Type
Vinyl Windows Cost
✅ Average full house windows installation cost

$8000-$12,000 for retrofit

$10,000-$14,000 for brick to brick

✅ The cheapest full house installation cost
$5,000
✅ The most expensive full house installation cost
$30,000+
The cost of new vinyl replacement windows is influenced by many small things, so you should contact our team first to get an accurate free quote.
Vinyl Light professionals will ask you all the necessary questions and then quickly give you a price estimation and inform you about some of our tasty deals on home window installation. We can provide the cost for new windows installation via email, text or in person at your location or our office, whichever way is more convenient for you.
Canadian Government Grants to Help You Save
Energy-saving home improvements are more accessible than ever! Check out how you can save up to $10,000 with Ontario windows rebate program or receive up to $40,000 with a new interest-free Canada Greener Home Loan
Learn more
Windows Installation Process:

Step 1: Verifying all measurements

For every job, we take a set of precise measurements for production. We have to make sure that all parts of your new windows will fit your house like a glove.

Step 2: Removing the window

This step requires strength and skills. We need to remove the old windows without any damage to your interior or exterior walls. Also, nobody wants a broken glass.

Step 4: Preparing the opening

The rough opening must be properly prepped and cleaned for the new window installation. This includes the removal of old insulation and caulking.

Step 5: Placing the window

The new window is carefully inserted into the opening. This is a job for at least two people, especially on the higher floors.

Step 6: Shimming and Foaming

The new window must be levelled with shims, secured with crews and insulated with low-expendable foam all around the perimeter.

Step 7: Caulking and Finishing

Good quality caulking outside is a must to waterproof the windows. The casing inside is placed last and the clean-up is done to finish the job.
Popular House Window Installation Services
We do all types of installations for any type of windows
Our Easy 3-Step Process
Step 1. Quotation & Measurements

We will measure, consult and quote.

Step 2. Manufacturing

We will manufacturer as per specs.

Step 3. Installation

We will install and clean up.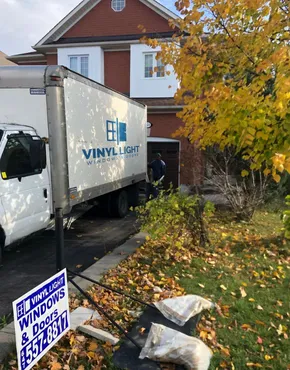 Vinyl Light is Your Go-to Toronto Window Installation Company
If you've been looking for the best Toronto vinyl windows installation company near me, Vinyl Light is your best bet. With over 10+ years of experience replacing old windows with new energy-efficient vinyl windows, there's not a project we can't handle. We are a team of professionals who know everything about windows and doors - from choosing the right ones for your home and budget to delivering, replacing and installing.
Over the years, we've gotten even better at what we already do best - providing you with high-quality windows and doors to help you make your home more comfortable and energy-efficient. This is why we consider ourselves one of the best vinyl windows manufacturers and installers:
10+ years of experience — This is something you can't fake. With that knowledge, we can simply offer you more while you can always rest assured your new windows or doors will be installed with great care and attention to every little detail.
Great Products at Affordable Prices - We use only good quality materials during manufacturing and installation to guarantee the best windows performance for many years to come and we back it up with a lifetime warranty.
No Shortcuts - Only Top-Quality Work - Proper window installation requires precision and a meticulous approach to every step of the process - and that's how we go about our work. Our ultimate goal is to deliver you a product that would serve a lifetime.
Among many vinyl windows installation companies in the GTA and we truly value every client who entrusts their home to us for the windows or doors replacement and we take care of them like a friend or a neighbour.
Needless to say that proper home window replacement requires special tools and, what's more important, special skills. That's why getting professionals to do the job is the smartest solution. We believe that choosing Vinyl Light Windows and Doors is the one!
Our Latest Reviews on Google
Helpful Articles
We'd like to share our knowledge and experience.
What is the Canada Greener Homes Grant? What is covered by Canada Greener Homes Loan? Who is eligible for the Greener Homes Grant? How do I apply for a Canada Greener Grant?

Vinyl and aluminum have recently become two of the most popular window materials.  We'll go through a helpful comparison you need to know for making the best decision on windows material for your home.

There are so many options on windows' styles made in Canada, unique designs and colours. You are able to customize your new windows to fit the opening size which works perfectly for your taste and your home.
Request a Price Estimation Today
We are usually available to reply within 24 hrs