Window Replacement
Old window replacement can really make a difference for your home. Not only does it change the way the house looks and feels making it more comfortable but it also can help you save money on your energy bills and make your house generally more energy-efficient.
We take home window replacement projects in the following area: Toronto, Etobicoke, Mississauga, Brampton, Oakville, East York, North York, Markham, Vaughan, Richmond Hill, Aurora, Scarborough, Pickering, Oshawa, Ajax, Newmarket, King City, Caledon, Georgetown, Milton. Haven't found your location on the list? Reach out to us to get a quote on vinyl windows installation at your place.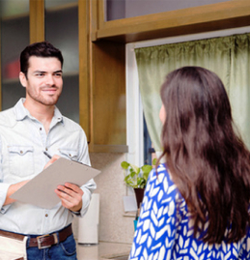 Interested in Old Windows Replacement?
Request a price estimation today
Window Replacement in Toronto and GTA
When the old windows start failing the house owners usually start doing research to answer many questions like:
Are the windows old enough to be replaced or should be fixed?
Will the new windows make a noticeable difference?
What is the cost to replace the windows?
Which company to choose to do the job?
Are there any rebates or sales?
It would be great for someone to help you answer them.
Our team at Vinyl Light would like to become a friend who can give knowledgeable advice for you to make the right decision. We've been in business long enough to share our experience and highlight the benefits of replacing the old windows:
Increased property value. Any house renovation is an investment and windows being a big part of the house is an important one. The money you spend on windows is never wasted.
Energy savings. The windows are responsible for the biggest energy loss in the house. Upgrading the windows with the newest technological advances can make a big impact on your monthly bills.
Reduced pollution. With new windows especially if they are Energy Star certified you use less to heat or cool the house which is also good for the environment.
Better curb appeal. The look of the house can be drastically improved with the new windows. It's an update which will rejuvenate your home or even change its style if going with modern black windows or removing/changing the glass grills.
Better noise reduction. Energy efficient windows also have better noise reduction. You will notice right away how quiet your new windows are. Your home tranquillity will definitely gain some points.
Better function. Your windows day to day use will improve. The new good quality windows are easy to open and close, there is just one handle for the multipoint lock mechanism, the crank handle folds in to be away from the blinds, the screens are spring-loaded with no pins, etc.
Better cleaning. New windows are designed for ease of cleaning so it will not be a chore anymore. The new glass can be even upgraded to become self-cleaning.
Better comfort. With new windows, you will feel more protected from the elements. Sitting by the windows will not feel as cold and will become more comfortable.
Give us a call and we will be happy to offer you a consultation over the phone or in person. It's free and there is no obligation.
Cost of Home Windows Replacement in Toronto
Of course, if you're looking to replace old windows with new vinyl, one of the first things you would like to know is how much it cost to replace vinyl windows in your house.
The cost of full house window replacement for an average house in the GTA ranges from $12,000-15,000. This is for a complete brick to brick installation. The retrofit job will run you about $2,000 less.
The table below will help you to get an idea of the replacement windows cost based on their styles. This is for double pane, white windows. Triple pane is $15-$20 more per square foot and the color is 15-20% more for the outside and 20-25% for the inside.
The installation price is extra and averages to be about $200 per window (more for bow/bay and less for basement windows)
| | |
| --- | --- |
| Window Type | Average Price |
| ✅ Casement Window | $350 |
| ✅ Awning Window | $370 |
| ✅ Single or Double Sliding Window | $310 |
| ✅ Single or Double Hung Window | $330 |
| ✅ Picture or Fixed Casement Window | $290 |
| ✅ Bay or Bow Window | $1,500 |
| ✅ Arched/Shaped Window | $650 |
| ✅ Basement Window | $250 |
For ease of calculation, despite the fact that the cost to replace vinyl windows in Toronto and the Greater Toronto Area differs greatly depending on the contractor, type of windows, and the particular house, a rough estimate would be around $650, including the price of the window.
If you'd like to know the exact window replacement cost for your house, please contact our team for a free, no-obligation quote. They will ask you all the right questions and give you a price estimation within a few minutes.
Canadian Government Grants to Help You Save
Energy-saving home improvements are more accessible than ever! Check out how you can save up to $10,000 with Ontario windows rebate program or receive up to $40,000 with a new interest-free Canada Greener Home Loan
Learn more
Benefits of Our Sliding Windows:

Heavy-duty cam action locking system provides an extra element of security
Full aluminum reinforced interlocking sash to maximize security and minimize air infiltration
Sash opens with the left/right or up/down sliding option

Sliding shoe system for an easy and smooth operation for sliders and reliable spiral type counterbalance for hungs
Multi-chambered design to insulate and prevent condensation
Multiple weatherstripping on sashes and frame for best insulation
3 1/4" fusion-welded frame corners, for added strength and durability

Benefits of Our Crank Windows:

Casement window allows for a 90-degree sash opening making it easy to clean windows from the inside and providing excellent ventilation
Awning window top-mounted sash hinge allows 45-degree opening from the bottom
3 1/4" fusion-welded frame corners, for added strength and durability

Single-action level handle releases or secures all locking points with one easy motion
Triple weatherstrip compression system
Folding operator handle allows blinds and curtains to flow freely
The smooth edge overlap screen features a hidden spring-loaded retention system and is easily removable

All Our Windows:

Energy-efficient
Virtually maintenance free
Available in Triple pane and ER > 40
Designed to fully meet ENERGY STAR® qualifications
Some Replacement Windows Styles We Offer
Windows Glass Options
We have all types of LoE Coatings: LoE-180; Loe-272; LoE-366 and newest LoE-i89 to maximize your glass performance.

Self-Cleaning coating keeps the windows cleaner longer and when you must clean your glass, it will be easier and fast.

Get the best insulation with Triple glass; best strength with Tempered glass or best noise reduction with Laminated one.
Windows Upgrades Options
Great selection to perfectly match your brick, siding, soffits and more.

Add a distinctive touch with many grilles types. Choose or create your own design.

Add the privacy to your washroom windows or an extra sun protection.
Windows Parts Options
Vinyl Trim & Corner Sizes

2 3/4" and 3 1/2"

Vinyl Jamb Sizes

1 3/8", 2 3/8", 3 3/8", 4 3/8"

Vinyl Brickmold Sizes

1/8", 5/8", 1 1/4", 2"
Our Easy 3-Step Process
Step 1. Quotation & Measurements

We will measure, consult and quote.

Step 2. Manufacturing

We will manufacturer as per specs.

Step 3. Installation

We will install and clean up.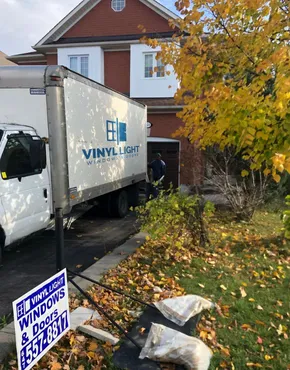 Choose Vinyl Light for Your Windows Replacement
If you've been looking for the best window replacement service near you, Vinyl Light is your best bet. With over 13+ years of experience replacing old windows with new energy-efficient vinyl windows, there's not a project we can't handle.
We use only good quality materials during manufacturing and installation to guarantee the best windows performance for many years to come and we back it up with a lifetime warranty.
We follow the building code to do the proper installation and we guarantee it as well.
We know that every house owner wants to save money replacing their windows, so we push ourselves to improve every year to be more efficient and better priced.
We truly value every client who entrusts their home to us for the windows or doors replacement and we take care of them like a friend or a neighbour.
Needless to say, proper home window replacement requires special tools and, what's more important, special skills. That's why getting professionals to do the job is the smartest solution. We believe that choosing Vinyl Light Windows and Doors is the one!
Our Latest Reviews on Google
Helpful Articles
We'd like to share our knowledge and experience.
What is the black mold on windows and what causes it to grow? How does black mold affect our health? And how to clean black mold on windows?

Lots of homeowners ask the same questions as how to know when windows need replacing or when do windows need to be replaced. This article will lead you through the helpful tips as for when to replace vinyl windows.

Windows replacement is a very important part in the renovation process. In most cases homeowners compare vinyl vs wood windows.
Request a Price Estimation Today
We are usually available to reply within 24 hrs