Sliding Patio Doors
Thousands of Canadian homes have vinyl sliding patio doors and it's easy to see why - they're easy to use, complement your interior design, and give you that spacious feel.
Seriously, what can be better than throw opening your patio door on a beautiful evening and hosting a little party on your deck? Of all the places in the world, you are currently in one that offers the best choice of cheap sliding doors.
Vinyl Light Windows and Doors offers the best sliding patio doors for sale, along with quick delivery, professional installation, and expert maintenance.
We take patio screen door replacement projects in the following cities: Toronto, Etobicoke, Mississauga, Brampton, Oakville, East York, North York, Markham, Vaughan, Richmond Hill, Aurora, Scarborough, Pickering, Oshawa, Ajax, Newmarket, King City, Caledon, Georgetown, Milton. Haven't found your location on the list? Reach out to us to see if we can install a patio door at your place.
Sliding Door Brochures & Manuals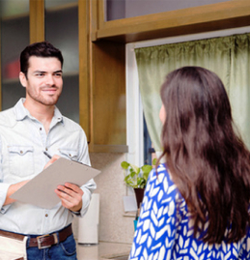 Interested in Replacing Patio Doors?
Request a price estimation today
Sliding Patio Screen Doors in Toronto from Vinyl Light
In the not so recent past, exterior sliding doors used to be built not very well and many homeowners simply overlooked them. Now, with all the modern technology and materials, the game has changed and sliding screen doors are becoming more and more popular.
If that's the kind of door you've been wanting to get, then you've come to the right place. Vinyl Light patio doors are engineered for long life and smooth operation.
Our Energy Star sliding patio doors come in a variety of styles and options, including:
Single slider doors (standard sizes are 5', 6' or 8' by 6'8'' and 8' height)
Extended hardware & glass options:

Optional frame and sash (doors are easily and completely reversible)
Handles (elite handles comes as the standard door hardware available in white, black, and sandalwood)
Locks (two-position kick locks, guardian locks, and folding security bars)
Built in mini-blinds between the glass (from maximum visibility to complete privacy)
Tinted glass

Colors:

Black sliding patio doors
White sliding patio doors
Other Gentek colors available
We also offer custom sliding patio doors.
Benefits of Vinyl Patio Doors for Your Home
Our vinyl sliding patio doors are easy to operate with adjustable and easily replaceable if required best in class nylon tandem rollers, which are quiet and require no lubrication.
Rigid, multi-chambered frame combined with insulated glass units and the proper weatherstrips minimizes noise transmission and maximizes thermal efficiency.
There is no maintenance on our all vinyl patio doors because they do not rot or rust.
Keep enjoying all seasons outdoors with our patio doors and the same time save on your energy bills.
Patio Door Replacement Cost
| | |
| --- | --- |
| ✅ Door type | Sliding Patio Doors |
| ✅ Models in our catalog | 400+ |
| ✅ Average installation cost | $600 |
| ✅ The cheapest sliding door | $799 |
| ✅ The most expensive sliding door | $5,000+ |
Replacing your old patio sliding door is always beneficial. It is a great practical upgrade and investment for your house. The average cost to replace your sliding patio door in Toronto and the GTA is as low as $1,499.
The price includes:
Measurement
Delivery
Installing new vinyl sliding patio door complete with outside finish (capping and caulking included)
Disposing of your old door.
Looking for an actual price of your project? Contact us to get a no-cost, no-obligation FREE estimate.
Canadian Government Grants to Help You Save
Energy-saving home improvements are more accessible than ever! Check out how you can save up to $10,000 with Ontario windows rebate program or receive up to $40,000 with a new interest-free Canada Greener Home Loan
Learn more
Comfort and quietness

The door should open smoothly and quietly with little to no effort. Our heavy-duty tandem ball-bearing Nylon rollers ensure that and they also do not require lubrication on tracks, keeping them clean and tidy.

Energy-efficient design

Multi-chamber design tends to reduce thermal exchange, helps you preserve the temperature inside and ensures a perfectly straight rail.

Optimal value

The cost of a sliding door does not have to be high. We buy factory direct to ensure reasonable prices.

Security

You can add a double-point lock, guardian lock at the top, kick lock at the bottom and security bar in the middle to give you 5 points of connection! Not to mention the anti-lift block fitted into the rail at the top.
OPTIONAL FRAME & SASH
1/4", 2", or 3 3/8" frame extensions
4 1/2" sill plate
Brick Mold
Sill extensions
VINYL FRAME
5 7/8" mechanically fastened vinyl frame
Components easily installed and replaceable
3 weather seals
Anodized screen track/stainless steel roller track
8 degree sill slope for optimal drainage
DURABLE SASH
Reinforced with steel to withstand high wind loads
Double perimeter seal for superior air-tightness
Doors are easily and completely reversible
Adjustable nylon tandem ball-bearing rollers
1" sealed units for optimal thermal performance
Patio Doors Sizes & Configuration
Custom Sizes are available in all Configurations
2 Panel Sliding Patio Door Standard Sizes: 59 5/8"(5') x 79 5/8" 58 5/8"(5' Michigan) x 79 5/8" 71 5/8"(6') x 79 5/8" 70 5/8"(6' Michigan) x 79 5/8" 59 5/8"(5') x 95 5/8" 71 5/8"(6') x 95 5/8" 95 5/8"(8') x 95 5/8"

3 Panel Sliding Patio Door Standard Sizes: 89 3/8"(7.5') x 79 5/8" 107 3/8"(9') x 79 5/8" 143 3/8"(12') x 79 5/8" 89 3/8"(7.5') x 95 5/8" 107 3/8"(9') x 95 5/8" 143 3/8"(12') x 95 5/8"

4 Panel Sliding Patio Door Standard Sizes: 118"(10') x 79 5/8" 142"(12') x 79 5/8" 190"(16') x 79 5/8" 118"(10') x 95 5/8" 142"(12') x 95 5/8" 190"(16') x 95 5/8"
More Doors Options
All the styles you like at great prices you want.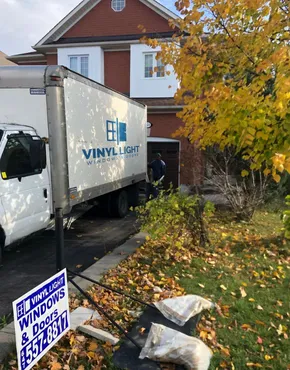 Sliding Patio Doors Replacement Toronto
There's nothing more frustrating than struggling with a patio door that sticks or jumps off the track. If you've got an old patio door like this, it might mean that the time for your sliding patio door replacement has finally come.
If you're looking for sliding patio doors in Toronto and the Greater Toronto Area - doors that work smoothly, provide reasonable security and offer great energy efficiency, then Vinyl Light is your number one choice.
If you're not sure about the cost of sliding patio doors, our team members will be happy to give you some pro tips and help you choose the right set for your patio.
Considerations when purchasing patio sliders
While choosing a patio sliding door first of all homeowners care about its look and efficiency. There is a wide choice of vinyl patio sliding doors in terms of sizes, styles, colours and other features which may be added to your dream sliding door to match new or existing windows and your home style in general.
Here are the benefits to consider when purchasing a sliding door:
Great view from top to bottom lets you enjoy your surroundings at any season.
More light gets inside through a large glass.
Fresh air fills your house in big portions due to a huge openable part.
Screen protects your indoors from bugs and mosquitoes.
Energy efficiency with Low-E + Argon glass means better protection from hot or cold weather and energy savings.
Easy to operate by opening and closing with quiet, easy to glide nylon tandem rollers. They require no lubrication and let all the family including small kids enjoy moving in and out while having bbq or just spending great time outside.
Space saving as it slides to the sides letting you extra space to enjoy.
Affordability of sliding doors lets you order standard sizes for less. On the market patio doors have more affordable prices than any other options.
Privacy. If your space has privacy go ahead with any patio door you want. Otherwise there is an option to add miniblinds in between the glass. With extra cost you may customize the privacy level of your future sliding door.
Security level is high as tempered glass is hard to break. The door can be upgraded to include a double lock, security bar, kick lock at the bottom or a guardian lock on top to leave you worry free during a night sleep or away from home.
Our Latest Reviews on Google
Helpful Articles
We'd like to share our knowledge and experience.
When consumers are searching for new patio doors, one of the most common concerns is how secure they are and how successfully they resist break-ins.

Let's try to imagine the number of times one opens and closes the Sliding or French Patio Door! Looks like the Sliding or French Patio Doors are going to become winners in this competition.

Why does one need to struggle finding a handyman just to perform such an easy task as a door screen change? You can both save and get new practice experience by taking easy steps described below.
Request a Price Estimation Today
We are usually available to reply within 24 hrs