The front door color and style are the simplest approach to instantly improve your home's look. There are limitless front door choices, - whether brilliant and flamboyant or delicate and muted. A splash of colour and style at your front door is an expressive way to showcase your personality.
Our Vinyl Light front doors are custom constructed to your specific style and opening. You may customize your entry door with a variety of materials, colours and shapes, as well as glass and decorations. Whether you want a bold, simple, sophisticated, extravagant, traditional or futuristic look, we can make it!
Think about all of your alternatives to create your dream entry door look, and visit our blog to learn more: https://vinyllight.ca/fiberglass-vs-steel-door
How to Pick a Front Door Style?
Where to begin and how to choose the right front door style? Everything counts, from the hardware to the materials used. Vinyl Light Windows & Doors is here to help you with all the methods and recommendations on how to choose a front door style.
Step 1: Single or Double door
Please, refer to your door opening size.
Single - the one that has only one operating door slab.
Double - made up of two door slabs. Both or one can be operational, offer a touch of class and create a spectacular entrance to your property.
Step 2: Door Exterior Material
Fiberglass doors which:
Super energy efficient
Look like wood with a grain texture finish and is great for both classic and modern style homes
Don't wrap, rot and last for years with the minimum of maintenance
Great impact on your home value due to its rich and luxurious look.
Steel doors which are:
Energy efficient
Weather-resistant
Extremely safe
Maintenance-free.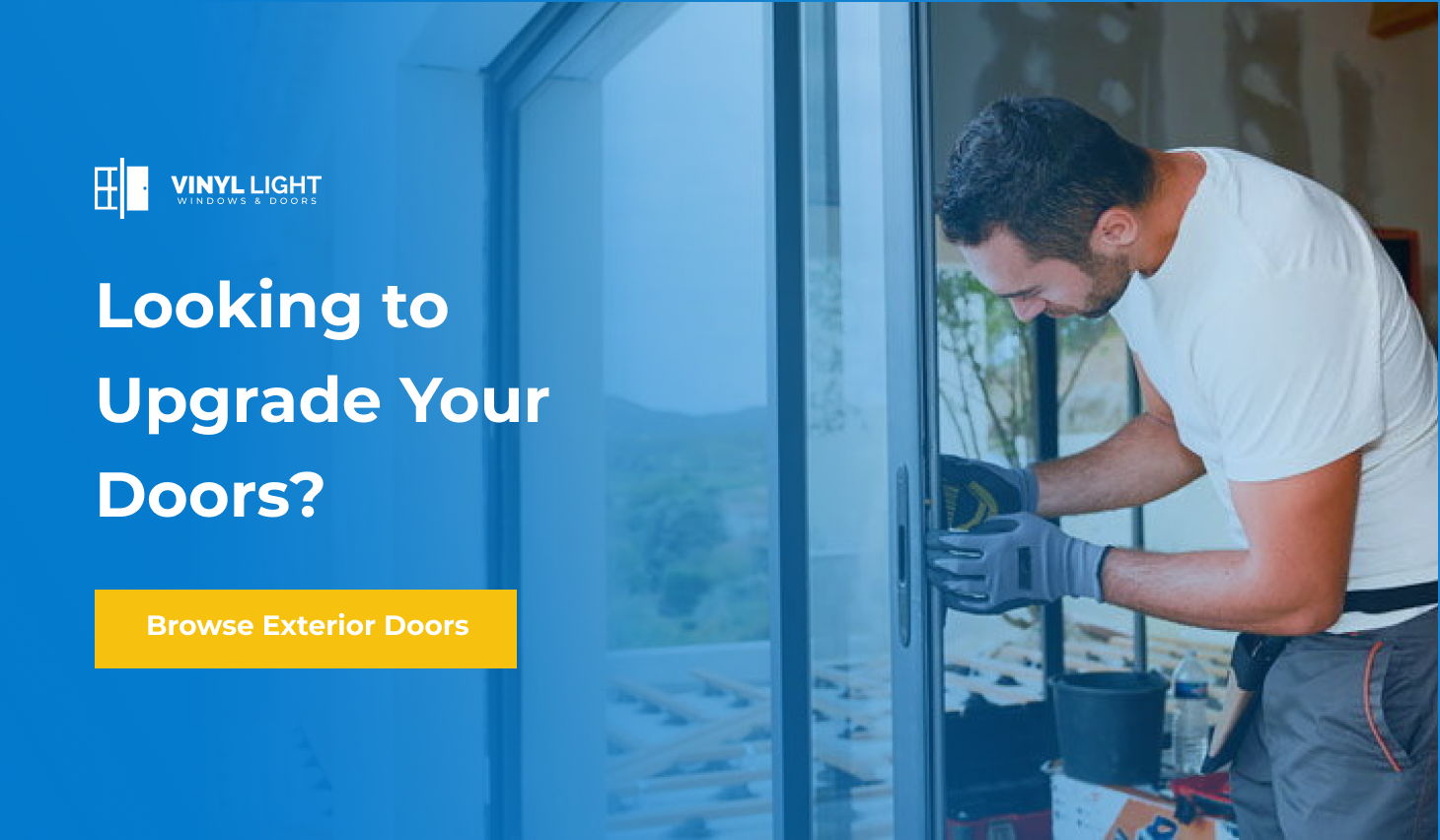 Step 3: Doors' Style and Design
Slab style
Door glass opening size
Color
Sidelites, their number, style and size
Transom
Glass design.
Step 4: Hardware
Locks (regular, multipoint)
Handles, pull bars
Knocker
Hinges
Peephole.
How to Pick a Front Door Color?
A new front door color can give your home the boost it needs, whether you're trying to sell it or just want to brighten things up a little. So, how to choose the front door color?
Our experienced Vinyl Light team is here to help you on how to choose the right color for your front door. You should consider:
Your property's architectural style.
House's exterior material (brick, stucco, siding, wood etc)
House's exterior color
Your own preferences.
Let's find out how to choose a paint color for the front door by taking a closer look at the most picked colours of all times and the most popular door colours of 2023 considering different styles and exterior of homes.
Classic Style Homes (which don't have to be dull or simple):
Espresso
Dark Grey
Burgundy
Blue
Jet Black
Green
Pure White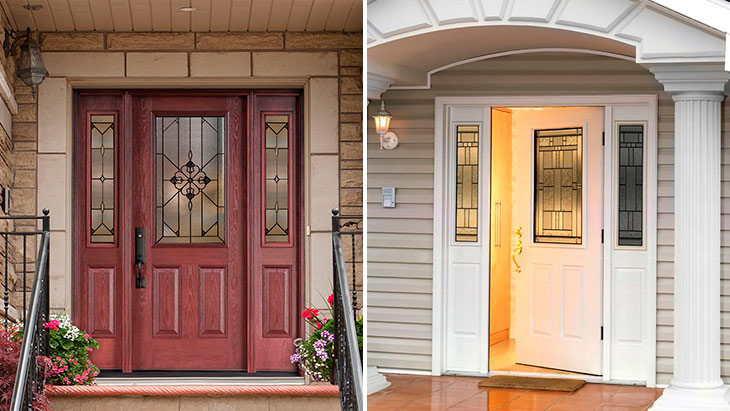 Modern Style Houses:
Black
Fruit Orange
Blue
Lemon Yellow
Eggplant
Driftwood Grey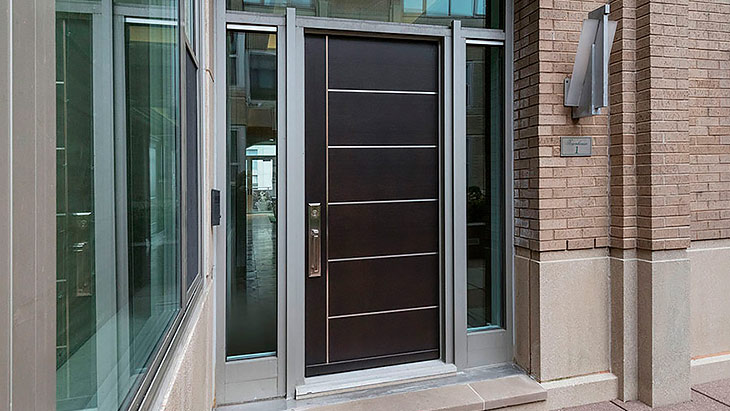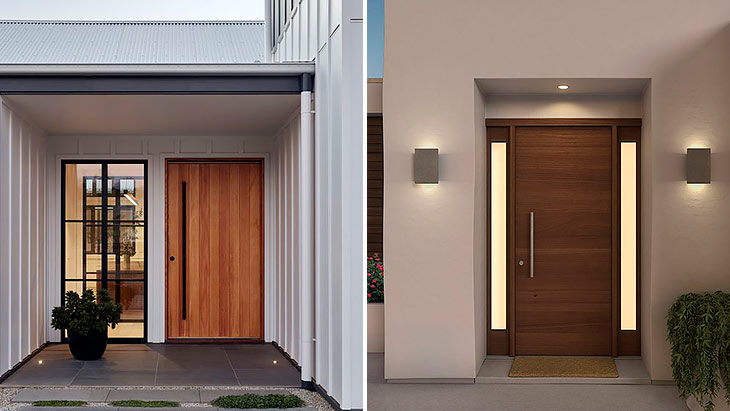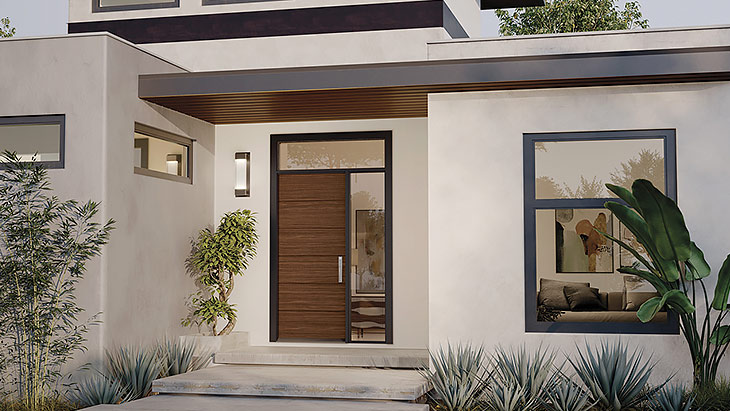 White Exterior Houses:
It's critical to select a colour that complements to:
home's roof,
trim
shutters
draperies
porch decor and landscaping.
With the right match, it will be ensured that they all look good together and don't detract from the bright white of your external walls.
Red Brick Houses:
To give the right answer on how to choose a front door color for a brick house, determine which undertone your brick color has. Example: If undertone belongs to a cold color group, such as blue undertone, means you have to pick cold door shades. Or if your brick has a warm undertone, go ahead to choose from a warm color group.
The best front door colors to match the brick are:
Black
Navy
Sage
Lighter Grey Colours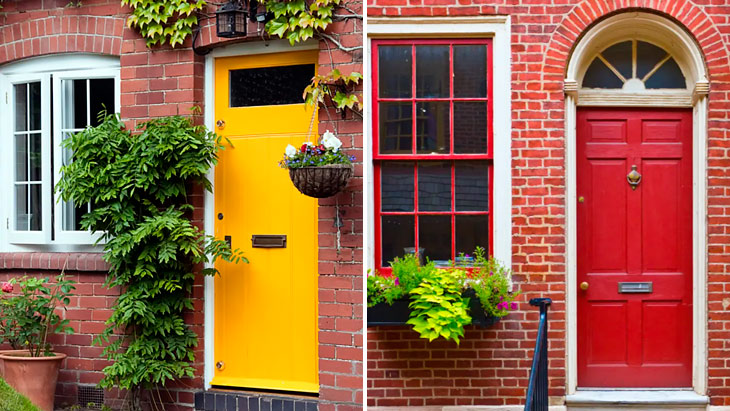 2023 Top Popular Front Door Styles in Toronto, Ontario
Because our front door is the first and final thing our visitors see when they come to our house, it's critical to choose a door that is both attractive and welcoming.
If it's time to replace your front door, there are a variety of popular design options to consider in Toronto, Ontario:
Craftsman style front door as an example with a dentil shelf, which is a decorative feature providing visual interest and gives it a rustic look. Glass panes in the upper third slab are mostly separated from the flat wood panels below by a thick piece of trim/moulding.
Farmhouse-style front door with a rustic look and combination of new and old is very popular.
Modern front door style comes in any colour and material such as steel and fiberglass. There are lots of modern variations of entry doors on the market.
Colonial style front door comes with combinations of different size panels on slab and adds a rich classy look to your home. This entry door style is one of the most wanted among Toronto buyers.
You can find all those styles on our steel of fiberglass doors page in the catalogs:
https://vinyllight.ca/entrance-doors
https://vinyllight.ca/fiberglass-doors
2023 Top Popular Front Door Colors in Toronto, Ontario
Different color front doors elicit psychological responses, which we frequently express via our personalities. The color schemes for front doors you choose have an impact on you, as well as those of your family and visitors.
While some classic front doors color ideas continue to be popular for all times, others are new to the scene.
Let's take a look at some of the most popular color and color combinations for front doors in Toronto, Ontario 2023.
If you plan to sell your house and benefit from it, here are colors that raise the home's resale value significantly:
These above are timeless and contemporary options that stand out drawing attention to the front door.
Black
It's also popular because of its adaptability. Black goes with any hue, fixture, or design element.
Blue
Blue is a colour that goes nicely with almost every other colour in the spectrum. It's also thought to be a relaxing colour that symbolizes trustworthiness.
White
When the surrounding features already have a lot of color, you can't go wrong with a pristine white door. White is a pure hue that offers a sense of freshness and simplicity.
Green
Green is the colour of new beginnings, fresh energy, and rejuvenation. You can't go wrong with those feel-good vibrations on the front of your house.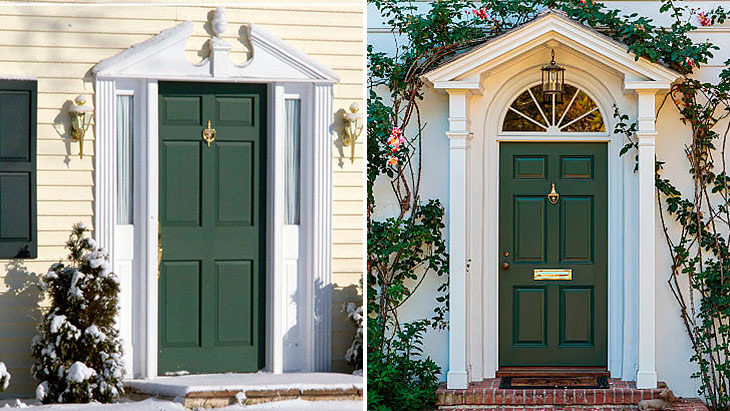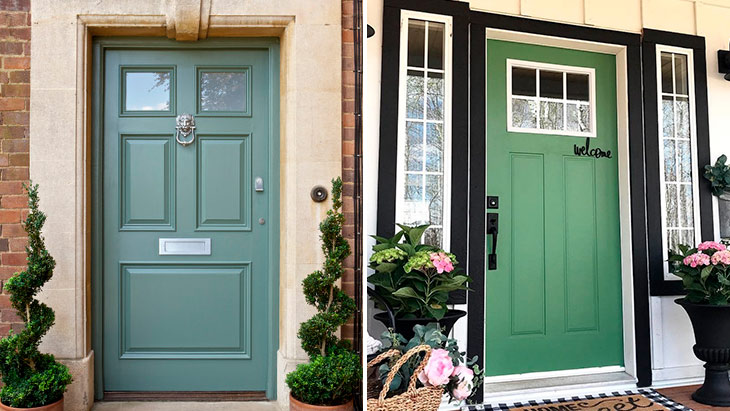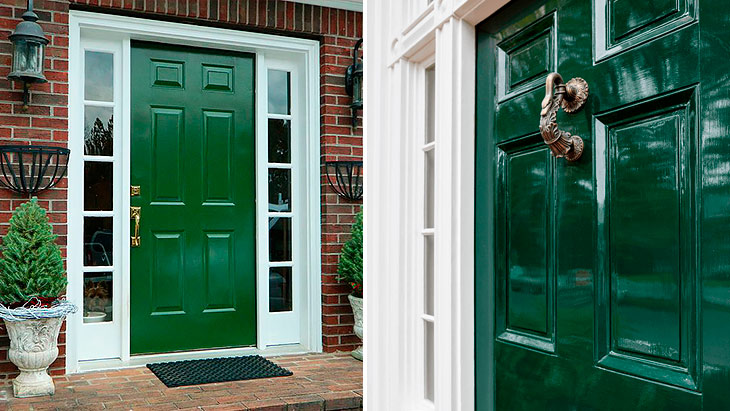 Acorn
A light-colored stain, such as "acorn," can tie everything together without interfering with your current paintwork.
Orange
Orange, which is related to coral on the color wheel, is great for creating an impression and looks great on both light and dark backgrounds.
You can find pictures with different colors on our work page: https://vinyllight.ca/our-work-doors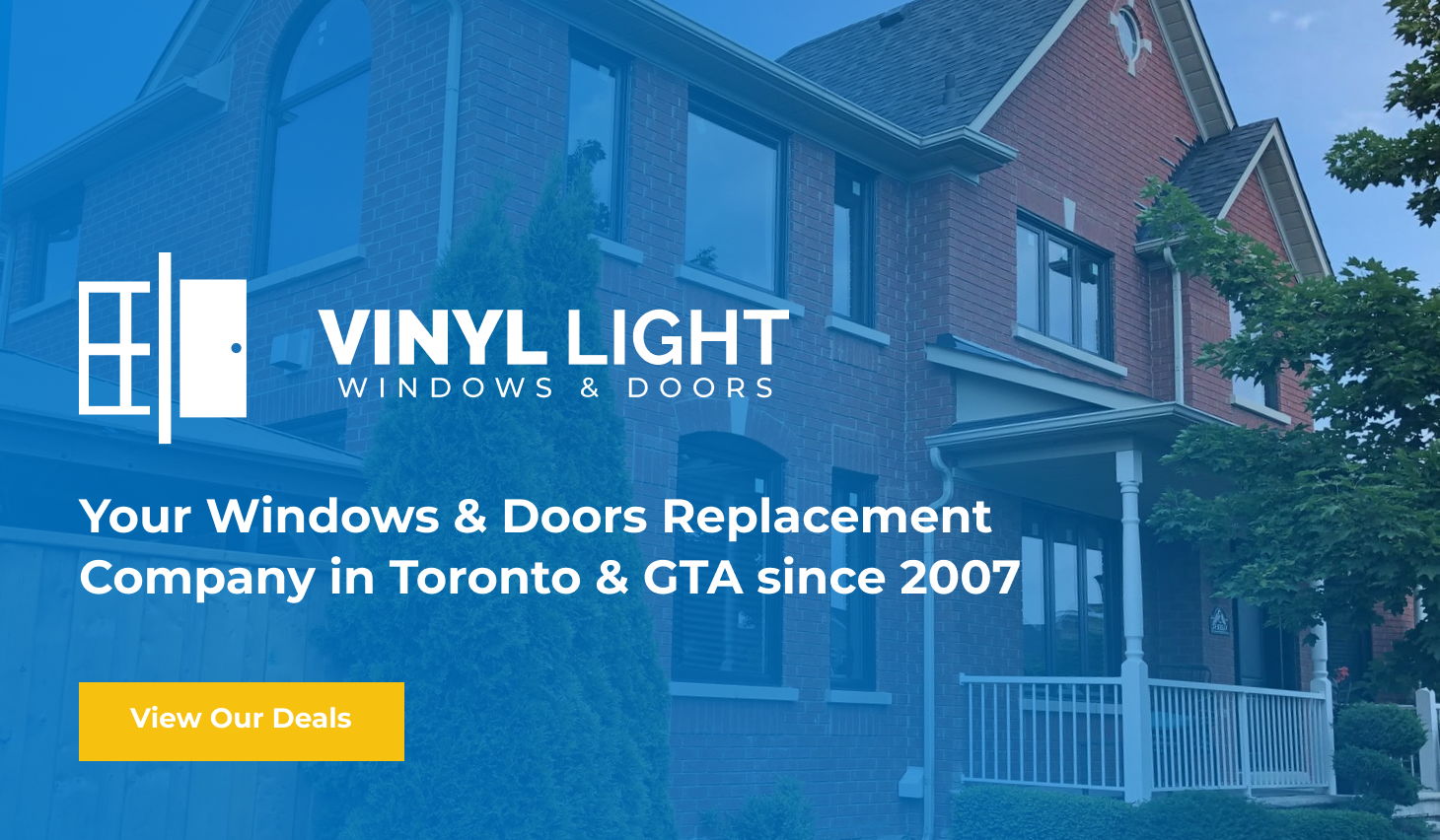 At Vinyl Light we offer a variety of front door customization. We have everything from beautiful slabs, glass and hardware to sidelights and transoms. Our steel and fibreglass doors are also constructed to withstand the capricious Ontario weather. Call or email us for a free estimate!