Single Hung Windows
Single-hung windows are a desirable choice for homeowners looking to preserve the architectural or historical integrity of their homes.
If this is the type of window you are looking for, then you've come to the right place. Here at Vinyl Light, we offer cheap single-hung windows for sale all year long!
We take single hung windows replacement projects in the following area: Toronto, Etobicoke, Mississauga, Brampton, Oakville, East York, North York, Markham, Vaughan, Richmond Hill, Aurora, Scarborough, Pickering, Oshawa, Ajax, Newmarket, King City, Caledon, Georgetown, Milton. Haven't found your location on the list? Contact us to get a quote on single-hung vinyl windows installation at your place.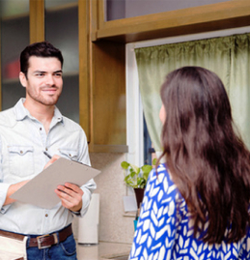 Interested in Single Hung Replacement Windows?
Request a price estimation today
What is the Single-hung Window?
What does a single hung window look like: the single hung window is a sliding window where a bottom sash of a window moves up to open and allows air to flow in. The top sash is permanently attached. The single hung window screen covers only the open part of the window, so the fixed one is screen-free.
Single hung windows are ideal for rooms with sidewalks, porches, or patios since they open and close without protruding.
Single hung windows are the most common choice for new construction, renovations, and retrofits. Single-hung windows are the simplest basic type of window available, and thus the most cost-effective.
Single Hung Vinyl Windows in Toronto and GTA
Despite being similar to their double-hung counterparts, single-hung vinyl windows do have a few distinct features.
First of all, it's a single movable sash meaning the top portion of the window is stationary and the bottom portion slides up and down.
Commonly the bottom sash moves up to open and allows for ventilation, while the top sash is fixed, but it can be reversed or have an opening section smaller when a window is too tall to be split in half. There's no weather stripping around the top sash as it is sealed tight to the frame, which makes small single-hung windows more energy-efficient.
A single-hung window also has a fixed meeting rail, which means the top half of the window is completely rigid and cannot come out of the square, which adds to the overall reliability and strength of this type of window.
Single Hung Windows Sizes
There are many single hung window sizes because we can do any custom size needed within the maximum size restriction of 36" x 72" single hung window.
We can even push those size boundaries if needed, but it's not recommended for the window's longevity.
The most common single hung window sizes are:
32" x 48"
36" x 48"
36" x 56"
40" x 52"
How Much Does It Cost to Replace Single Hung Windows?
| | |
| --- | --- |
| ✅ Window Type | Single Hung Windows |
| ✅ Average installation cost | $160-$200 |
| ✅ The cheapest single hung window | $220 |
| ✅ The most expensive single hung window | $620+ |
The average price of a single hung window is around $300. It primarily depends on the size of the window but is also influenced by its color, shape, grills, type of glass, etc.
The replacement cost depends on the type of installation and what other parts are needed to complete it like capping, brickmold, jamb or casing. It starts at about $150 per window.
Looking for actual single-hung replacement windows prices? Get a no-cost, no-obligation free estimate.
Canadian Government Grants to Help You Save
Energy-saving home improvements are more accessible than ever! Check out how you can save up to $10,000 with Ontario windows rebate program or receive up to $40,000 with a new interest-free Canada Greener Home Loan
Learn more
Benefits of Our Single-Hung Windows:

Ideal for rooms with a view over walkways, porches, or patios
Easy open-close operation not interfering with any outdoor living space
3 1/4" fusion-welded frame corners, for added strength and durability

Multi-chambered design to insulate and prevent condensation
Reliable spiral type counterbalance sliding system
Weather strip sealing system on the operating sash allows for air and water tightness

Exclusive contoured profile to create that stylish, handcrafted look
Sash tilts in permitting easy exterior cleaning from inside
Designed to fully meet ENERGY STAR® qualifications
Single Hung Window Glass Options
We have all types of LoE Coatings: LoE-180; Loe-272; LoE-366 and newest LoE-i89 to maximize your glass performance.

Self-Cleaning coating keeps the windows cleaner longer and when you must clean your glass, it will be easier and fast.

Get the best insulation with Triple glass; best strength with Tempered glass or best noise reduction with Laminated one.
Single Hung Window Upgrades Options
Great selection to perfectly match your brick, siding, soffits and more.

Add a distinctive touch with many grilles types. Choose or create your own design.

Add the privacy to your washroom windows or an extra sun protection.
Single Hung Window Parts Options
Vinyl Trim & Corner Sizes

2 3/4" and 3 1/2"

Vinyl Jamb Sizes

1 3/8", 2 3/8", 3 3/8", 4 3/8"

Vinyl Brickmold Sizes

1/8", 5/8", 1 1/4", 2"
More Windows Options
We have all the windows styles, colors and upgrades.
Our Easy 3-Step Process
Step 1. Quotation & Measurements

We will measure, consult and quote.

Step 2. Manufacturing

We will manufacturer as per specs.

Step 3. Installation

We will install and clean up.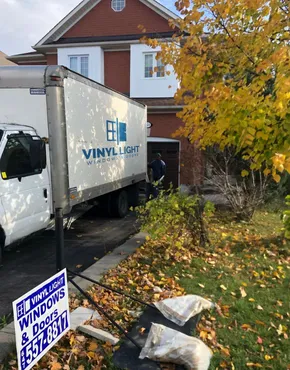 Before you can enjoy all of this beauty, it has to be properly installed and set up - and that's where Vinyl Light single-hung window installation services come in. Our specialists will make sure you get the best single-hung window prices and install your windows expertly.
Single Hung Replacement Windows in Toronto
We have been offering single-hung vinyl replacement windows in the Greater Toronto Area for over a decade now and have become more than just a windows and doors company.
Our ultimate goal here is to help our clients realize their artistic vision and make their home a better, safer, and more comfortable place.
Working with Vinyl Light means you are getting:
13+ years worth of professional experience;
Exceptional customer service (as evident from our near-perfect score at HomeStars);
The best value for your money (we buy factory direct and enjoy large volume discounts);
Hassle-free installation (we have WSIB and liability insurance).
We always ensure the best quality for our clients and allow no shortcuts. When you order from Vinyl Light, you know you're getting the best vinyl single-hung window for your money.
So if you're still wondering "What's the best company providing single-hung windows replacement near me?", look no further than Vinyl Light.
If you'd like to inquire about the single-hung window replacement cost in Toronto and the Greater Toronto Area, please contact our sales team via phone, chat, or our free quote form.
Our Latest Reviews on Google
Helpful Articles
We'd like to share our knowledge and experience.
Windows Create the Look of Our House! With the help of this article, you will find out how to clean vinyl windows.

There are two most popular windows options: vinyl and wood. Modern world chooses vinyl instead of wood and we suggest you to choose right!

There are so many options on windows' styles made in Canada, unique designs and colours. You are able to customize your new windows to fit the opening size which works perfectly for your taste and your home.
Request a Price Estimation Today
We are usually available to reply within 24 hrs