There are specific standard door sizes in Canada. Each country has its own set of criteria and rules about standard doors' measurements for builders and door manufacturers to follow.
When it comes to working on a house door project, it is critical to determine standard doors sizes that are capable of performing well, boosting the door look as well as maximizing security.
The first and the most important step is to gather information about the various doors' choices available to make the best decision possible that will meet all the requirements.
Let's have a look at the specifics of Canadian doors' standard sizes so that we can select the best alternative.
Refer to helpful articles from Vinyl Light Windows & Doors team by following the links below:
Canadian government grants home improvements 2023
Standard Door Sizes in Ontario, Canada
The first impression your guests have of your property is through the front entrance, which also has a significant impact on curb appeal. One of the most critical details to know if you're thinking about changing your door is its size.
Standard door sizes allow you to get doors produced in a timely manner and help avoid additional costs. While custom door sizes being more expensive may require additional time to get produced. Choose a front door that fits your budget, style and taste.
Standard door sizes in Canada are determined in inches and include:
standard door width;
standard door height;
standard door frame size;
door opening size.
In addition to size, there are other things to consider when deciding whether or not to replace your entry door:
Consider your home's design. The styles of entry doors range from classic to modern, with or without decorative glass.
Front door features such as sidelights, transoms can add visual interest as well as additional light.
The best way to find official up-to-date standard doors' requirements is to visit the Ontario government website.
You may also contact Vinyl Light to get your home's entry doors inspected to determine whether standard sizes are applied to you. Our company provides a huge selection of doors sizes and design alternatives. We are happy to help you with choosing the right entry door that would make your home feel warm, inviting and fulfilled.
Visit our showroom for inspiration or simply drive about your area and take notes of the doors you like.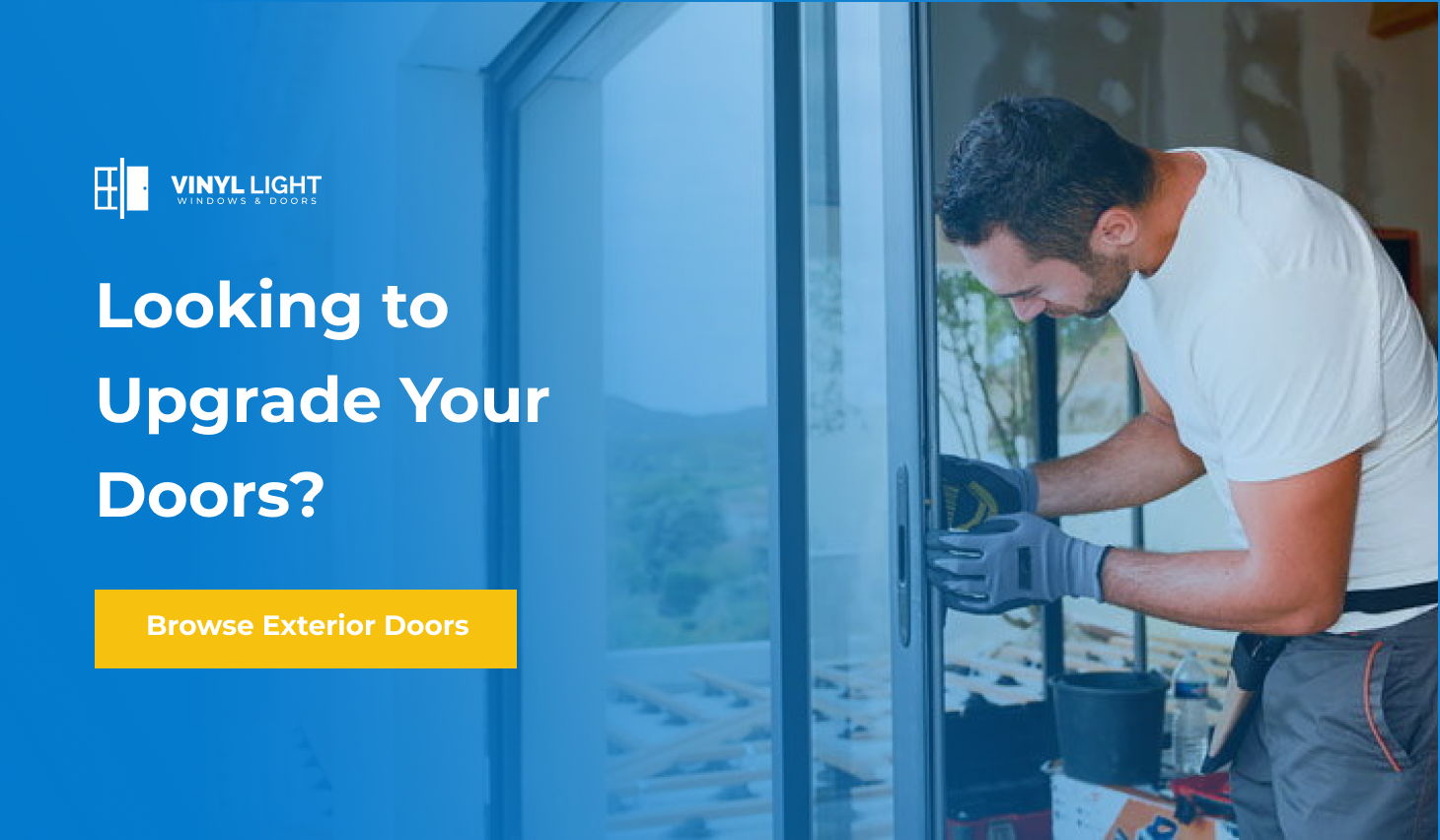 Standard Patio Door Size in Canada
Nothing beats sliding glass doors when it comes to letting plenty of light in. They are inexpensive, insulated, smooth and efficient to operate.
Sliding door dimensions have some established guidelines.
All standard sizes of patio doors in Canada are listed on our page for sliding doors: https://vinyllight.ca/patio-sliding-doors
The most common sliding doors' sizes are:
5' X 80"
6' X 80"
8' X 80"
It takes a bit of knowledge to know how to measure and determine that your door is standard size, but if you just roughly measure you can still see what size you have.
There is a 90% chance that your door is standard size, only about 10% of doors on the marker are non-standard. And even if you need a custom size, that's not a problem for us. So begin by measuring the rough opening of your backyard entryway by using your own measuring tape. Then call us to help you with confirming the sliding patio door options for your home. Our company can offer exceptional service and high quality windows and doors in Mississauga, Toronto, Brampton and other cities in the GTA.
Standard Exterior Door Size in Canada
The most popular single standard front door size in Canada is 34" or 36" wide by 80" high. It's enough to bring furniture and appliances in and out.
With contemporary outside doors, homeowners can also consider having specifications of 30 and 32 inches in width, but this size is better in a double door or with an operational sidelite.
There are also doors with heights of 84" and 95" and widths ranging from 24 to 42 inches.
Popular entry doors heights are:
80" (very common);
84" (for older homes);
96" (common for newer homes);
109" (for large homes).
You can find more information on doors sizes and styles on our steel and fiberglass doors pages:
https://vinyllight.ca/fiberglass-doors
https://vinyllight.ca/entrance-doors
Standard French Door Size in Canada
When it comes to designing a French Door, the possibilities are unlimited. You can genuinely build a distinctive entrance with steel, fibreglass, ornamental glass options and more.
The most common French door opening size is 70" or 74" wide by 83.5" high, which will fit double doors with 34" and 36" wide slabs. For contemporary homes, the higher 99.5 inches (8 feet) is now fairly popular, and stock exterior doors are also widely available in 30 and 32-inch widths.
Many door manufacturers provide doors in heights of 84" and 95", as well as widths ranging from 24 to 42 inches.
The doors material does not have an effect on the size, both fibreglass and steel doors come in all standard and custom sizes.
The normal thickness of a door is 1 3/4 inches.
You can find more information about french doors sizes and options on our page: https://vinyllight.ca/french-garden-doors
Standard Double Door Size in Canada
It's difficult to blame you if you've fallen for the grandeur and sophistication that double doors provide to a home. The only concern is if you can fit them into your current opening. Remember, for a double door the opening would dictate each slab's width.
Double door size is typically 68 or 72 inches wide and 80 inches tall and can be higher with added transom.
Double door width is found in sizes ranging from 5 to 7 feet wide and can be wider with added sidelites.
Steel and fibreglass entry double doors can be customized to meet your specific requirements. Choosing the perfect entry door for your home has never been easier, thanks to a wide range of colour, hardware and decorative glass options. Peepholes, kick plates, sidelights, transoms, locks and other entry door accessories are available.
How to Measure Door Size?
The homeowners' common questions are: "How to measure patio door size and how to measure sliding screen door size?", "How to measure front door size or how to measure exterior door size?"
Here are important doors' measuring steps:
Take opening measurements outside brick to brick from the top, middle and bottom, and record the smallest width measurement.
On the left and right, measure from the base of the header to the concrete sill and note the shortest height measurement.
This is a measurement standard procedure for determining rough opening for door dimensions.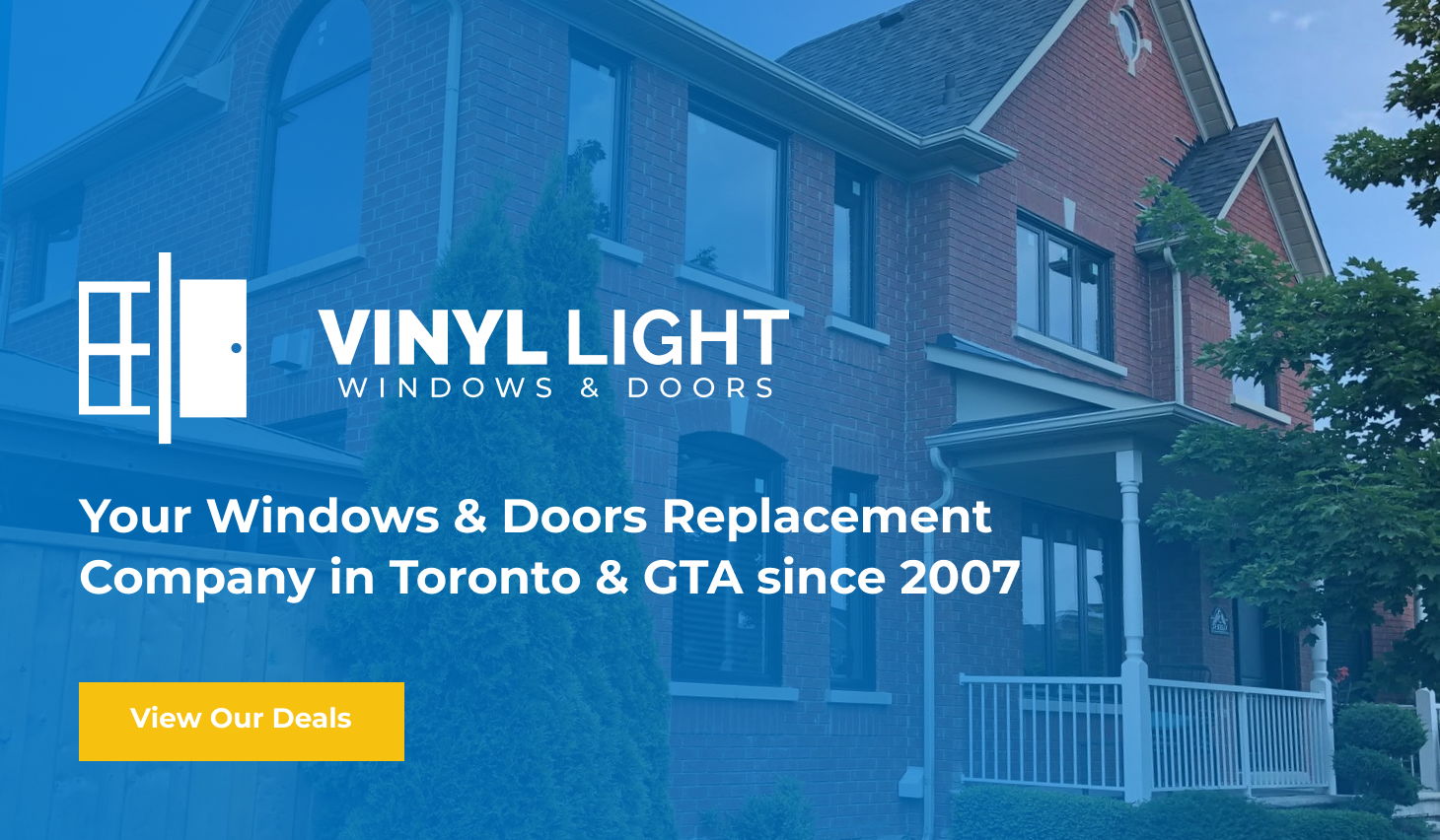 The rough opening is the size of the hole cut in the wall, regardless of whether it is made of wood or metal. It is usually about 2" wider and 1" taller than the unit size.
This means that your "door frame size" = "rough opening height" - 1" and "width" - 2".
If you feel lost and need some guidance here, give us a call or drop the email.
The following tips are required to keep in mind:
Manufacturers may provide different sizes variations.
The door size will be increased by the thickness of the frame.
To adjust the door, you'll need 1" space around the frame
The frame depth comes in different sizes
Because the apertures aren't always square, it's a good idea to leave a little additional space being filled in by brickmould and casing.
Before placing door orders always let professionals double check your door's opening size. With Vinyl Light your dream exterior door can be fully customized.
The efficiency and effectiveness of your new door are maximized with our professional door installation. As our installers are true experts who obtained extensive training in all aspects of windows and doors replacement.
Contact by phone or email and request a free entry door quote with measurements!