Vinyl vs wood vs composite window trim is the main topic to be discussed in this article. The following helpful information will keep you better informed about your windows replacement.
The majority of today's window casings are made of vinyl or wood. Because they don't affect the functionality of your windows, the aesthetic you want to achieve for each room of your home is the deciding factor between vinyl and wood window trim.
To learn more, please read our blogs:
Replacing windows in an old house
How much does it cost to replace windows in a house in Canada?
What Is a Window Trim?
Whether it is vinyl window trim or other type depends on your personal choice. Window trim plays a role in your home's decor. The best match will make your home more inviting to other family members and visitors.
Keep in mind that you'll be looking out your windows for a long time, and the appropriate window trim can help tie every room in your house together.
Vinyl siding window trim is the trim that surrounds your home's windows on the outside. Even though window trim has little to do with keeping your home energy efficient, it does help to give your windows a distinct look.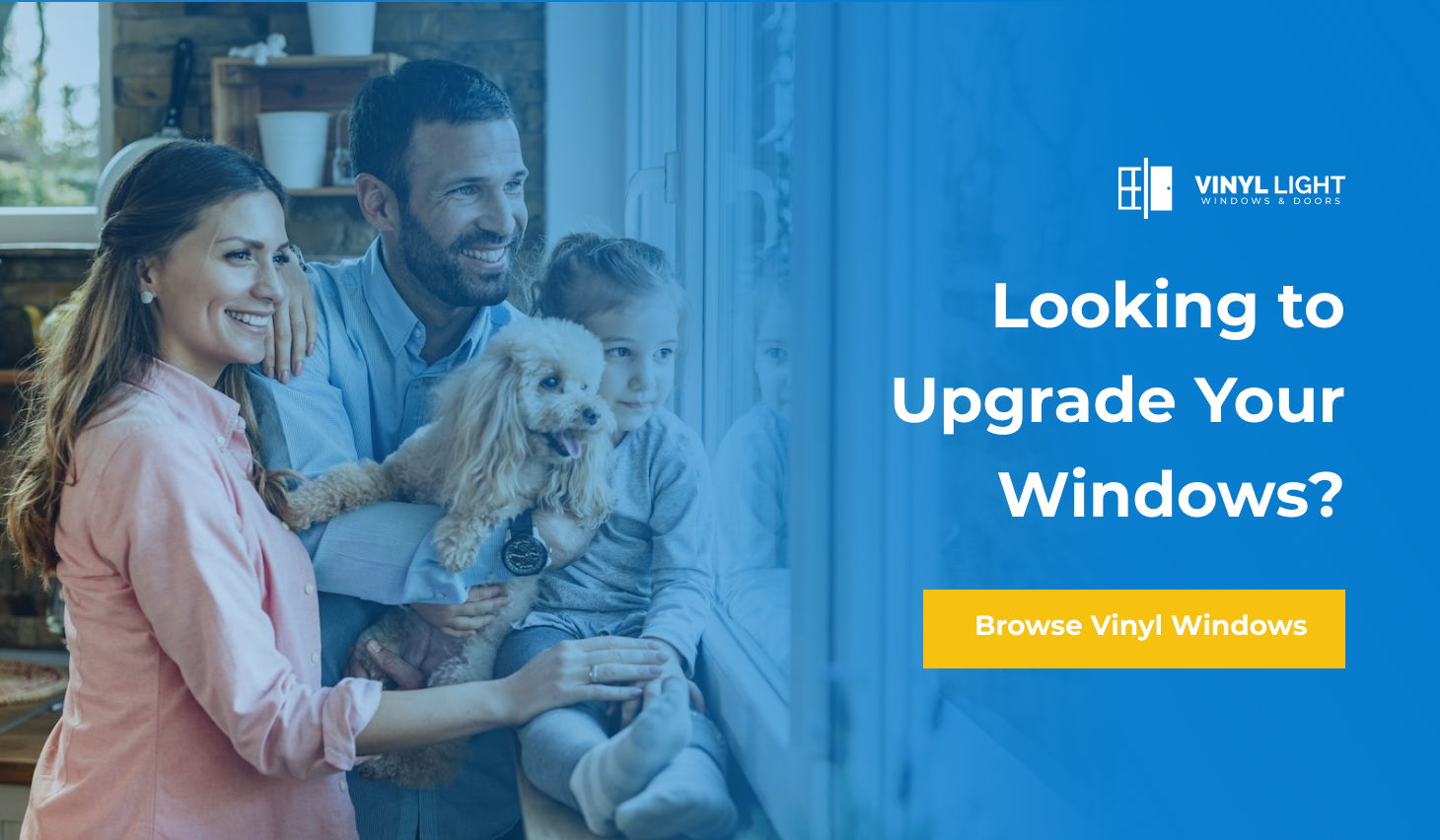 What Are the Different Types of Window Trims?
There are vinyl and wooden window trims.
Trims may be interior and exterior.
Exterior vinyl window trim molding which includes vinyl brickmold is very popular. This means you have a vinyl jamb, brick mold and vinyl casing.
Vinyl interior window trim is a great way to give your property a trendy, finished look. Vinyl is a wonderful material since it does not rot or disintegrate over time. It will also be a great match with your new vinyl windows.
There are 2 rosettes (trim corners) to choose from, which will give your windows a unique design. Although clean and polished, most vinyl casings have a similar appearance and provide minimal personalization for the more discerning buyer. Meanwhile, per your own preference, you may pick wooden jamb and casing options.
Window vinyl casing vs wooden trim is more popular. More customers nowadays prefer durable vinyl window frame vs wooden trim which is hassle-free in terms of maintenance and for being long-lasting, not to say that it's also cheaper!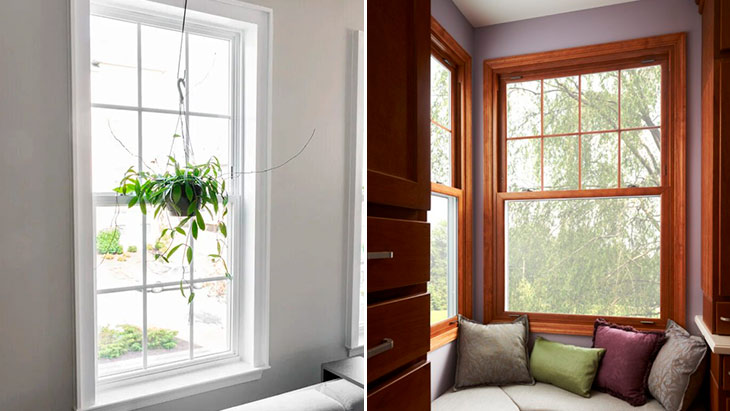 How Do You Install Vinyl Trim Around Windows?
Installing vinyl window trim is one of the final steps of the window installation process. First installers remove old windows, then they insert new ones into the opening filling the frame gaps with insulation, and lastly, a set of interior vinyl trim or casing is applied together with vinyl rosettes.
The trim is framed around the window. It covers the gaps filled with insulation foam, and at the same time has a decorative feature.
The vinyl casing comes usually pre-cut from the factory, but can be trimmed with a chop saw if needed. First, the trim is assembled with rosettes to create a picture-like frame, which then snaps into the grooves in the vinyl jamb extension. A rubber mallet is all you need, no nails or wood filler.
Vinyl window trim also serves as extra coverage against impact from the exterior.
It is always highly recommended to refer to a professional window installer on how to install vinyl window trim. Contact Vinyl Light windows and doors for your vinyl windows project.
Vinyl vs Wood vs Composite Window Trim
Let's have a closer look at wood vs vinyl window trim, and vinyl exterior window trim.
Vinyl Window Trim

Pros

Cons

It is composed of a strong durable material that won't warp, peel, chip, bubble or rot.
Limited style and size options.
Replacement vinyl windows will look great with vinyl trim.
Because of its elegant appearance, the vinyl casing is an excellent alternative for modern homes.
Virtually maintenance-free with no painting or future touch-ups.
Clean and sleek finish with no nail heads or corners that need to be filled with fillers.
Ideal option for bathrooms and kitchens.
Possibility of painting exterior vinyl window trim.
Wood Window Trim

Pros

Cons

Wood window trim is recommended for those who want to create a specific and sometimes complicated style for their property.
It may serve you shorter than vinyl window casing, so you may need to replace your window trim before replacing the window unit.
Can be easily repainted to any color or stained.
Not as durable as vinyl trim.
Is available in a selection of width and height profiles.
Being a natural material, it requires maintenance like paint touch-ups or crack fills.
Is easy to match to the rest of the house trimming.
Needs to be painted after installation.
What Is the Most Popular Window Trim?
The most popular window trim is the one made of vinyl.
More and more customers have experienced the benefits of vinyl window trim for their interior. Why is it so popular? For many reasons:
Vinyl is a very durable material, which lasts for years.
No maintenance except wiping with a cloth and soapy water to remove dust. Doesn't require any solutions or treatments compared to wood, which needs to be repainted or restrained on a regular basis.
Looks like new all the time.
Adds a modern fresher look to the interior.
Easy to install.
Cheaper than wood.
Applied to all the window styles, such as casement windows, bay windows, awning windows, double-hung windows etc.
Exterior window trim is usually made from aluminum when used with vinyl siding. Vinyl trim aka brickmold is used with brick or stone finish.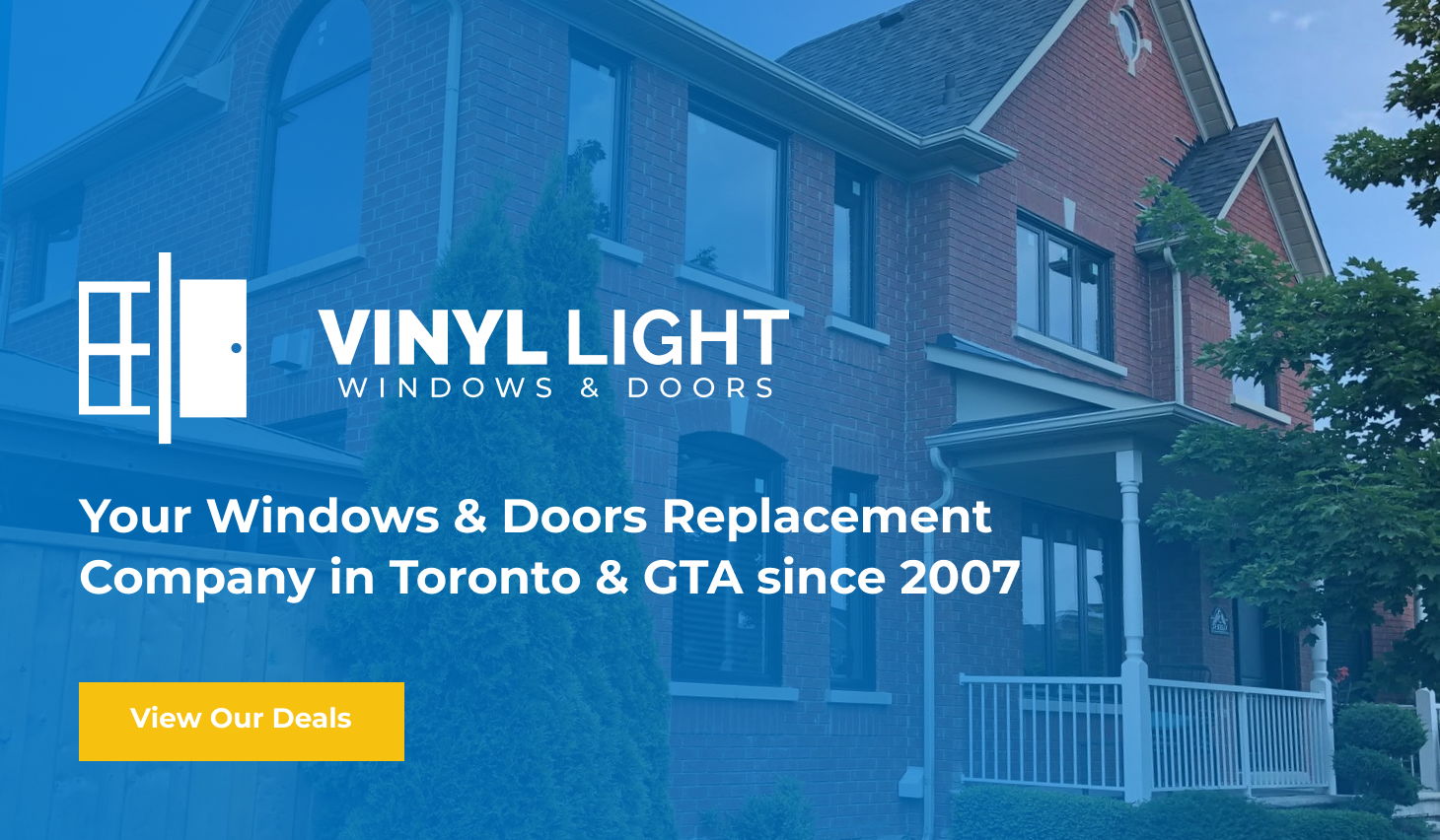 How to Choose the Right Window Trim Type?
Very often in order to avoid further potential mistakes, homeowners would invite a window professional to give advice on their upcoming window installation project. Our professionals are always ready to help you with interior and exterior vinyl window trim.
At an in-home meeting our window technician estimates the project together with giving his best tips on what would be the best for the house taking into account the homeowner's needs and expectations. And also will show you the samples for you to see the look difference between casing materials.
Professionals from Vinyl Light Windows and Doors will help with the type of installation you need. That might be retrofit, in case your house is old, or brick to brick. Then it's up to you which package to pick - vinyl or wood. But sometimes you need to stick just to vinyl or wood for reasons which can be identified only by a professional.
In case your window installation package is vinyl, you go ahead with interior vinyl window trim molding, which would definitely benefit your home!