Painting Vinyl Windows
Painting vinyl windows is great for a number of reasons - it allows you to customize your windows to match the facade color or dress your windows up if they faded really bad. Two things are required for this procedure - special vinyl siding paint and a pair of skillful hands to apply it. We've got both - welcome to Vinyl Light!
We take vinyl windows painting projects in the following cities: Toronto, Etobicoke, Mississauga, Brampton, Oakville, East York, North York, Markham, Vaughan, Richmond Hill, Aurora, Scarborough, Pickering, Oshawa, Ajax, Newmarket, King City, Caledon, Georgetown, Milton. Haven't found your location on the list? Contact us to see if we can paint vinyl windows or doors at your place.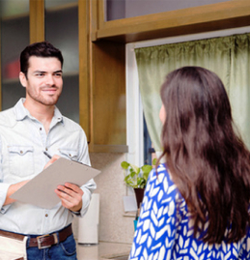 Interested in Painting Vinyl Windows?
Request a price estimation today
Can You Paint Vinyl Windows?
Yes, the vinyl windows can be painted, but the main question here is: will the paint last? To make sure that it will, the vinyl must be thoroughly cleaned with acetone and the paint designed for vinyl must be used. The new color will definitely change the appearance of your house and even bring its value up.
But will painting my vinyl windows make them last longer? The vinyl does not need paint protection like wood from rotting or steel from rusting. Vinyl is technically a form of plastic which is not afraid of water.
Painting Vinyl Windows in Toronto and the GTA
Painting a window can often be time-consuming and frustrating, especially when you're dealing with multiple window panes. We have been installing and painting vinyl replacement windows in Toronto and the GTA for over 13 years and can guarantee the best end result with 10 years warranty.
How to Prepare Vinyl Windows for Painting?
The preparation process for vinyl windows painting is straight forward but it is a tedious task which takes the most amount of time. You do not want to rush this process to avoid making a mistake. It might turn out to be a cleaning disaster when the paint oversprays on a brick and the paint might not stick well if the vinyl is left dirty.
The vinyl window frames are prepped and cleaned with acetone.
The glass and the area around the frame are tapped (scroll down to see the pictures below) to avoid overspray.
The primer is applied. It is not a must but will help with better paint adhesion and color match.
Now you are ready to paint:
Two coats of vinyl-grade paint are spray painted. You can use a brush or a roller, but it will not be as smooth.
The windows are cleaned, inspected and touch ups are done if needed.
Painting Vinyl Windows Tips
As with any task a knowledge comes with an experience, which is hard to lay out on paper, but we can share a few tips with you to avoid making mistakes.
The most important step is Cleaning. You want to remove any debris which is stuck to the windows and any oils left from the production. Acetone does the best job here.
When tapping the windows you want to cover 1-2 feet on each side of the windows' frames to avoid the paint getting on glass or brick. Cleaning glass is possible with a scraper, but can you imagine scrapping a brick?
You do not use regular paint when painting on windows because what kind of paint you apply is crucial. The paint used in shops is not available to the public, but you can take a vinyl paint designed for vinyl siding.
The weather is also important. You do not paint when it is raining or too humid outside and when the temperature dips below 15C.
How Much Does It Cost to Paint Vinyl Windows in Toronto and the GTA?
Painting over vinyl window frames serves two main purposes - it allows you to refresh the old paint and gives additional style points to your house facade.
As for the painting vinyl windows price, it primarily depends on the number of panes in your windows, the accessibility of the windows and the current condition of the frames.
At Vinyl Light Windows & Doors, we are ready to offer you the best price and top-notch quality painting services from our professional team. To find out the actual cost to paint vinyl windows in Toronto and the Greater Toronto Area, please contact our team for a free, no-obligation quote.
Canadian Government Grants to Help You Save
Energy-saving home improvements are more accessible than ever! Check out how you can save up to $10,000 with Ontario windows rebate program or receive up to $40,000 with a new interest-free Canada Greener Home Loan
Learn more
Painting white vinyl windows is usually done on the exterior only.

It is a spray painting process and requires meticulous tapping around the windows' frame.

Most of the time the house owners looking for painting their vinyl windows in black.

But painting vinyl windows can be done in many colours like red, blue, dark brown, etc.

Painting can be done for any window style like casement or sliding windows.

Painting vinyl basement windows is also a job which we can help you with.

It's not only the painting vinyl windows trim and frames on the exterior that is done.

We also paint aluminum capping, caulking and weatherstrips.
Vinyl Windows Painting Process
Step 1. Cleaning, Tapping and Priming

The windows are cleaned with acetone, sorely tapped around & primed.

Step 2. Spray Window Frame Painting

Spray painting with industrial grade vinyl paint PROLUX in 2 even coats.

Step 3. Cleaning, Inspection and Touch Up

The windows are cleaned again, inspected and touch ups are done if needed.
Two Main Ways to Do Vinyl Windows Exterior Painting
Putting tape on the glass before painting (the "taping" method);
Scraping off the dried paint after painting (the "scraping" method).
Taping method
If we go with the taping method, we need only three things - a masking tape (usually, 1½ inch wide), a putty knife about two to two and a half inches wide, and a file to sharpen the putty knife to make it work better.
We start off by sharpening the putty knife. To do so, we lay it on the edge of a workbench or table, hold the file in the other hand and pass it over the edge of the putty knife.
Next, we tear off four pieces of masking tape making sure they are a little longer than we need. Then, we put the first one on the top of the pane, the second one - on the bottom. After that, we take the putty knife and cut the extra part from both of them on each end.
The two remaining pieces of tape are then put down on the sides of the windowpane making sure they go right up to the edge. Then, we take the putty knife once again, place it right up in the corner and tear the extra tape off cleanly.
Now the window is ready to be painted. After the paint dries off, it's time to peel the tape off. One thing we do before peeling is taking a breakaway knife and going around the edges to cut through any paint seal between the edge of the tape and the window frame.
Finally, we peel off the tape revealing a clean glass in a newly painted frame!
Scraping method
Although it doesn't require any time for preparation, which means we can start painting right away, we do have to spend some time after the paint dries to scrape it off. Typically, this is done with a razor blade.
We make one cut right where the glass meets the frame and then use a little razor blade holder to peel the remaining paint back. The cut that we made first helps us to break it away more cleanly. The scraping might take quite a while but in the end, the glass will look nice and clean.
Of course, there are other methods like using liquid masking tape but the main idea still holds - it's a long and arduous process that requires special skills and precision. That's why instead of doing it yourself, it's much better to find a company providing vinyl window painting services near you and let professionals do the job.
Our Latest Reviews on Google
Helpful Articles
We'd like to share our knowledge and experience.
What is the black mold on windows and what causes it to grow? How does black mold affect our health? And how to clean black mold on windows?

Lots of homeowners ask the same questions as how to know when windows need replacing or when do windows need to be replaced. This article will lead you through the helpful tips as for when to replace vinyl windows.

Reasons why your window leaks when it rains. What does it mean when windows leaking from top? Vinyl windows leaking air and how to stop it?
Request a Price Estimation Today
We are usually available to reply within 24 hrs