Vinyl Energy Efficient Windows in Ontario and Exterior Doors are overall better for your home in Canada. Why do more customers care about energy efficiency?
Ontario GTA areas are experiencing huge weather changes. Wind gusts, temperature drops, extremely cold winters and hot summers require better windows. These are the conditions for replacing or upgrading your old windows and exterior doors with new Energy Efficient Vinyl Windows and Exterior Doors.
This article would be helpful to those who need to learn more about why one should think about energy star windows and doors. Better research and more information are always key to make the right choice.
What Are Energy Efficient Windows?
In order to keep comfort in our homes, people require the most energy-efficient windows in Canada. From the first look, it seems to be quite expensive to install this windows type but with time one will realize it is worth it.
The main benefits of energy star products are annual savings in heating and cooling bills. As well as protecting the home from pollution, noise and humidity. Single pane windows are not able to save you money and prevent air leakage as they don't obtain modern technology which is a must for energy efficiency.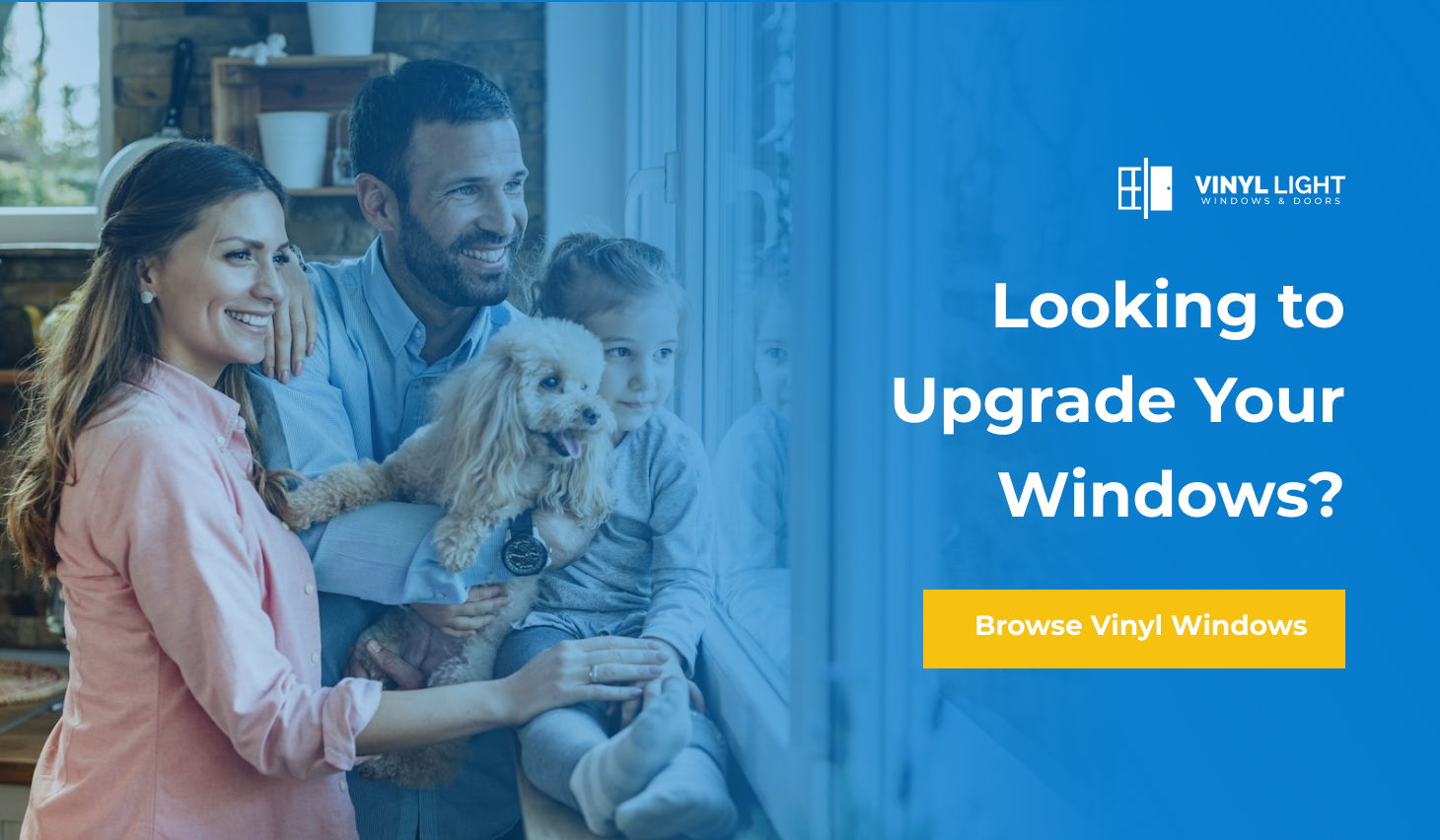 You are in need to replace your windows with energy-efficient ones if you are looking for:
Comfort to sit anywhere you want, which means you may choose a spot right by your window on a hot sunny or cold winter day without feeling heat or graft.
Lower utility bills
Keeping your interior and furniture unfaded. Old windows let the direct sunlight go through causing your furniture to age and fade. Here we save even more by avoiding spending extra money on new elements for your home.
Condensation reduction. Old windows often suffer from being wet and frosty that happens when humidity increases or when the temperature drops.
Brighter rooms and views.
Home value is much higher with replaced energy star windows. Replacing energy save windows is a good investment.
Save our planet by using less gas and electricity due to energy-efficient windows.
Important Components of Energy Star Rated Windows:
U-factor - the rate of heat transfer from warm to cold areas.
Solar heat gain coefficient (SHGC) - the ratio of the sun's heat amount passable through the product.
The R-Value of heat resistance, the higher the number the more efficient the product is.
VT - visible transmittance - the ratio of visible light amount passable through the product.
ER - the energy rating which indicates the balance between U-factor, SHGC and air leakage.
High quality of materials
Low-E Glass coating - invisibly layered with insulation blocking heat loss.
Argon Gas filling in between glass - safe, non-toxic and odourless this gas insulates better than air when placed in between panes of glass.
Double Loe-i89 or Triple pane glass
Air leakage prevention means less air to pass through cracks of the assembled windows parts.
The Key Features Of Energy Efficient Exterior Doors
Entry Doors, as well as windows, require energy efficiency to improve your home and save money. Energy-efficient front doors home depot like are provided by our company in wider selection.
An exterior door is one of the most operated parts of our home. It is highly recommended to set up the door with the best energy efficiency supportive features.
Energy Efficient entry doors made and assembled in Canada are the best.
Important Components of Energy-Efficient Exterior Doors:
Multiple glass pane;
Improved core materials;
Tighter feat performed under professional installers' control;
Improved weather stripping of high quality;
A Multipoint lock is not a must but still is considered to keep the closed door really tight.
Energy Star Rating Requirements
As of 2020 the new Energy Star Canada standard applies nationally. To be qualified for Energy Star Certification windows and exterior doors must gain at least Minimum Qualification Criteria up to Most Efficient Windows. Here we might look at Minimum Energy Rating or Maximum U-factor Value.
Minimum ER (Energy Rating)
OR
Maximum U-factor
Minimum Qualification Criteria
34
≤ 0.21
Most Efficient Windows
40
≤ 0.18
Energy Star Technical Specifications - 2020 (NRC).
All Energy Star windows are being tested by special accredited laboratories and then the results are being verified by an independent third party.
Canadian Energy Efficient windows are certified by one of the following:
CSA International
The National Fenestration Rating Council
Intertek Testing Services
Labtest Certifications
Quality Auditing Institute
Energy Star Rebates Source
The following helpful link below is a directory that contains Energy Star Rebates and incentives which are available in Canada. It will also lead you through other available Ontario windows rebate programs.
Energy Star rebates and incentives directory.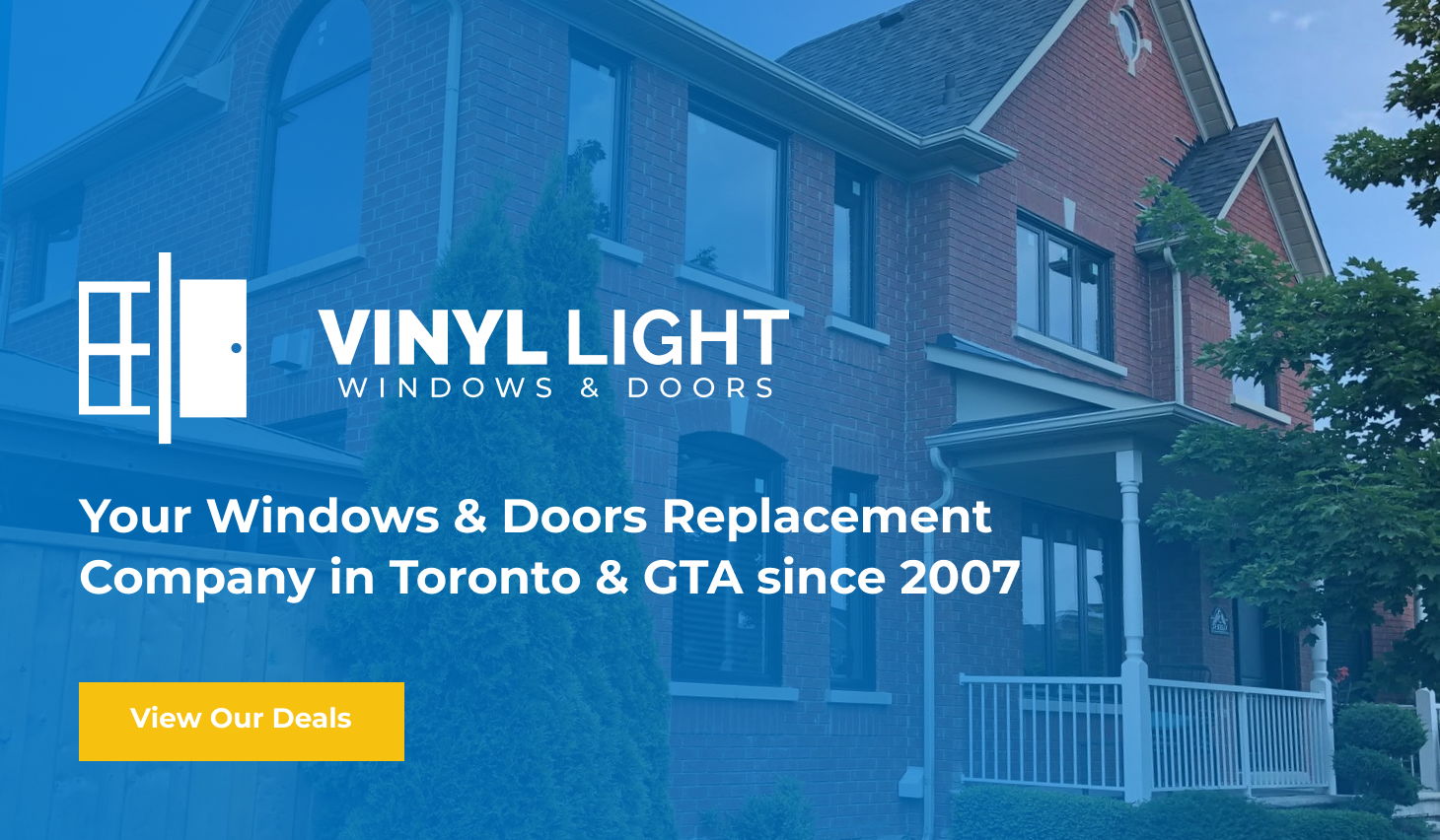 Energy Efficient Windows and Doors in Ontario
Due to Ontario weather conditions and for practical reasons it is necessary to install energy-efficient vinyl windows in Ontario. Canadian made parts and assembly are the best choices. Along with true professionals to go along with your needs performing the installation.
Vinyl Light Windows and Doors provide the best energy-efficient replacement windows. We navigate our customers with all the important features for energy-efficient doors and windows:
Vinyl is a very practical choice and is the most durable material. PVC frames obtain a high R-value and can be custom made. There is a huge selection of different shapes, styles, sizes and colour.
Casement windows, awning, fixed, picture window styles are the best in terms of insulation support. These styles like all others such as sliders, single and double hung have a modern up-to-date look which helps your house uniqueness.
Steps to Upgrade your Windows with Energy Efficient
It is important to make sure all the required windows and doors components are included in the order form.
Our experienced installers will deliver and install windows. It doesn't matter which season you pick for upgrading as we replace windows one at a time to avoid heat or cold entering your home.
The final result is your house looking amazing and upgraded along with up to date energy-efficient features for windows and doors in Ontario.
Satisfaction guaranteed! For many years you will enjoy the quality and durability of Energy Efficient vinyl windows and front doors.