Windows for bedrooms have the power to make a space within the place where the day starts and finishes.
The ideal bedroom window has a few points to check out. It should:
be comfortable in day-to-day use,
have good ventilation,
aid in maintaining a constant temperature,
minimize noise,
be fashionable,
act as an escape route in case of an emergency.
It goes without saying that choosing the best windows might not be easy without professional advice. There are various window sizes, styles and accessory choices for bedrooms, and we'll help you to find out the ones that work best for you.
Refer to more articles on the topic here: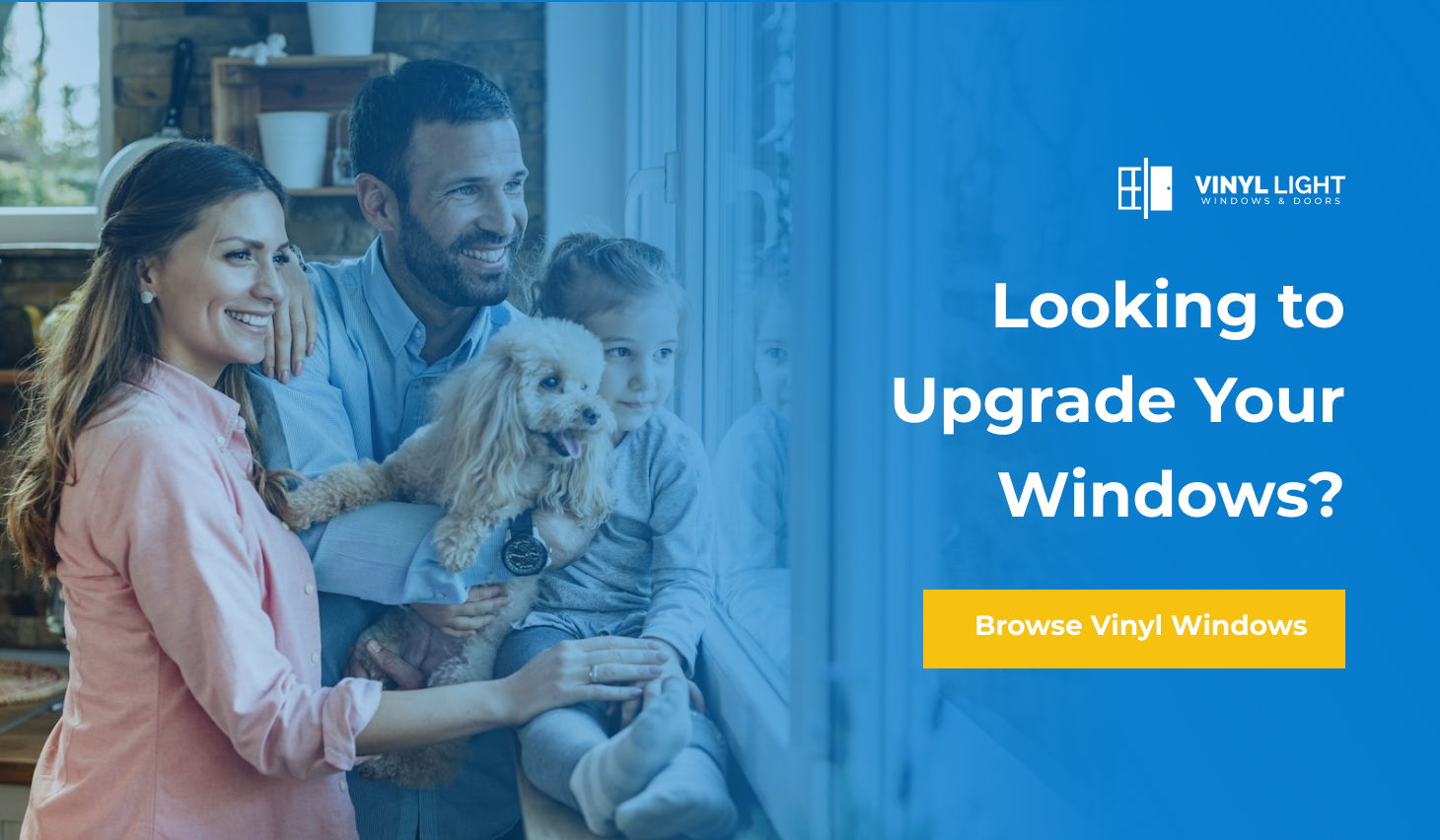 Bedroom Windows Styles and Types
There are many great-looking options for windows for your bedroom and master bedroom. You can further individualize your room by selecting the windows that fit your style.
The best types of windows for bedrooms are:
Casement windows. The greatest bedroom windows for energy efficiency and noise reduction are casement windows. Whether double or triple-pane casement windows are more energy-efficient than other window types thanks to the airtight seal that is made between the window sash and frame during installation. Casement windows are simple to operate to let the cool breeze in and flood your space with natural light.
Single Slider. This is the number 2 option for most houses in the GTA. This window style has the best value of any operating window and can also be quite large to maximize the sunlight and the view. It is also easy to operate with just a pull/push motion and is durable without many moving parts to maintain. The insulation is high for a Single slider because half of the window is fixed and it has less screen than a Double slider.
Double-hung windows. This style of window is good for tall windows. It does not stick out when it's open and helps to improve airflow thanks to its two operable sashes upwards and downwards. A row of these windows can provide stunning vistas. They work well in children's bedrooms as well. The staggered ventilation latches on the majority of double-hung windows keep them from opening excessively.
Bow and Bay windows. Big windows for bedroom always are winners in terms of view with their fantastic standout appearance. By choosing bow or bay windows, you may significantly open up your space. You may take advantage of a wide-angle view of the outside while creating the impression of more room. Bow or bay windows, which are perfect for even small bedrooms, provide you extra space that you may use for other things like a window seat or a small office.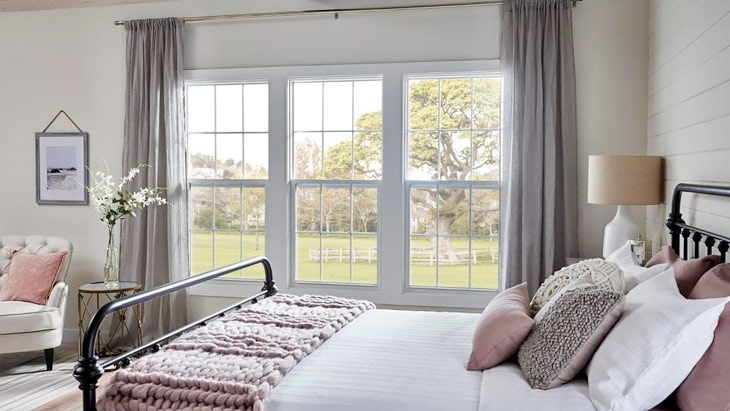 Windows for Bedroom Colors and Shape Ideas
At Vinyl Light windows and doors, you may order vinyl windows of the best styles and custom color options for your bedroom and the whole house.
With a better understanding of bedroom window styles, you may start picking their frame colors. Overall the ideal would be to match the rest of your house windows. Make sure your decision blends nicely with your walls, furniture, flooring and bedding.
The most popular and aesthetic color ideas for bedroom windows are:
White color will never go out of style and is always a winning option.
Another popular calming color is beige.
Making sure the house design requires it, a black modern long window design for the bedroom perfectly stands out against the white or cool light tones of the walls.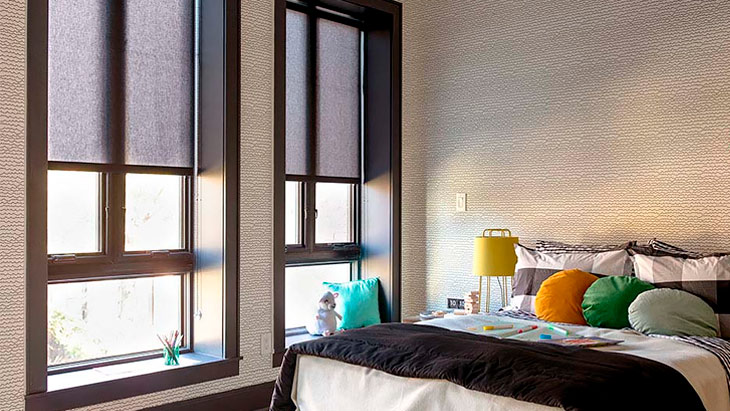 You can determine which shape best complements your bedroom windows by taking into account the architectural style of your property. With shaped windows, you may give each room in your house a special feel. This also applies to the bedroom.
An awning window for bedroom is not ideal as it will not pass as an egress window. Combine a semi-circle or long rectangular shape above your casement, slider or hung window. This will increase the amount of light entering the space. A bedroom's entire atmosphere can be changed by experimenting with the way the light enters through shaped windows.
Remember there is nothing you can do in terms of the shapes for regular basement areas. The egress window for basement bedroom is the only best option. It can be a double slider with lift-out panels, and the casement (opens outward) or hopper (opens inward) windows which are hinges on the side to open like a door for maximum clearance.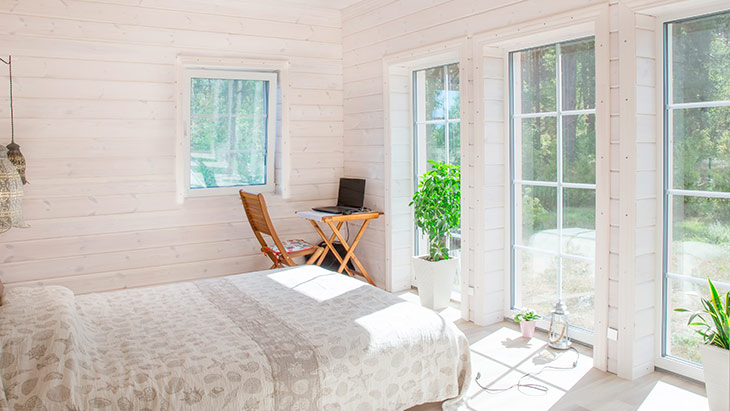 Window Size for Bedroom
Choosing the right windows is an important step you make while renovating your home. Windows must fit the space and be both aesthetically beautiful as well as practical.
The most frequent customers' questions are: what window size is right for bedroom to go along with the safety Ontario requirements?
Legal window size for bedroom is identified in national and international building codes. These codes are set to determine the minimum window size for bedroom and other home areas. Bedrooms and any other space where a person can sleep must have at least one window that can be opened in an emergency.
According to the National Building Code of Canada "Unobstructed opening" must be at least 0.35 m2 (3.77 sq ft) in size and have no dimension smaller than 380 mm (15"). It must also be able to keep the opening maintained in the event of an emergency without the need for additional support.
Additionally, these windows must be simple to operate from the inside, which may influence the hardware and window style decisions you make.
What Is the Legal Window Size for a Basement Bedroom in Ontario?
To satisfy popular requests such as what size of the window is required for a basement bedroom or which size of basement windows for bedroom are the best, first something has to be mentioned about this specific window' type.
The windows which are safe to install in basements are known as egress windows or those that you can open to escape your house. Egress windows and their sizes for basement bedrooms give residents access to natural light, serve as a source of natural ventilation, and can even save lives in an emergency.
That's why the right option would be to look for egress window requirements for basement bedroom. So, you might ask what is the legal window size for a basement bedroom in Ontario. What is the minimum window size for a basement bedroom in Ontario?
Every floor level of a suite that includes a bedroom is required by the Ontario Building Code to have at least one window that can be easily accessed from the inside. This window must offer a clear opening larger than 0.35 square meters (3.77 square feet) and with no dimension smaller than 380 mm (15"). Additionally, the window must be able to keep the required opening without the aid of extra support. These measures provided above also set the rules for basement window size for bedrooms.
If this window swings towards a window well, the well must have a clearance of at least 550 mm (1' 10 2/3") and it must not restrict the window's opening in such a way that it would prevent egress in the case of an emergency.
How to measure the correct sizes for replacement windows? To measure everything correctly you need to set up a meeting with a window technician from a reputable company. With years of experience, Vinyl Light is happy to provide professional doors and vinyl windows replacement service. We produce and install all the approved basement egress windows styles such as:
Casements,
Vertical sliders,
Horizontal sliders.
Call or send us an email request for a Free Quote.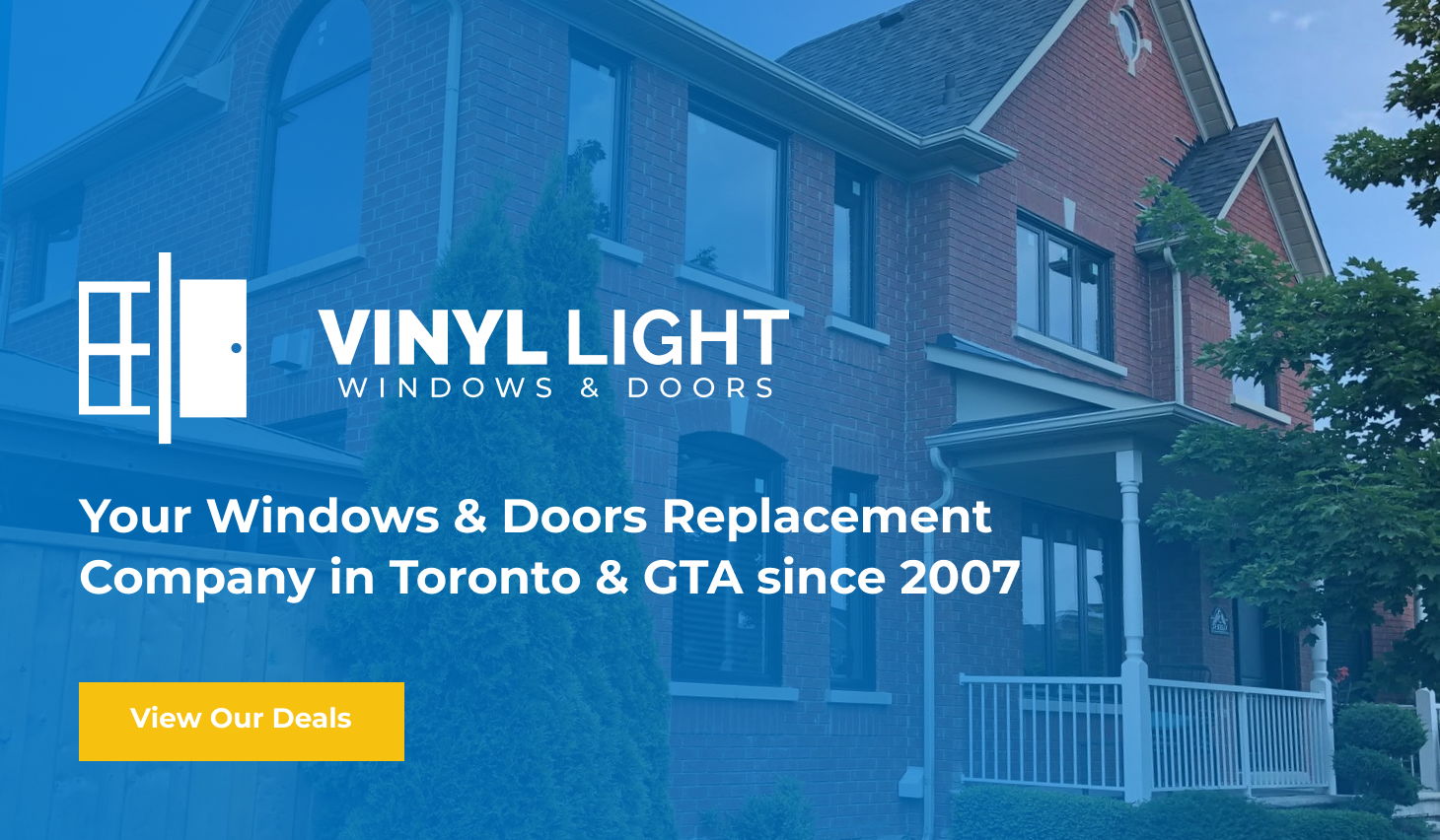 Best Bedroom Windows for Sale in Toronto, Ontario and the GTA
Vinyl Light Windows and Doors manufactures and installs the best bedroom windows in Toronto GTA and Ontario. We have windows' samples and color chips, as well as a window display set up inside the showroom so you can see our selection in person. Our technicians are more than pleased to help you choose the right windows and entry doors.
More than just having a beautiful view, bedrooms have specific needs. With our Vinyl Light bedroom windows for sale we always consider the following:
size;
style;
function;
safety;
energy efficiency.
You can rely on the superior quality of our windows. To make your house a comfortable place for you and your family, we take pride in our meticulous window installation!