Vinyl Casement Windows
Vinyl casement windows (also known as crank windows, side hinge windows, side hung windows or hinged windows) are probably the most energy-efficient and secure type of windows. In addition to being cheap, they are also highly versatile as you can open them to the left or the right, which makes these windows ideal for narrow or tight spaces.
We take casement windows replacement projects in the following area: Toronto, Etobicoke, Mississauga, Brampton, Oakville, East York, North York, Markham, Vaughan, Richmond Hill, Aurora, Scarborough, Pickering, Oshawa, Ajax, Newmarket, King City, Caledon, Georgetown, Milton. Haven't found your location on the list? Reach out to us to get a quote on casement windows installation at your place.
If you've been looking for beautiful casement windows for your home, you've come to the right place - welcome to Vinyl Light!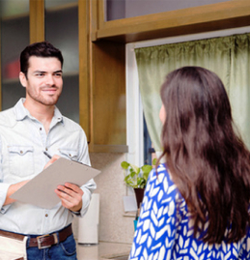 Interested in Casement Replacement Windows?
Request a price estimation today
Сasement Windows in Toronto
There are so many things we'd like to tell you about our casement windows prices and options but let's start with the basics and see what makes these windows such a popular choice.
What is a Casement Window?
Modern casement vinyl windows offer an unobstructed view and are second only to fixed windows as the most weathertight solution. Their dual-layer, compressible bulb weatherstripping keeps dust, wind, and water out, while the third bristles weatherstrip on the outside keeps the window from freezing to the frame in the winter. Casement windows greatly benefit your home as the style has a clean look.
The casement window can be completely opened, allowing excellent ventilation and natural light into your room. Casement elegant window styles are often found in kitchen areas over countertops, in hard-to-reach areas, or in bedrooms where they are combined to create multiple-opening window spaces.
Casement windows are almost always used for the facade of the house.
Casement vinyl windows are popular among our clients in Toronto and the GTA. Call us today to learn more about the advantages of casement windows.
How long do casement windows last?
Casement windows ordered with our trusted window company will last you for decades. There is a lifetime warranty provided by the factory. Casement windows from Vinyl Light are made of durable vinyl, high-quality weather stripping, operating gear and hardware.
Are casement windows safe?
Security is an important feature of our casement windows. The locks are reliable ensuring a tight closure. What is more the perfect seal in between the fixed and openable parts protects your home from air leakage and excessive noise.
How Much Does It Cost to Replace Casement Windows?
| | |
| --- | --- |
| ✅ Window Type | Casement Windows |
| ✅ Average installation cost | $160-$200 |
| ✅ The cheapest casement window | $250 |
| ✅ The most expensive casement window | $650 |
The main question about casement windows affordability of course is: How much do casement windows cost? The average cost of a casement window is $350
The price depends on:
Size of casement windows
Configuration
Type of installation
Colour (other than factory white).
While installing casement windows there might be some extras that will be provided beforehand by the installer.
If you think about a "good deal on casement windows near me" and consider replacing old casement windows with vinyl replacement windows of casement or other styles and looking for actual casement windows prices? Get a no-cost, no-obligation estimate at Vinyl Light. Our technician will take measurements, go over all of the design and colour choices and give you a free quote the same day. Entrust your windows project to us and be 100% satisfied!
Casement Window: How It Works
A typical casement window is composed of the following elements:
Frame. It can be fitted with a brickmold outside, jamb inside with casing.
Sash. It's the part of a window that holds the glass.
Locking mechanism. It's composed of the level handle, bar with rolling pins and the hooks on the sash.
Crank mechanism. It opens and closes a window by twisting the handle.
Hinges. They hold the windows on top and bottom supporting their weight.
Weatherstrips. They ensure a leak and draft proof window when it's closed.
Casement Windows Styles and Types
Casement windows are a common option in today's world, and for good reason. They're a perfect choice for homeowners who want unobstructed sightlines because they crank open and swing outward. Casement windows, unlike other types of windows, do not have a centre rail.
When most people think of casement windows, they think of single casement windows. There are, however, several other types of casement windows available. Let's see what they are:
Double Casement Windows
Double casement windows, also known as vinyl French-style casement windows, have two sashes that open from the middle and don't have a centre stile, allowing for a large, unobstructed view. This one-of-a-kind option has hinges on both sides and can be operated by a single, easy-to-reach handle. Double casement windows are beautiful and can significantly improve the appearance and feel of your home.
Out Swing Casement Windows
The most common form of casement window is outswing casement windows. The majority of people like their windows to swing outward so they don't have to think about moving curtains or shutters in their way. This style is the most popular for single casement window replacement, but can also be split or combined with many other styles like picture or fixed casement. By default, the casement window is double pane, but triple is getting more and more popular because of its higher energy efficiency values.
In-Swing Casement Windows
This sort of casement window is just as it says on the tin. Instead of swinging open to the outside, it swings open into your house. It's as easy as turning the handle and pulling. For rooms where a swing-out sash would get in the way, such as in front of a bush, porch or next to a driveway, casement windows that open in are an alternative.
Push Out Casement Windows
Casement windows with a push-out feature are one-of-a-kind. Instead of using a crank, they use a handle and a gentle push to operate. Push-out casement windows are a great option for those who want to open their windows with ease and simplicity. To fit the aesthetic of your home, these windows are available in both traditional and contemporary designs.
Victorian Casement Windows
The windows with grills or mullions are commonly referred to as Victorian casement windows. SDL bars, outside on both glass panes would give the most realistic match of the traditional Victorian style windows which were once only available in hardwood or softwood timber materials, but thanks to technological advances, this much-loved style can now be reproduced in either aluminum or uPVC.
Casement Windows Sizes
Almost all windows used in homes do not come in standard sizes, they all get custom made to fit the openings available. ​There are some common sizes used by builders as 36 x 36" or 48 x 42" casement windows, but it's a small fraction of the market. It's actually cheaper and easier for the manufacturer to make the new windows rather than store all available sizes, which are pretty much endless.
Any size casement window can be made as long as it's within allowed size restrictions. At some point, the window becomes too small to fit the operating mechanisms inside the window or too big for those to hold the window's weight. The double-pane casement window should not be wider than 32" (can be pushed to 36" if it's short) and 66" height (can be pushed to 72" if it's narrow). For triple-pane heavier windows, it's 25" x 59".
Canadian Government Grants to Help You Save
Energy-saving home improvements are more accessible than ever! Check out how you can save up to $10,000 with Ontario windows rebate program or receive up to $40,000 with a new interest-free Canada Greener Home Loan
Learn more
Сasement window sash (the section that opens and closes)

The very nature of the casement window allows for a 90-degree sash opening for effortless operation making it easy to clean windows from the inside.

The opened sash of a casement can act as a funnel by forcing air into the home and offering excellent ventilation. Depending on the direction of the breeze, opening the window will result in a different angle of airflow.

Сasement window nested handle (rotates and pushes the sash outward away from the home)

In double casement windows from Vinyl Light, an innovative folding operator handle allows blinds and curtains to flow freely, without hindrance.

Сasement window locking mechanism (multipoint compression system)

Single-action level handle releases or secures all locking points with one easy motion

Сasement window push-down screens (can be easily removed and placed back)

The smooth edge overlap screen features a hidden spring-loaded retention system and is easily removable.

Since the screen is on the inside, it can be easily removed and cleaned, thus eliminating the need for outdoor access, which makes vinyl casement windows with a crank an especially good choice for multi-storied buildings.
Casement Window Configurations
Just a few options from endless possibilities.
Casement 1/2 split

Casement 1/3 split

Casement 1/4 split
Casement Window Glass Options
We have all types of LoE Coatings: LoE-180; Loe-272; LoE-366 and newest LoE-i89 to maximize your glass performance.

Self-Cleaning coating keeps the windows cleaner longer and when you must clean your glass, it will be easier and fast.

Get the best insulation with Triple glass; best strength with Tempered glass or best noise reduction with Laminated one.
Casement Window Upgrades Options
Great selection to perfectly match your brick, siding, soffits and more.

Add a distinctive touch with many grilles types. Choose or create your own design.

Add the privacy to your washroom windows or an extra sun protection.
Casement Window Parts Options
Vinyl Trim & Corner Sizes

2 3/4" and 3 1/2"

Vinyl Jamb Sizes

1 3/8", 2 3/8", 3 3/8", 4 3/8"

Vinyl Brickmold Sizes

1/8", 5/8", 1 1/4", 2"
More Windows Options
We have all the windows styles, colors and upgrades.
Our Easy 3-Step Process
Step 1. Quotation & Measurements

We will measure, consult and quote.

Step 2. Manufacturing

We will manufacturer as per specs.

Step 3. Installation

We will install and clean up.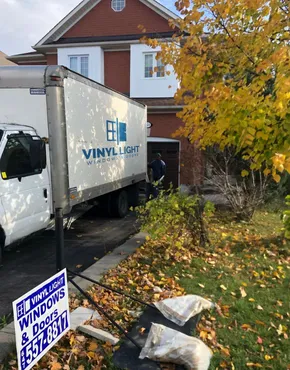 Advantages of Casement Windows from Vinyl Light:
Allow for a maximum unobstructed view;
Custom sizing and colors available;
Durable, low-maintenance matte finish;
Weathertight and energy-efficient;
Single-actuation handle releases or secures all locking points with one easy motion;
90-degree sash opening facilitates cleaning of the window exterior from the inside;
Premium hardware for effortless operation;
Available in both double and triple glazed versions;
Designed to fully meet ENERGY STAR® qualifications.
Casement Windows Replacement and Installation in Toronto
Despite the fact that there are plenty of other companies offering casement window installation in the GTA, we do think you should consider Vinyl Light first - and here's why:
35+ years of combined experience;
10,000+ professionally installed windows;
We buy factory direct and offer the best value for your money;
Exceptional customer service;
WSIB and liability insurance for your peace of mind;
Affordable replacement casement windows prices.
We don't allow ourselves any shortcuts and always ensure the best quality for our clients. When you order from Vinyl Light, you know you're getting the best crank-out casement windows for sale in your area.
If you'd like to inquire about the casement window cost in Toronto and the Greater Toronto Area, please contact the Vinyl Light sales team via phone, chat, or our free quote form.
Our Latest Reviews on Google
Helpful Articles
We'd like to share our knowledge and experience.
Ontario window rebate program is provided by the government to help people get almost immediate payback along with lower hydro bills. Applying for the rebate gives you the unique chance to save money on windows replacement.

Upon the windows replacement project, a great number of customers compare casement windows vs double-hung. Which particular one is totally best for your home?

Windows replacement is a very important part in the renovation process. In most cases homeowners compare vinyl vs wood windows.
Request a Price Estimation Today
We are usually available to reply within 24 hrs